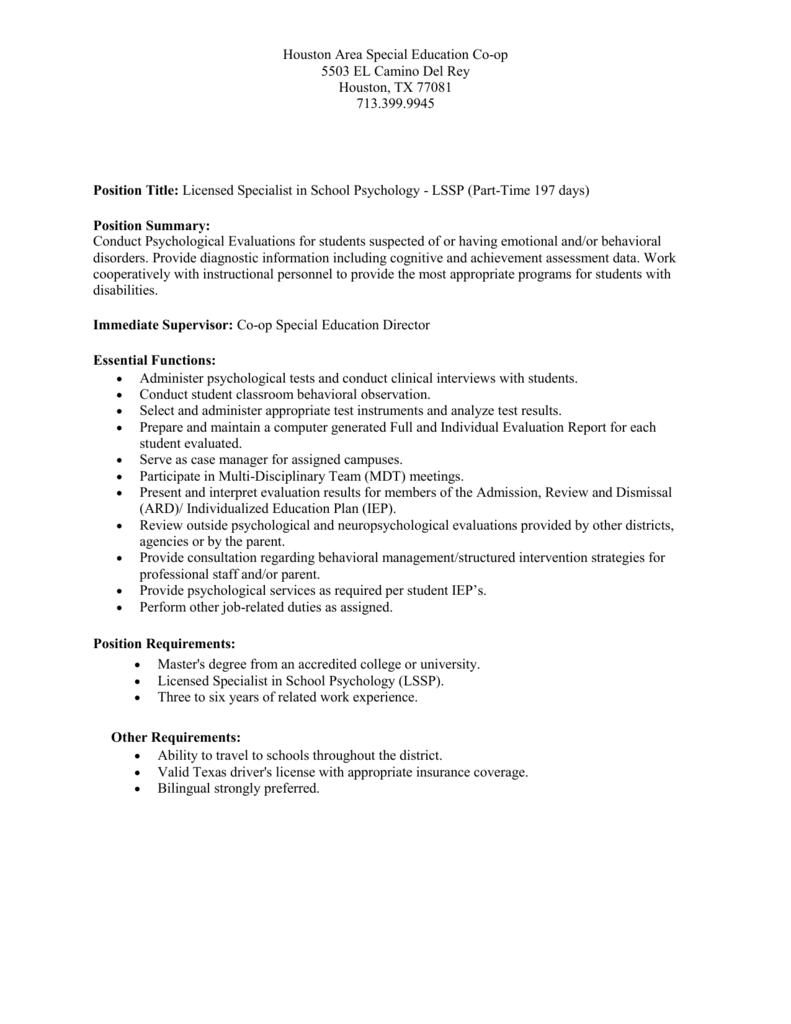 Houston Area Special Education Co-op
5503 EL Camino Del Rey
Houston, TX 77081
713.399.9945
Position Title: Licensed Specialist in School Psychology - LSSP (Part-Time 197 days)
Position Summary:
Conduct Psychological Evaluations for students suspected of or having emotional and/or behavioral
disorders. Provide diagnostic information including cognitive and achievement assessment data. Work
cooperatively with instructional personnel to provide the most appropriate programs for students with
disabilities.
Immediate Supervisor: Co-op Special Education Director
Essential Functions:
 Administer psychological tests and conduct clinical interviews with students.
 Conduct student classroom behavioral observation.
 Select and administer appropriate test instruments and analyze test results.
 Prepare and maintain a computer generated Full and Individual Evaluation Report for each
student evaluated.
 Serve as case manager for assigned campuses.
 Participate in Multi-Disciplinary Team (MDT) meetings.
 Present and interpret evaluation results for members of the Admission, Review and Dismissal
(ARD)/ Individualized Education Plan (IEP).
 Review outside psychological and neuropsychological evaluations provided by other districts,
agencies or by the parent.
 Provide consultation regarding behavioral management/structured intervention strategies for
professional staff and/or parent.
 Provide psychological services as required per student IEP's.
 Perform other job-related duties as assigned.
Position Requirements:
 Master's degree from an accredited college or university.
 Licensed Specialist in School Psychology (LSSP).
 Three to six years of related work experience.
Other Requirements:
 Ability to travel to schools throughout the district.
 Valid Texas driver's license with appropriate insurance coverage.
 Bilingual strongly preferred.