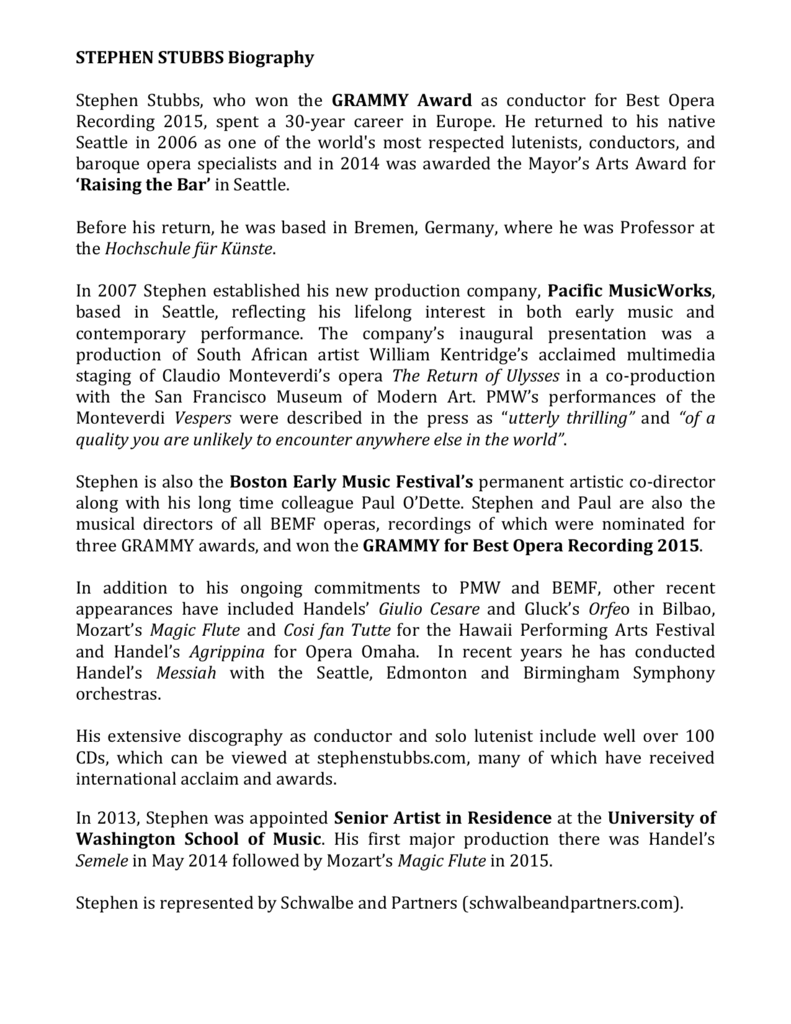 STEPHEN STUBBS Biography
Stephen Stubbs, who won the GRAMMY Award as conductor for Best Opera
Recording 2015, spent a 30-year career in Europe. He returned to his native
Seattle in 2006 as one of the world's most respected lutenists, conductors, and
baroque opera specialists and in 2014 was awarded the Mayor's Arts Award for
'Raising the Bar' in Seattle.
Before his return, he was based in Bremen, Germany, where he was Professor at
the Hochschule für Künste.
In 2007 Stephen established his new production company, Pacific MusicWorks,
based in Seattle, reflecting his lifelong interest in both early music and
contemporary performance. The company's inaugural presentation was a
production of South African artist William Kentridge's acclaimed multimedia
staging of Claudio Monteverdi's opera The Return of Ulysses in a co-production
with the San Francisco Museum of Modern Art. PMW's performances of the
Monteverdi Vespers were described in the press as "utterly thrilling" and "of a
quality you are unlikely to encounter anywhere else in the world".
Stephen is also the Boston Early Music Festival's permanent artistic co-director
along with his long time colleague Paul O'Dette. Stephen and Paul are also the
musical directors of all BEMF operas, recordings of which were nominated for
three GRAMMY awards, and won the GRAMMY for Best Opera Recording 2015.
In addition to his ongoing commitments to PMW and BEMF, other recent
appearances have included Handels' Giulio Cesare and Gluck's Orfeo in Bilbao,
Mozart's Magic Flute and Cosi fan Tutte for the Hawaii Performing Arts Festival
and Handel's Agrippina for Opera Omaha. In recent years he has conducted
Handel's Messiah with the Seattle, Edmonton and Birmingham Symphony
orchestras.
His extensive discography as conductor and solo lutenist include well over 100
CDs, which can be viewed at stephenstubbs.com, many of which have received
international acclaim and awards.
In 2013, Stephen was appointed Senior Artist in Residence at the University of
Washington School of Music. His first major production there was Handel's
Semele in May 2014 followed by Mozart's Magic Flute in 2015.
Stephen is represented by Schwalbe and Partners (schwalbeandpartners.com).