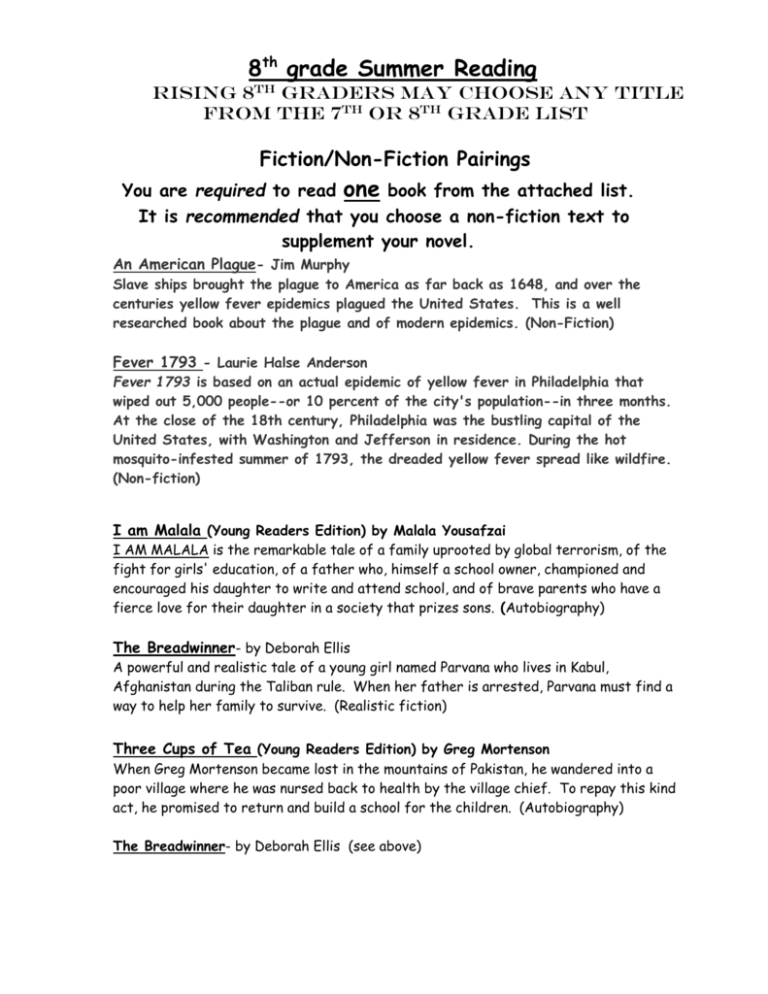 8th grade Summer Reading
RISING 8th graders may choose any title
from the 7th or 8th grade list
Fiction/Non-Fiction Pairings
You are required to read one book from the attached list.
It is recommended that you choose a non-fiction text to
supplement your novel.
An American Plague- Jim Murphy
Slave ships brought the plague to America as far back as 1648, and over the
centuries yellow fever epidemics plagued the United States. This is a well
researched book about the plague and of modern epidemics. (Non-Fiction)
Fever 1793 - Laurie Halse Anderson
Fever 1793 is based on an actual epidemic of yellow fever in Philadelphia that
wiped out 5,000 people--or 10 percent of the city's population--in three months.
At the close of the 18th century, Philadelphia was the bustling capital of the
United States, with Washington and Jefferson in residence. During the hot
mosquito-infested summer of 1793, the dreaded yellow fever spread like wildfire.
(Non-fiction)
I am Malala (Young Readers Edition) by Malala Yousafzai
I AM MALALA is the remarkable tale of a family uprooted by global terrorism, of the
fight for girls' education, of a father who, himself a school owner, championed and
encouraged his daughter to write and attend school, and of brave parents who have a
fierce love for their daughter in a society that prizes sons. (Autobiography)
The Breadwinner- by Deborah Ellis
A powerful and realistic tale of a young girl named Parvana who lives in Kabul,
Afghanistan during the Taliban rule. When her father is arrested, Parvana must find a
way to help her family to survive. (Realistic fiction)
Three Cups of Tea (Young Readers Edition) by Greg Mortenson
When Greg Mortenson became lost in the mountains of Pakistan, he wandered into a
poor village where he was nursed back to health by the village chief. To repay this kind
act, he promised to return and build a school for the children. (Autobiography)
The Breadwinner- by Deborah Ellis (see above)
Hitler's Last Days by Bill O'Reilly, is a gripping account of the death of one of
the most reviled villains of the 20th century--a man whose regime of murder and
terror haunts the world even today. Adapted from Bill O'Reilly's historical
thriller Killing Patton, this book will have young readers--and grown-ups too-hooked on history.
(Non-fiction)
Devil's Arithmetic by Jane Yolen
Hannah is tired of hearing about the Nazis during the Holocaust, but when she
opens the door for Elijah at the Passover Seder, she is transported in time to
1940's Poland, where she is captured and put in a death camp. A girl named
Rivka befriends her, teaching her how to survive.
Bomb: The Race to Build and Steal the Worlds' Most Dangerous Weapon by
Steve Sneinkin
In December of 1938, a chemist in a German laboratory made a shocking
discovery: When placed next to radioactive material, a Uranium atom split in two.
That simple discovery launched a scientific race that spanned 3 continents. In
Great Britain and the United States, Soviet spies worked their way into the
scientific community; in Norway, a commando force slipped behind enemy lines to
attack German heavy-water manufacturing; and deep in the desert, one brilliant
group of scientists was hidden away at a remote site at Los Alamos.(non-fiction)
The Green Glass Sea- by Ellen Klages
It's 1943 and 10-year-old budding inventor Dewey Kerrigan sets off with her
father to do secret war work in New Mexico. As the adults work on "the gadget,"
the kids at Los Alamos are often left to their own devices. When the atomic bomb
tests are finally successful, both children and adults grapple with the ethical
implications as they realize how "the gadget" will be used. The unique atmosphere
of the secretive scientific community is clearly presented in this excellent
historical novel. (Realistic Fiction)
We encourage parents to be actively involved in their child's reading
selections. We believe that our suggested titles are appropriate for the grade
level. However, reading ability, personal interest, emotional maturity, and
family values are all factors that will influence your child's book selection.
Please contact Mrs. Lanciotti if you have questions
or need suggestions: lanciotti@nvnet.org
Fiction titles
A Mango-Shaped Space
by Wendy Mass
Mia Winchell has synesthesia, the mingling of perceptions whereby a person
can see sounds, smell colors, or taste shapes. Forced to reveal her
condition, she must look to herself to develop an understanding and
appreciation of her gift in this coming-of-age novel.
Artemis Fowl series-Eoin Colfer This rip-roaring, 21stcentury romp of the highest order is a combination of folklore, fantasy,
and a fistful of high-tech. These two crime caper fantasies feature antihero Artemis Fowl, a twelve-year-old boy-genius and the last of a clan of
international underworld figures and con artists. Rough 'n' tumble
storytelling with plenty of attitude
Breadwinner-Deborah Ellis
Since the Taliban took over Afghanistan, 11-year-old Parvana has rarely
been outdoors. Barred from attending school, shopping at the market, or
even playing in the streets of Kabul, the heroine of Deborah Ellis's
engrossing children's novel The Breadwinner is trapped inside her family's
one-room home. That is, until the Taliban hauls away her father and
Parvana realizes that it's up to her to become the "breadwinner" and
disguise herself as a boy to support her mother, two sisters, and baby
brother.
Chains- Laurie Halse Anderson
As the Revolutionary War begins, thirteen-year-old Isabel wages her own
fight...for freedom. Promised freedom upon the death of their owner, she
and her sister, Ruth, in a cruel twist of fate become the property of a
malicious New York City couple, the Locktons, who have no sympathy for
the American Revolution and even less for Ruth and Isabel. When Isabel
meets Curzon, a slave with ties to the Patriots, he encourages her to spy
on her owners, who know details of British plans for invasion.
Code Talker: A Novel About the Navajo Marines of World
War Two-Joseph Bruchac
After being taught in a boarding school run by whites that Navajo is a useless
language, Ned Begay and other Navajo men are recruited by the Marines to
become Code Talkers, sending messages during World War II in their native
tongue.
Devil's Arithmetic
by Jane Yolen
Hannah dreads going home to her family's Passover Seder. Her relatives
always tell the same stories, and Hannah is tired of hearing them. It's
always about the past. But when she opens the front door to symbolically
welcome the prophet Elijah, she's immediately transported to a Polish
village and the year in 1942! Why is she there, and who is this "Chaya"
that everyone seems to think she is?
Fever 1793-Laurie Halse Anderson
Fever 1793 is based on an actual epidemic of yellow fever in Philadelphia
that wiped out 5,000 people--or 10 percent of the city's population--in
three months. In the foreground of this story is 16-year-old Mattie Cook.
Her comfortable and interesting life is shattered by the epidemic, as her
mother is felled and the girl and her grandfather must flee for their lives.
Inkheart series- by Cornelia Funke
One cruel night, Meggie's father reads aloud from a book called
INKHEART-- and an evil ruler escapes the boundaries of fiction and lands
in their living room. Suddenly, Meggie is smack in the middle of the kind of
adventure she has only read about in books. Meggie must learn to harness
the magic that has conjured this nightmare.
The Green Glass Sea-Ellen Klages
It's 1943, and eleven-year-old Dewey Kerrigan is en route to New Mexico
to live with her mathematician father. Soon she arrives at a town that,
officially, doesn't exist. It is called Los Alamos, and it is abuzz with
activity, as scientists and mathematicians from all over America and Europe
work on the biggest secret of all--"the gadget." None of them--not J.
Robert Oppenheimer, the director of the Manhattan Project; not the
mathematicians and scientists; and least of all, Dewey--know how much
"the gadget" is about to change their lives.
The
Hobbit
by JRR Tolkien
Bilbo Baggins is a hobbit who enjoys a comfortable, unambitious life, rarely
traveling any farther than his pantry or cellar. But his contentment is
disturbed when the wizard Gandalf and a company of dwarves arrive on his
doorstep one day to whisk him away on an adventure.
Million Dollar Throw by Mike Lupica
Thirteen-year-old Nate Brodie's life would seem to be the stuff of
adolescent boys' dreams. However, all is not smooth sailing. The Brodies
are in danger of losing their home in the economic downturn, and Abby's
eyesight is failing due to a rare congenital disease. Nate thinks he may
have the opportunity to solve all of his problems when he wins the chance
to make a million dollars by throwing a football through a small target
during halftime at a pro football game.
The Thief Lord-by Cornelia Funke
Two orphaned brothers, Prosper and Bo, have run away to Venice, where
crumbling canals and misty alleyways shelter a secret community of street
urchins. Leader of this motley crew of lost children is a clever, charming
boy with a dark history of his own: He calls himself the Thief Lord.