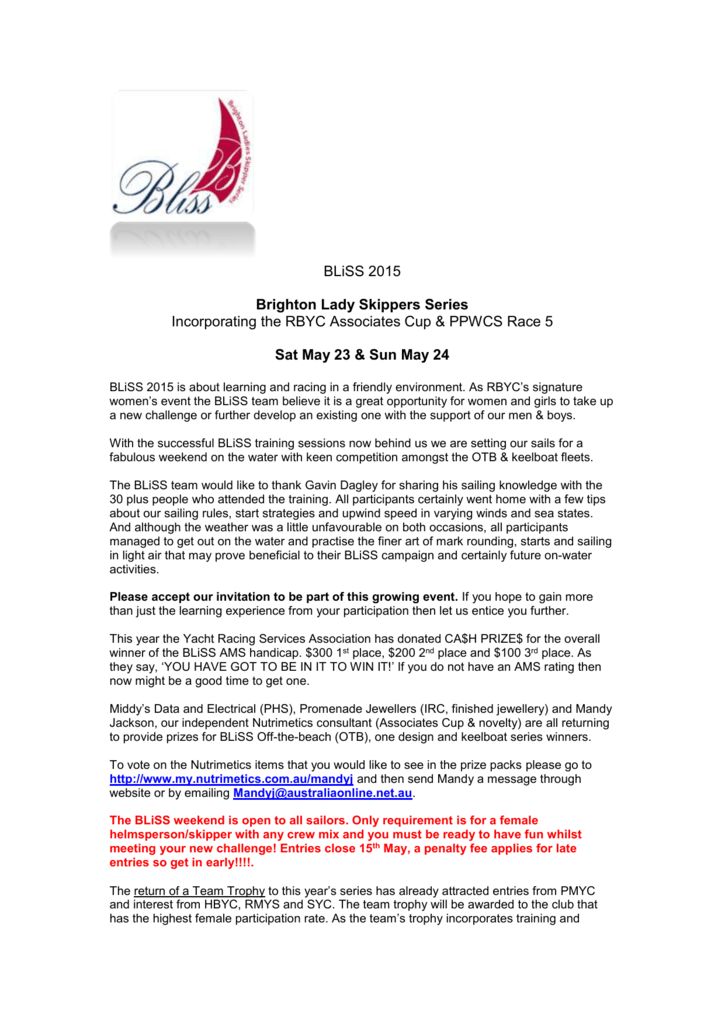 BLiSS 2015
Brighton Lady Skippers Series
Incorporating the RBYC Associates Cup & PPWCS Race 5
Sat May 23 & Sun May 24
BLiSS 2015 is about learning and racing in a friendly environment. As RBYC's signature
women's event the BLiSS team believe it is a great opportunity for women and girls to take up
a new challenge or further develop an existing one with the support of our men & boys.
With the successful BLiSS training sessions now behind us we are setting our sails for a
fabulous weekend on the water with keen competition amongst the OTB & keelboat fleets.
The BLiSS team would like to thank Gavin Dagley for sharing his sailing knowledge with the
30 plus people who attended the training. All participants certainly went home with a few tips
about our sailing rules, start strategies and upwind speed in varying winds and sea states.
And although the weather was a little unfavourable on both occasions, all participants
managed to get out on the water and practise the finer art of mark rounding, starts and sailing
in light air that may prove beneficial to their BLiSS campaign and certainly future on-water
activities.
Please accept our invitation to be part of this growing event. If you hope to gain more
than just the learning experience from your participation then let us entice you further.
This year the Yacht Racing Services Association has donated CA$H PRIZE$ for the overall
winner of the BLiSS AMS handicap. $300 1st place, $200 2nd place and $100 3rd place. As
they say, 'YOU HAVE GOT TO BE IN IT TO WIN IT!' If you do not have an AMS rating then
now might be a good time to get one.
Middy's Data and Electrical (PHS), Promenade Jewellers (IRC, finished jewellery) and Mandy
Jackson, our independent Nutrimetics consultant (Associates Cup & novelty) are all returning
to provide prizes for BLiSS Off-the-beach (OTB), one design and keelboat series winners.
To vote on the Nutrimetics items that you would like to see in the prize packs please go to
http://www.my.nutrimetics.com.au/mandyj and then send Mandy a message through
website or by emailing [email protected]
The BLiSS weekend is open to all sailors. Only requirement is for a female
helmsperson/skipper with any crew mix and you must be ready to have fun whilst
meeting your new challenge! Entries close 15th May, a penalty fee applies for late
entries so get in early!!!!.
The return of a Team Trophy to this year's series has already attracted entries from PMYC
and interest from HBYC, RMYS and SYC. The team trophy will be awarded to the club that
has the highest female participation rate. As the team's trophy incorporates training and
racing the current leaders are SYC. Notably, bonus points are given when sailing with Senior
(>60 years) & Youth (<25 years) members.
So we need –
 BOATS available
o Encourage a member of your existing female crew or family member to take the helm
for the day or weekend and join in.
o Offer us your boat and we will find you a female skipper.

LADY SKIPPERS to put up your hand and we will find you a boat if you have not already
negotiated a position.

CREW & MENTORS to support the lady skippers.
Be part of a great weekend on the water.
NOR is available NOW. For further information or to register for the regatta go to
http://www.rbyc.org.au/Sailing/Regattas/BLiSS.
To register your interest: in loaning your boat, being a skipper or being a mentor or volunteer
please contact Hayley Wallis [email protected] or Tracey Baldwin [email protected]
Your support will be rewarded. Your challenge is to simply accept our invitation.