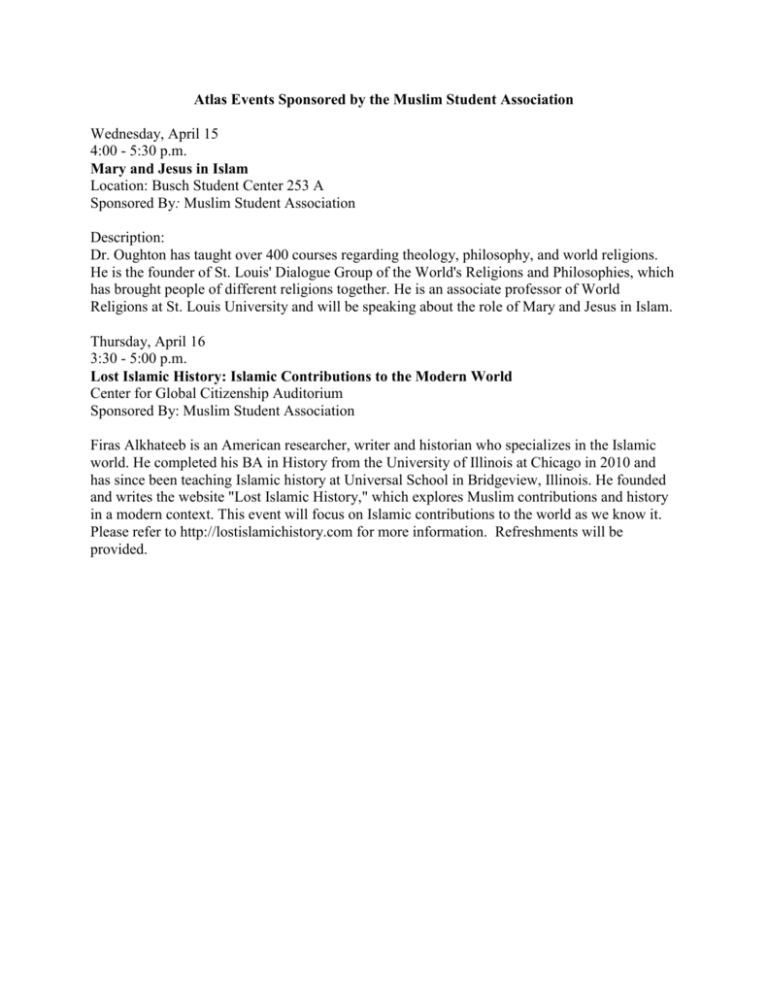 Atlas Events Sponsored by the Muslim Student Association
Wednesday, April 15
4:00 - 5:30 p.m.
Mary and Jesus in Islam
Location: Busch Student Center 253 A
Sponsored By: Muslim Student Association
Description:
Dr. Oughton has taught over 400 courses regarding theology, philosophy, and world religions.
He is the founder of St. Louis' Dialogue Group of the World's Religions and Philosophies, which
has brought people of different religions together. He is an associate professor of World
Religions at St. Louis University and will be speaking about the role of Mary and Jesus in Islam.
Thursday, April 16
3:30 - 5:00 p.m.
Lost Islamic History: Islamic Contributions to the Modern World
Center for Global Citizenship Auditorium
Sponsored By: Muslim Student Association
Firas Alkhateeb is an American researcher, writer and historian who specializes in the Islamic
world. He completed his BA in History from the University of Illinois at Chicago in 2010 and
has since been teaching Islamic history at Universal School in Bridgeview, Illinois. He founded
and writes the website "Lost Islamic History," which explores Muslim contributions and history
in a modern context. This event will focus on Islamic contributions to the world as we know it.
Please refer to http://lostislamichistory.com for more information. Refreshments will be
provided.