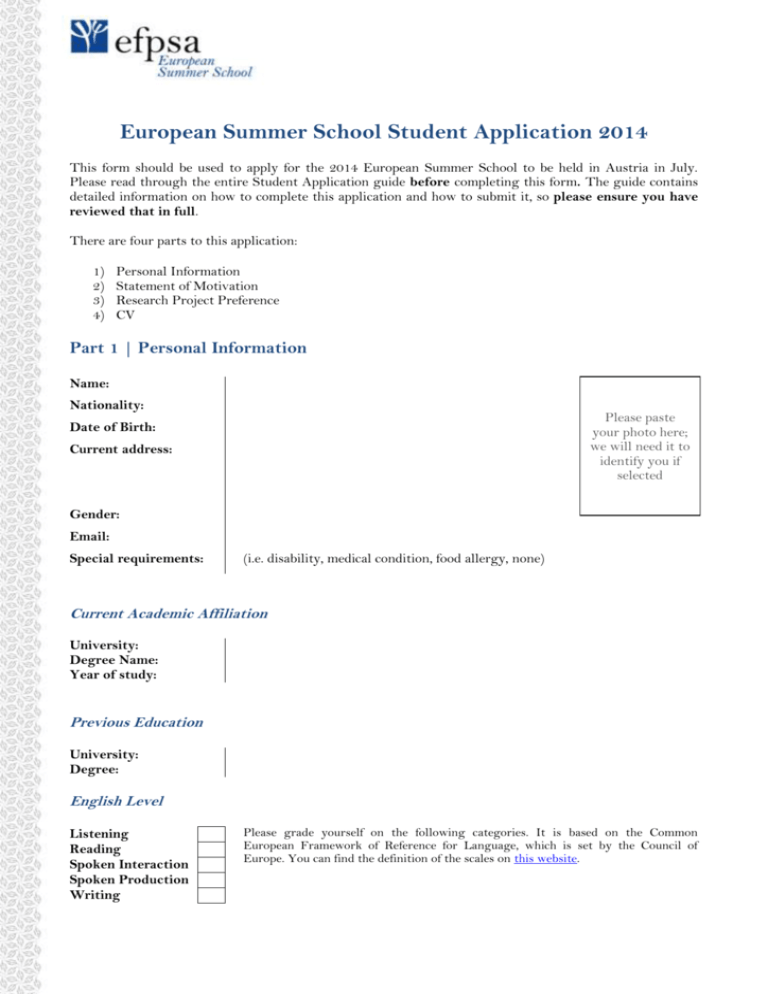 European Summer School Student Application 2014
This form should be used to apply for the 2014 European Summer School to be held in Austria in July.
Please read through the entire Student Application guide before completing this form. The guide contains
detailed information on how to complete this application and how to submit it, so please ensure you have
reviewed that in full.
There are four parts to this application:
1)
2)
3)
4)
Personal Information
Statement of Motivation
Research Project Preference
CV
Part 1 | Personal Information
Name:
Nationality:
Please paste
your photo here;
we will need it to
identify you if
selected
Date of Birth:
Current address:
Gender:
Email:
Special requirements:
(i.e. disability, medical condition, food allergy, none)
Current Academic Affiliation
University:
Degree Name:
Year of study:
Previous Education
University:
Degree:
English Level
Listening
Reading
Spoken Interaction
Spoken Production
Writing
Please grade yourself on the following categories. It is based on the Common
European Framework of Reference for Language, which is set by the Council of
Europe. You can find the definition of the scales on this website.
Part 2 | Statement of Motivation
Please outline your motivation in the box below (max. 500 words).
Part 3 | Research Project Preference
Please place a 1 in the box next to your first choice and a 2 in the box next to your second choice of research
project.
Project 1 - Jakopec
Project 2 – Molina
Project 3 - Metin
Project 4 - Graham
Project 5 – Rosa
Project 6 – Flint
Please outline your motivation for your first project choice in the box below (max. 300 words).
NB save this document as a PDF under "Surname_Application2014"
Part 4 | Curriculum Vitae
Don't forget to attach your CV as a separate PDF saved as "Surname_CV2014"
Submission | You should submit these two documents to us at summerschool@efpsa.org by 23:59:59
CET, Friday, 16 May. In submitting your application, please add under Subject:
"Surname_Application2014". Include one sentence to introduce yourself and your application. If you do not
receive a confirmation email within 48 hours of submitting, please notify us.
Please note that this is not an application to the Junior Researcher Programme – selection for the JRP is via
invitation only.