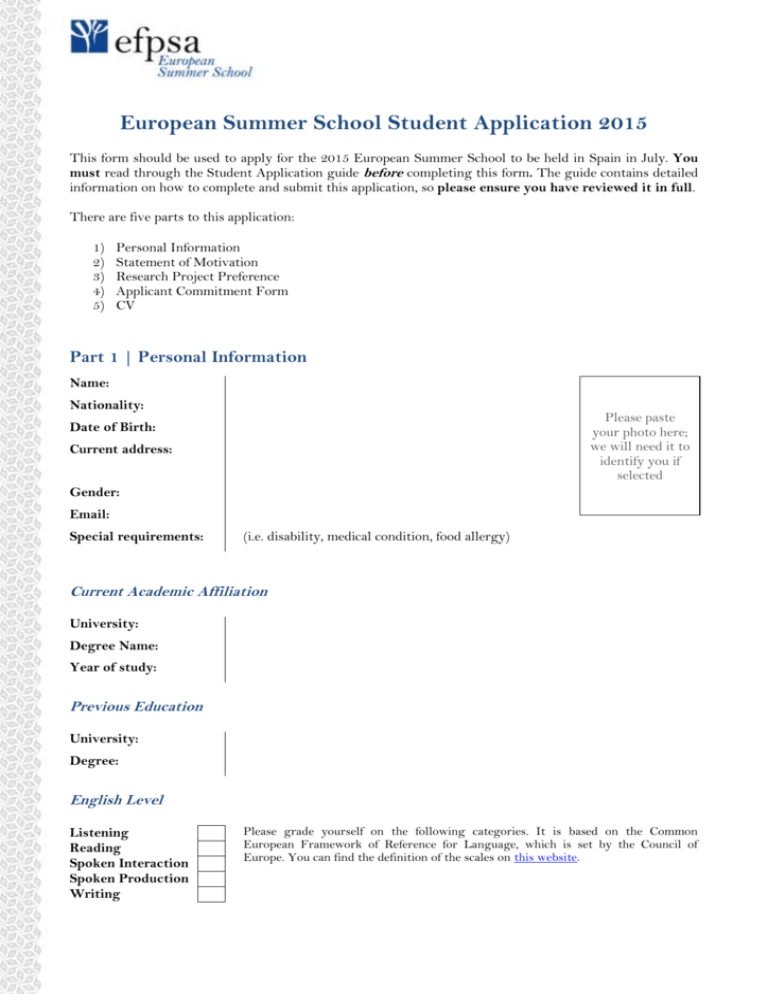 European Summer School Student Application 2015
This form should be used to apply for the 2015 European Summer School to be held in Spain in July. You
must read through the Student Application guide before completing this form. The guide contains detailed
information on how to complete and submit this application, so please ensure you have reviewed it in full.
There are five parts to this application:
1)
2)
3)
4)
5)
Personal Information
Statement of Motivation
Research Project Preference
Applicant Commitment Form
CV
Part 1 | Personal Information
Name:
Nationality:
Please paste
your photo here;
we will need it to
identify you if
selected
Date of Birth:
Current address:
Gender:
Email:
Special requirements:
(i.e. disability, medical condition, food allergy)
Current Academic Affiliation
University:
Degree Name:
Year of study:
Previous Education
University:
Degree:
English Level
Listening
Reading
Spoken Interaction
Spoken Production
Writing
Please grade yourself on the following categories. It is based on the Common
European Framework of Reference for Language, which is set by the Council of
Europe. You can find the definition of the scales on this website.
Part 2 | Statement of Motivation
Please outline your motivation in the box below (max. 500 words).
Part 3 | Research Project Preference
Please place a 1 in the box next to your first choice and a 2 in the box next to your second choice of research
project.
Project 1 - Canadas
Project 2 – Morillo
Project 3 - van den Berg
Project 4 - Del Pino
Project 5 – Kassianos
Project 6 – Jolić Marjanović
Please outline your motivation for your first project choice in the box below (max. 300 words).
Part 4 | Applicant Commitment Form
The following checklist is meant to clarify for everyone the expectations of participation in the ESS if
selected. We do not include it for the sake of having fine print or rules, but to ensure all participants are
fully aware of the commitment. The aim is only to make sure that project members understand the
commitment from the beginning. This promotes the best environment at the summer school as well as
within the teams, which we have learned from previous cohorts. If you have any concerns about these, please
do contact us. We ask you to place your initials after each line to confirm you are aware of and agree to each.
Prior to submitting, I confirm that
Initials
I have read the information pack in whole.
I am a student in an undergraduate (e.g. BA, BSc, Dipl), postgraduate (MA, MSc), or equivalent
degree-level, programme in psychology or have not graduated prior to 1 January, 2015.
I am either a citizen of a Council of Europe member country or currently studying at an
accredited university in a Council of Europe member country under a valid study visa.
If accepted as ESS participant I will commit to
Initials
making the full payment by 24 May.
attending the FULL ESS from 12 July to 19 July, 2015.
committing to finishing the full 13-month JRP programme.
making every attempt to join the group for the 2016 JRP Conference in Cambridge , UK.
NB |
Save this document as a PDF under "Surname_Application2015". We cannot accept applications that
use a different form than the one provided.
Part 5 | Curriculum Vitae
Please attach your CV as a separate PDF saved as "Surname_CV2015".
Submission |
Please submit these two documents to us at summerschool@efpsa.org by Friday, 8th
May, 23:59:59 CET.
In submitting your application, please add under Subject: "Surname_Application2015". Include one sentence
to introduce yourself and your application. If you do not receive a confirmation email within 48 hours of
submitting, please notify us.
Please note that this is not an application to the Junior Researcher Programme – selection for the JRP is via
invitation only.