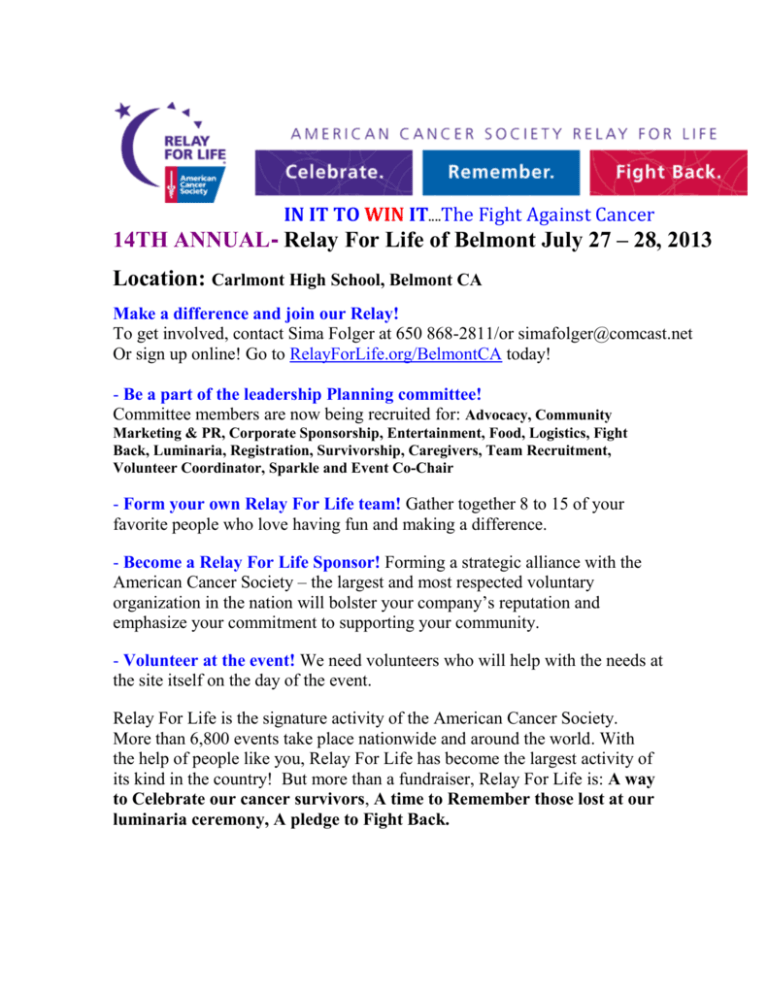 IN IT TO WIN IT....The Fight Against Cancer
14TH ANNUAL- Relay For Life of Belmont July 27 – 28, 2013
Location: Carlmont High School, Belmont CA
Make a difference and join our Relay!
To get involved, contact Sima Folger at 650 868-2811/or simafolger@comcast.net
Or sign up online! Go to RelayForLife.org/BelmontCA today!
- Be a part of the leadership Planning committee!
Committee members are now being recruited for: Advocacy, Community
Marketing & PR, Corporate Sponsorship, Entertainment, Food, Logistics, Fight
Back, Luminaria, Registration, Survivorship, Caregivers, Team Recruitment,
Volunteer Coordinator, Sparkle and Event Co-Chair
- Form your own Relay For Life team! Gather together 8 to 15 of your
favorite people who love having fun and making a difference.
- Become a Relay For Life Sponsor! Forming a strategic alliance with the
American Cancer Society – the largest and most respected voluntary
organization in the nation will bolster your company's reputation and
emphasize your commitment to supporting your community.
- Volunteer at the event! We need volunteers who will help with the needs at
the site itself on the day of the event.
Relay For Life is the signature activity of the American Cancer Society.
More than 6,800 events take place nationwide and around the world. With
the help of people like you, Relay For Life has become the largest activity of
its kind in the country! But more than a fundraiser, Relay For Life is: A way
to Celebrate our cancer survivors, A time to Remember those lost at our
luminaria ceremony, A pledge to Fight Back.