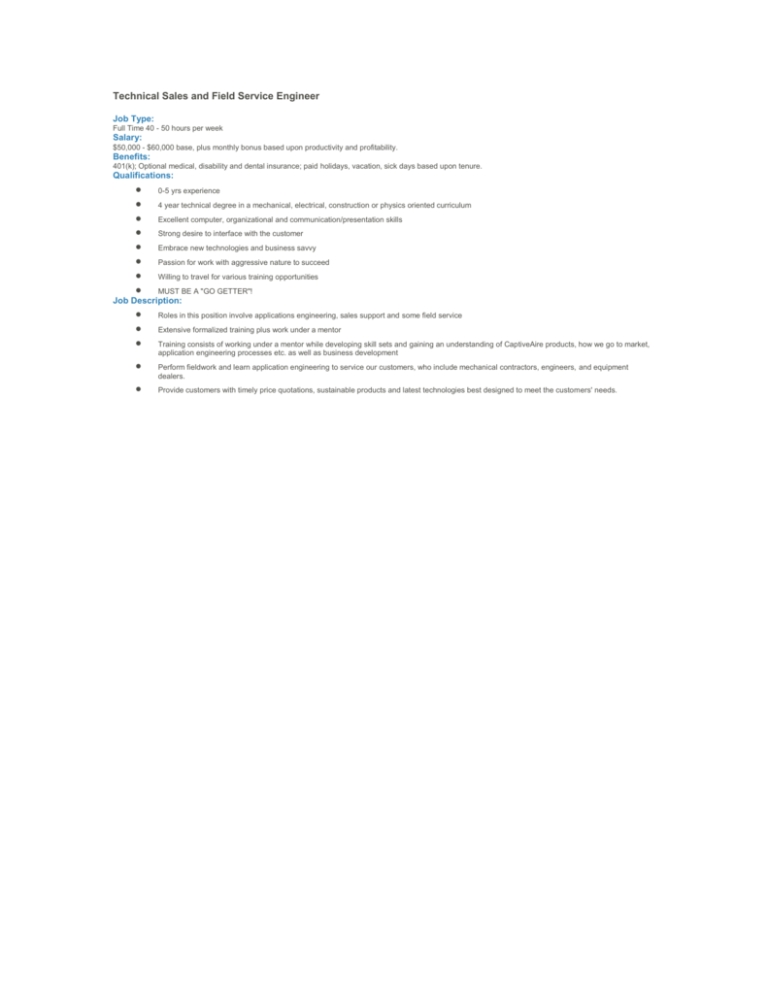 Technical Sales and Field Service Engineer
Job Type:
Full Time 40 - 50 hours per week
Salary:
$50,000 - $60,000 base, plus monthly bonus based upon productivity and profitability.
Benefits:
401(k); Optional medical, disability and dental insurance; paid holidays, vacation, sick days based upon tenure.
Qualifications:








0-5 yrs experience
4 year technical degree in a mechanical, electrical, construction or physics oriented curriculum
Excellent computer, organizational and communication/presentation skills
Strong desire to interface with the customer
Embrace new technologies and business savvy
Passion for work with aggressive nature to succeed
Willing to travel for various training opportunities
MUST BE A "GO GETTER"!
Job Description:





Roles in this position involve applications engineering, sales support and some field service
Extensive formalized training plus work under a mentor
Training consists of working under a mentor while developing skill sets and gaining an understanding of CaptiveAire products, how we go to market,
application engineering processes etc. as well as business development
Perform fieldwork and learn application engineering to service our customers, who include mechanical contractors, engineers, and equipment
dealers.
Provide customers with timely price quotations, sustainable products and latest technologies best designed to meet the customers' needs.