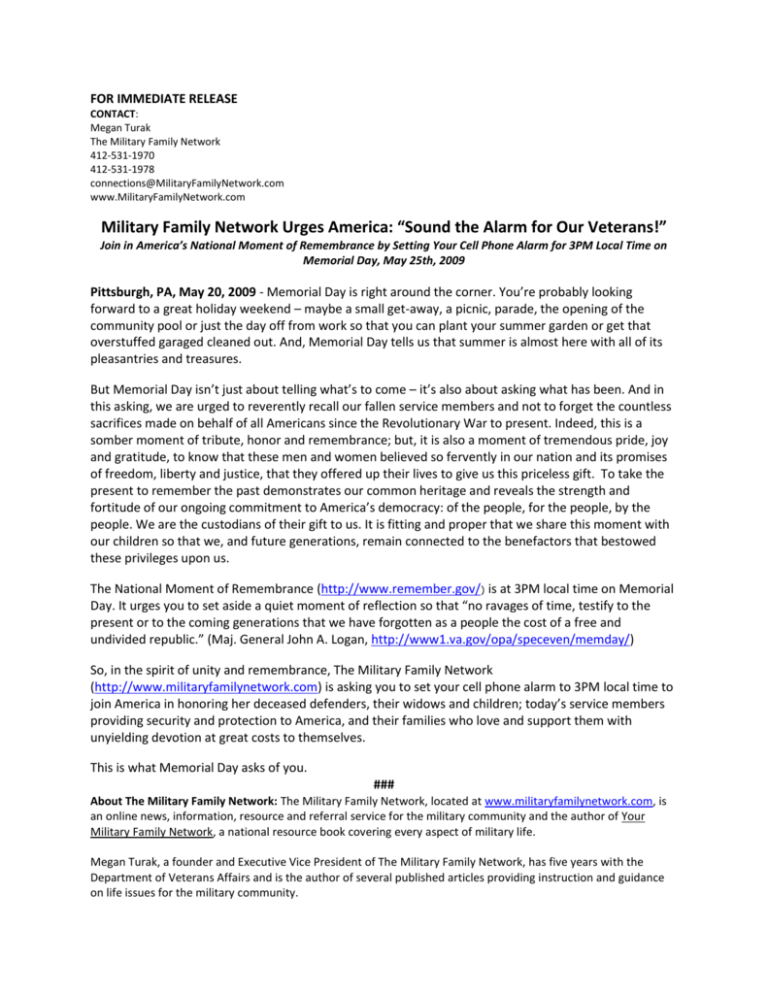 FOR IMMEDIATE RELEASE
CONTACT:
Megan Turak
The Military Family Network
412-531-1970
412-531-1978
connections@MilitaryFamilyNetwork.com
www.MilitaryFamilyNetwork.com
Military Family Network Urges America: "Sound the Alarm for Our Veterans!"
Join in America's National Moment of Remembrance by Setting Your Cell Phone Alarm for 3PM Local Time on
Memorial Day, May 25th, 2009
Pittsburgh, PA, May 20, 2009 - Memorial Day is right around the corner. You're probably looking
forward to a great holiday weekend – maybe a small get-away, a picnic, parade, the opening of the
community pool or just the day off from work so that you can plant your summer garden or get that
overstuffed garaged cleaned out. And, Memorial Day tells us that summer is almost here with all of its
pleasantries and treasures.
But Memorial Day isn't just about telling what's to come – it's also about asking what has been. And in
this asking, we are urged to reverently recall our fallen service members and not to forget the countless
sacrifices made on behalf of all Americans since the Revolutionary War to present. Indeed, this is a
somber moment of tribute, honor and remembrance; but, it is also a moment of tremendous pride, joy
and gratitude, to know that these men and women believed so fervently in our nation and its promises
of freedom, liberty and justice, that they offered up their lives to give us this priceless gift. To take the
present to remember the past demonstrates our common heritage and reveals the strength and
fortitude of our ongoing commitment to America's democracy: of the people, for the people, by the
people. We are the custodians of their gift to us. It is fitting and proper that we share this moment with
our children so that we, and future generations, remain connected to the benefactors that bestowed
these privileges upon us.
The National Moment of Remembrance (http://www.remember.gov/) is at 3PM local time on Memorial
Day. It urges you to set aside a quiet moment of reflection so that "no ravages of time, testify to the
present or to the coming generations that we have forgotten as a people the cost of a free and
undivided republic." (Maj. General John A. Logan, http://www1.va.gov/opa/speceven/memday/)
So, in the spirit of unity and remembrance, The Military Family Network
(http://www.militaryfamilynetwork.com) is asking you to set your cell phone alarm to 3PM local time to
join America in honoring her deceased defenders, their widows and children; today's service members
providing security and protection to America, and their families who love and support them with
unyielding devotion at great costs to themselves.
This is what Memorial Day asks of you.
###
About The Military Family Network: The Military Family Network, located at www.militaryfamilynetwork.com, is
an online news, information, resource and referral service for the military community and the author of Your
Military Family Network, a national resource book covering every aspect of military life.
Megan Turak, a founder and Executive Vice President of The Military Family Network, has five years with the
Department of Veterans Affairs and is the author of several published articles providing instruction and guidance
on life issues for the military community.