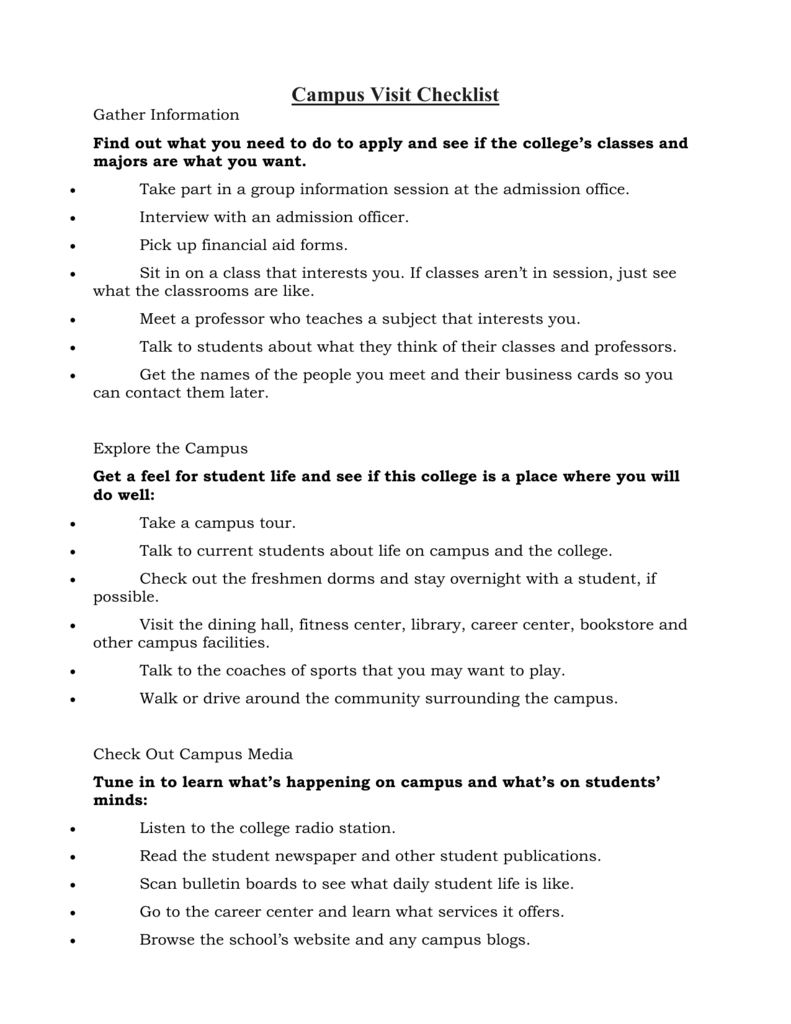 Gather Information
Campus Visit Checklist
Find out what you need to do to apply and see if the college's classes and
majors are what you want.

Take part in a group information session at the admission office.

Interview with an admission officer.

Pick up financial aid forms.

Sit in on a class that interests you. If classes aren't in session, just see
what the classrooms are like.

Meet a professor who teaches a subject that interests you.

Talk to students about what they think of their classes and professors.

Get the names of the people you meet and their business cards so you
can contact them later.
Explore the Campus
Get a feel for student life and see if this college is a place where you will
do well:

Take a campus tour.

Talk to current students about life on campus and the college.

Check out the freshmen dorms and stay overnight with a student, if
possible.

Visit the dining hall, fitness center, library, career center, bookstore and
other campus facilities.

Talk to the coaches of sports that you may want to play.

Walk or drive around the community surrounding the campus.
Check Out Campus Media
Tune in to learn what's happening on campus and what's on students'
minds:

Listen to the college radio station.

Read the student newspaper and other student publications.

Scan bulletin boards to see what daily student life is like.

Go to the career center and learn what services it offers.

Browse the school's website and any campus blogs.