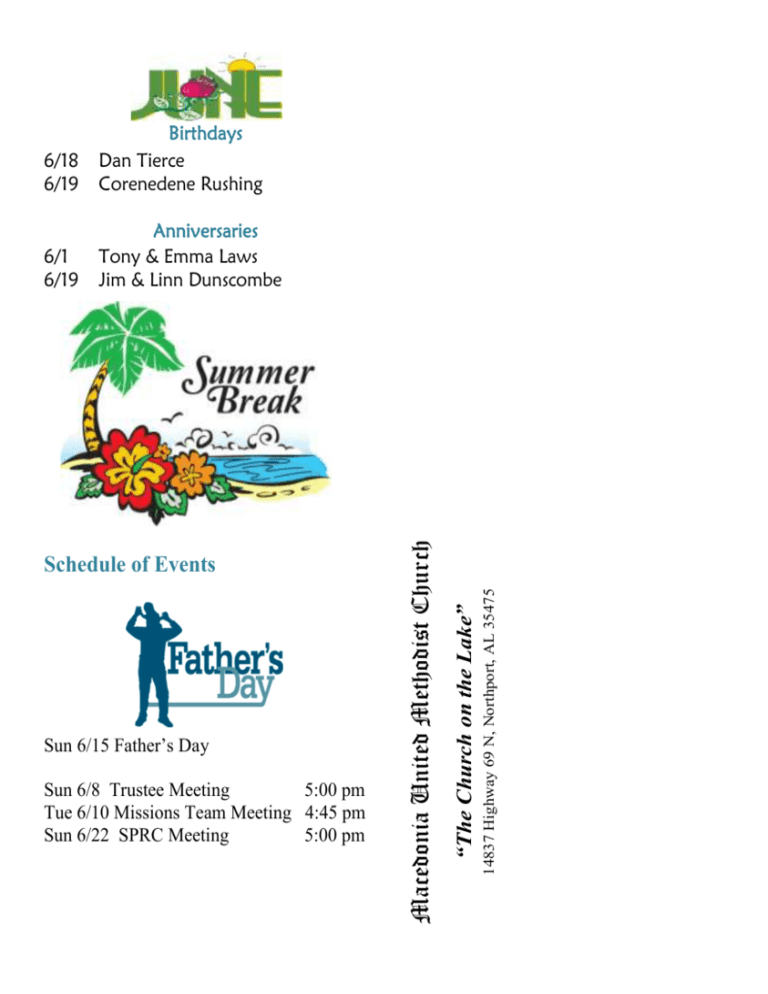 Sun 6/15 Father's Day
Sun 6/8 Trustee Meeting
5:00 pm
Tue 6/10 Missions Team Meeting 4:45 pm
Sun 6/22 SPRC Meeting
5:00 pm
14837 Highway 69 N, Northport, AL 35475
Schedule of Events
"The Church on the Lake"
6/1
6/19
Anniversaries
Tony & Emma Laws
Jim & Linn Dunscombe
Macedonia United Methodist Church
6/18
6/19
Birthdays
Dan Tierce
Corenedene Rushing
"The Church on the Lake"
Rock Stone, Pastor
14837 Hwy 69 N, Northport, AL 35475
205.339.6360 (Office)  205.792.3301 (Cell)  205.339.6610 (Fax)
E-mail: pastor@thechurchonthelakeumc.org
secretary@thechurchonthelakeumc.org
thechurchonthelakeumc.org
FROM THE ROCK PILE
As I sent here typing this edition of the "Rock Pile" it is hard to believe that this
month I will begin my 10th year here at Macedonia UMC, "The Church on the Lake." To
say that time flies is certainly an understatement. I remember how excited that we were
when we heard that we were moving here. I can honestly say that the level of excitement
remains today. It is amazing how much things have changed around in the last several years.
There is no way that I can take the time in this newsletter to share with you. I can't wait to
see what God will allow us to do in the future.
If you were not with us in the month of May let me say that you missed out on a lot.
Homecoming which of course is always the first Sunday in May was outstanding once again
this year. Chosen Witness was with us and of course they did an awesome job. The worship
service, and it was just that a worship service, was very moving. There was no doubt that
the Holy Spirit was alive and well with us as they shared the gospel through their songs.
Chosen Witness has a wonderful ministry and I always look forward to being with them.
The lunch after the service was amazing as always. I know that Homecoming is a special
time as so many family and friends come back to visit. I look forward to sharing
Homecoming 2015 with the Macedonia family.
The second Sunday in May brought to us a wonderful surprise. Mother's Day 2014
will always be remembered as the first Sunday that we had our first Worship service after
the new stained glass windows were installed. Yes, you read that correctly, there are now 6
beautiful stained glass windows in the sanctuary of Macedonia UMC. After weeks of
delays the windows arrived on the Thursday before Mother's Day. I chose not to spread the
word as I wanted it to be a surprise for those who came for worship that Sunday. While I
know that a few people had seen the windows and perhaps for some the news got out but I
think for the most part it remained quiet. So on the 2nd Sunday of May we walked into a
very beautiful sanctuary. With all of the renovations and improvements that have been made
to the sanctuary over the past several weeks I can honestly say that it is one of the most
soothing and peaceful and I would even say beautiful sanctuaries I have ever experienced.
There just seems to be a different spirit and atmosphere here now. It is hard to explain; I
would just suggest that when you come to worship that you open yourself up to allow the
Holy Spirit to move within you. I would like to thank the trustees for their leadership in the
renovations of the sanctuary and everyone who helped to make it happen through your gifts
and certainly your prayers.
Well, now we move to the 3rd Sunday in May. Again, if you were not here you
absolutely missed out on a blessing. We had as our special guests for the day the Eagles
Wings Choir. Hey buddy, let me tell you they brought the house DOWN! And then they
brought the people to their feet. We were singing, clapping, crying and dancing throughout
their worship experience. It truly was a worship experience. The Holy Spirit moved
through not only the choir but through all of us in attendance. If you left that morning
without being touched by God I am not sure that you can be touched by Him. We
concluded our time together for the day with a wonderful lunch of barbeque and all the
fixings, plus dessert of course.
As I get ready to close out this edition I must say how excited I am about what is
going on here. WoW is up and running outside for the summer and fall and we are
averaging 25 per service. Certainly our numbers at 11:00 have been very good over the past
few weeks. As you can see things are happening here at Macedonia UMC, "The Church on
the Lake." My suggestion to you would be that you get here as often as you possibly are
able. I truly want everyone to experience not only the setting for the sanctuary but more
importantly the movement of the Holy Spirit that we experience in every Worship service.
Until next month; continue to believe, be blessed and become a blessing. Shalom
Prayer Concerns
The Lost and Unchurched, Our Nation, Our Church
Our Homebound: Elsie Guy, Bobbie Morrow, Corendene Rushing, Betty Tierce
Our Church Family: Jeff Turner, Susan Shirley, Evonne Brown, Duffy Hagler, Joe Ed
Brown, Patty Jean Armstrong, Debbie Medders, Sirley Robertson, Sharon Evans, Hilary
Shirley, Jean Hallmark, Abide Team
Friends & Family: Maria Henderson family, Dixie McCraw, Ricky Appleing, Jason
Davis, Mike Cain family, Bobby Smitherman, Patricia Lyons, Terry & Sheila Grammer,
Jerry Hollingsworth, Colleen Beckwith, Jason Heath, Theresa Sellers, Ann Richey, Glenn
Thornell, David Sutphen, Betty Crumbley, Daniel Evans, Mallory Burkhalter, Mike
Renfroe, Ann Renfroe, Mateo Lopez, Robin Beasley, Jeanette Sellers, Charles McCraw,
Jewel Walters, Diane Ballard, Shirley Griffin, Blanche Quarles family, Jason McNeill,
Tom Fleming, Naomia Brown, Shelby Brown, Faye Kirkley, Rhonda Poe, Frances
Etheridge, Willie Lemley, Bob Hardeman
Opportunites for Spiritual Growth
Worship on the Water (WoW)
Sunday School
Sunday Morning Worship
Sunday Evening Worship
Wednesday Night Bible Study
Friday Seekers Prayer Group
8:30 a.m.
10:00 a.m.
11:00 a.m.
6:00 p.m.
6:00 p.m
10:00 a.m.
Online giving for various funds is now available via a link on our
website at thechurchonthelakeumc.org.
Don't forget to LIKE us on FACEBOOK
We are looking for someone to direct VBS this year.
If you are interested in directing or just helping out
with VBS this summer please let Valeria or Rock
know as soon as possible.