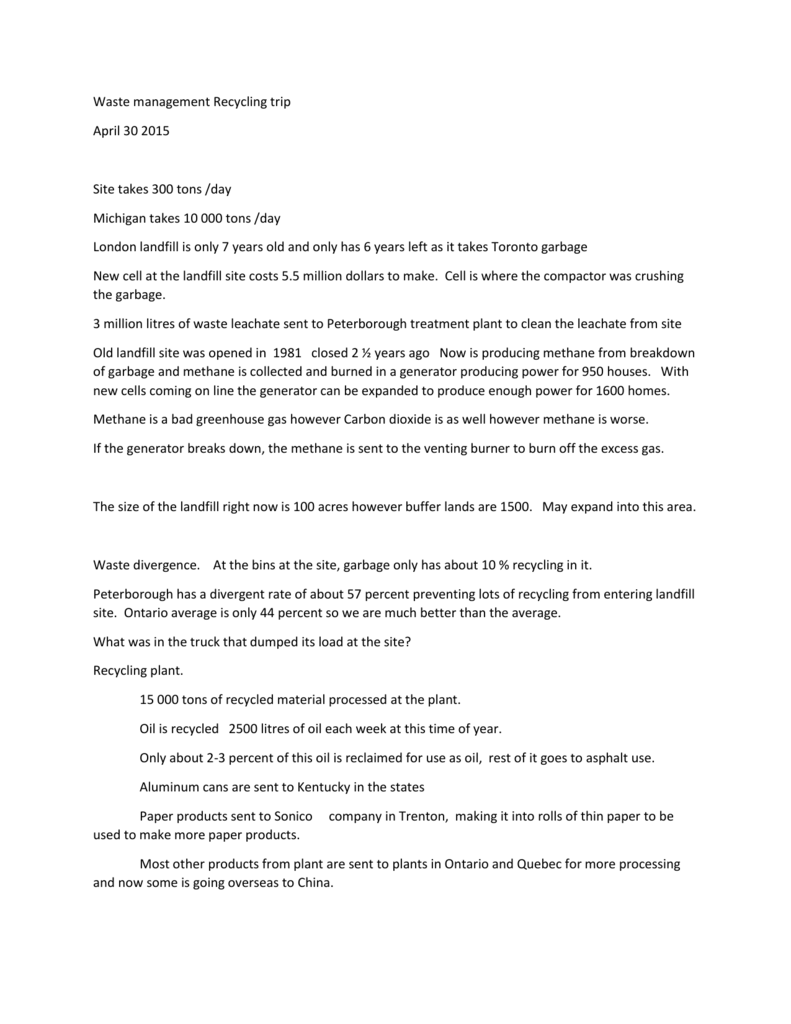 Waste management Recycling trip
April 30 2015
Site takes 300 tons /day
Michigan takes 10 000 tons /day
London landfill is only 7 years old and only has 6 years left as it takes Toronto garbage
New cell at the landfill site costs 5.5 million dollars to make. Cell is where the compactor was crushing
the garbage.
3 million litres of waste leachate sent to Peterborough treatment plant to clean the leachate from site
Old landfill site was opened in 1981 closed 2 ½ years ago Now is producing methane from breakdown
of garbage and methane is collected and burned in a generator producing power for 950 houses. With
new cells coming on line the generator can be expanded to produce enough power for 1600 homes.
Methane is a bad greenhouse gas however Carbon dioxide is as well however methane is worse.
If the generator breaks down, the methane is sent to the venting burner to burn off the excess gas.
The size of the landfill right now is 100 acres however buffer lands are 1500. May expand into this area.
Waste divergence. At the bins at the site, garbage only has about 10 % recycling in it.
Peterborough has a divergent rate of about 57 percent preventing lots of recycling from entering landfill
site. Ontario average is only 44 percent so we are much better than the average.
What was in the truck that dumped its load at the site?
Recycling plant.
15 000 tons of recycled material processed at the plant.
Oil is recycled 2500 litres of oil each week at this time of year.
Only about 2-3 percent of this oil is reclaimed for use as oil, rest of it goes to asphalt use.
Aluminum cans are sent to Kentucky in the states
Paper products sent to Sonico
used to make more paper products.
company in Trenton, making it into rolls of thin paper to be
Most other products from plant are sent to plants in Ontario and Quebec for more processing
and now some is going overseas to China.