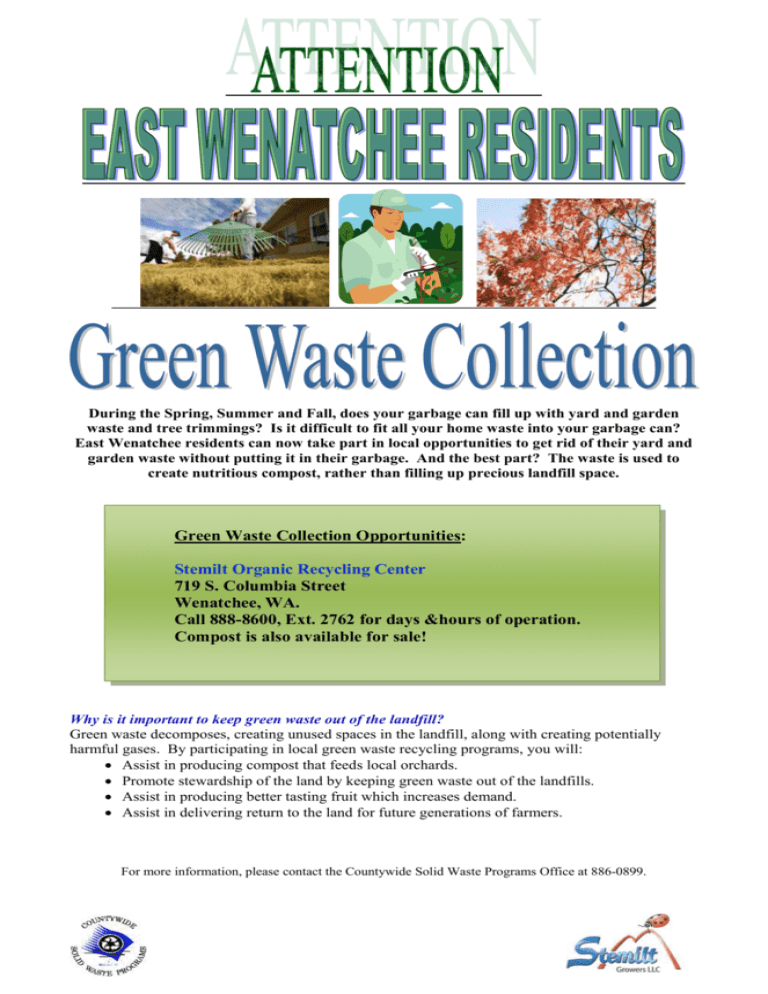 During the Spring, Summer and Fall, does your garbage can fill up with yard and garden
waste and tree trimmings? Is it difficult to fit all your home waste into your garbage can?
East Wenatchee residents can now take part in local opportunities to get rid of their yard and
garden waste without putting it in their garbage. And the best part? The waste is used to
create nutritious compost, rather than filling up precious landfill space.
Green Waste Collection Opportunities:
Stemilt Organic Recycling Center
719 S. Columbia Street
Wenatchee, WA.
Call 888-8600, Ext. 2762 for days &hours of operation.
Compost is also available for sale!
Why is it important to keep green waste out of the landfill?
Green waste decomposes, creating unused spaces in the landfill, along with creating potentially
harmful gases. By participating in local green waste recycling programs, you will:
 Assist in producing compost that feeds local orchards.
 Promote stewardship of the land by keeping green waste out of the landfills.
 Assist in producing better tasting fruit which increases demand.
 Assist in delivering return to the land for future generations of farmers.
For more information, please contact the Countywide Solid Waste Programs Office at 886-0899.