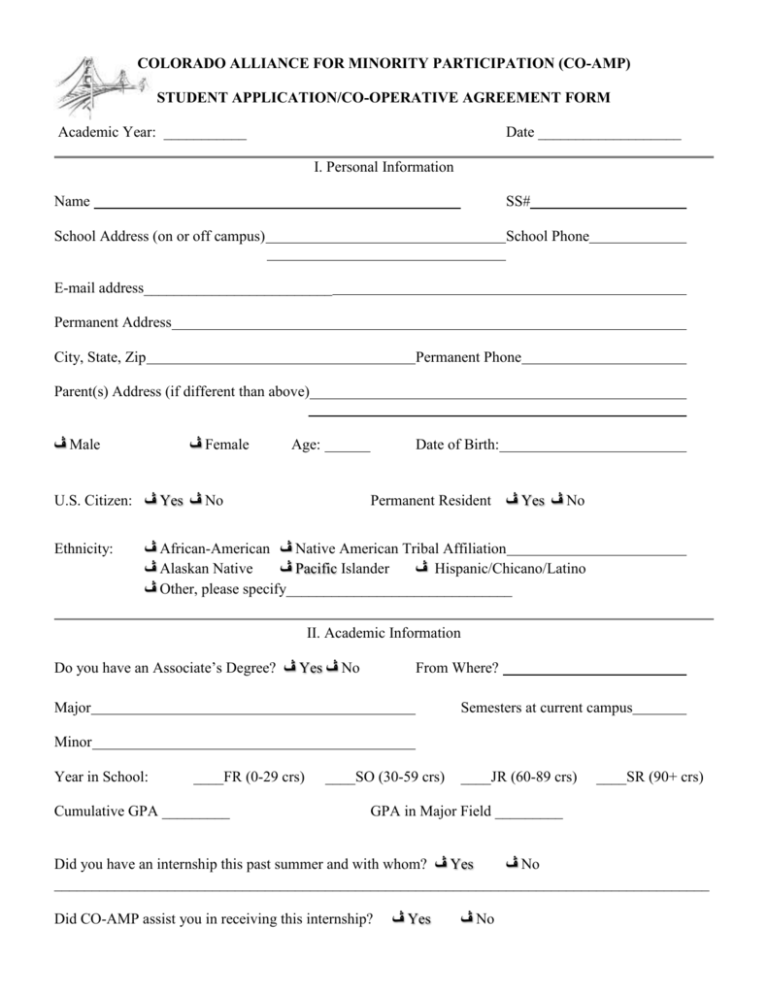 COLORADO ALLIANCE FOR MINORITY PARTICIPATION (CO-AMP)
STUDENT APPLICATION/CO-OPERATIVE AGREEMENT FORM
Academic Year: ___________
Date ___________________
I. Personal Information
Name
SS#
School Address (on or off campus)
School Phone
E-mail address_________________________
Permanent Address
City, State, Zip
Permanent Phone
Parent(s) Address (if different than above)
‫ ڤ‬Male
‫ ڤ‬Female
Age:
Date of Birth:
U.S. Citizen: ‫ ڤ‬Yes ‫ ڤ‬No
Ethnicity:
Permanent Resident ‫ ڤ‬Yes ‫ ڤ‬No
‫ ڤ‬African-American ‫ ڤ‬Native American Tribal Affiliation
‫ ڤ‬Alaskan Native
‫ ڤ‬Pacific Islander
‫ ڤ‬Hispanic/Chicano/Latino
‫ ڤ‬Other, please specify______________________________
II. Academic Information
Do you have an Associate's Degree? ‫ ڤ‬Yes ‫ ڤ‬No
From Where?
Major
Semesters at current campus
Minor
Year in School:
____FR (0-29 crs)
Cumulative GPA _________
____SO (30-59 crs)
____JR (60-89 crs)
____SR (90+ crs)
GPA in Major Field _________
Did you have an internship this past summer and with whom? ‫ ڤ‬Yes
‫ ڤ‬No
_______________________________________________________________________________________
Did CO-AMP assist you in receiving this internship?
‫ ڤ‬Yes
‫ ڤ‬No
III. What Services would be most beneficial to you?
Check the areas in which you are interested: (These are services that CO-AMP furnishes or to which CO-AMP can
refer you)







Being Tutored
Tutoring (see below)**
Faculty Mentoring
Scholarship Info
Financial Aid Info
Academic Advising
Study Skills Workshops






Undergraduate Research
Summer Opportunities
Elsewhere
Student Organizations
Career Counseling
Major/Career Exploration
Graduate School Info/Prep




Internship Info
Cultural Events
Industry Tours
Travel support to minority
conferences
** If you are tutoring, please indicate the specific class subject names here___________________________
IV. Co-operative Agreement
CO-AMP is here for your academic success. Students please keep in mind that CO-AMP is here to help you
achieve your academic, social and professional potential. Therefore, the CO-AMP staff requires this
aforementioned information to assist you in achieving your goals.
By signing immediately below, you authorize CO-AMP staff to obtain from or release to Admissions,
Registrar, Financial Aid, or other offices on or off campus, any records or data pertinent to participation in
the program, specifically, by facilitating academic advising and academic tracking by accessing your grades.
Signature
Date
The following opportunity is optional, but may be to your academic advantage to sign. By providing an
additional signature below, and remember this is optional, you authorize the release of your name, address,
email and phone number to CO-AMP and its participating four-year institutions (if you are presently
attending a community or junior college) and graduate schools to contact you concerning educational
opportunities and fellowships at their respective institutions.
Signature
Date
The LOUIS STOKES COLORADO ALLIANCE FOR MINORITY PARTICIPATION (LS CO-AMP) is an innovative
consortium of thirteen community colleges and four-year institutions, and four Native American tribes in Colorado and the Four
Corners region. The Alliance's mission is to double the number of historically and currently under-represented American Indian,
African American, and Hispanic students earning bachelor's degrees in Science, Mathematics, Engineering, and Technology.