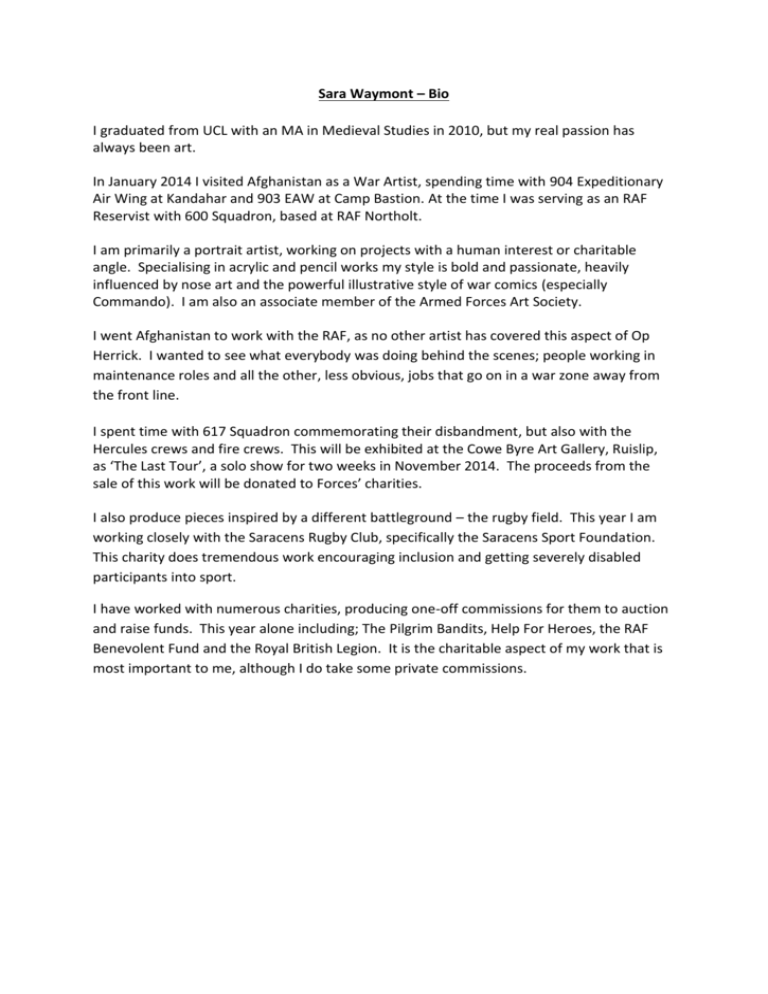 Sara Waymont – Bio
I graduated from UCL with an MA in Medieval Studies in 2010, but my real passion has
always been art.
In January 2014 I visited Afghanistan as a War Artist, spending time with 904 Expeditionary
Air Wing at Kandahar and 903 EAW at Camp Bastion. At the time I was serving as an RAF
Reservist with 600 Squadron, based at RAF Northolt.
I am primarily a portrait artist, working on projects with a human interest or charitable
angle. Specialising in acrylic and pencil works my style is bold and passionate, heavily
influenced by nose art and the powerful illustrative style of war comics (especially
Commando). I am also an associate member of the Armed Forces Art Society.
I went Afghanistan to work with the RAF, as no other artist has covered this aspect of Op
Herrick. I wanted to see what everybody was doing behind the scenes; people working in
maintenance roles and all the other, less obvious, jobs that go on in a war zone away from
the front line.
I spent time with 617 Squadron commemorating their disbandment, but also with the
Hercules crews and fire crews. This will be exhibited at the Cowe Byre Art Gallery, Ruislip,
as 'The Last Tour', a solo show for two weeks in November 2014. The proceeds from the
sale of this work will be donated to Forces' charities.
I also produce pieces inspired by a different battleground – the rugby field. This year I am
working closely with the Saracens Rugby Club, specifically the Saracens Sport Foundation.
This charity does tremendous work encouraging inclusion and getting severely disabled
participants into sport.
I have worked with numerous charities, producing one-off commissions for them to auction
and raise funds. This year alone including; The Pilgrim Bandits, Help For Heroes, the RAF
Benevolent Fund and the Royal British Legion. It is the charitable aspect of my work that is
most important to me, although I do take some private commissions.