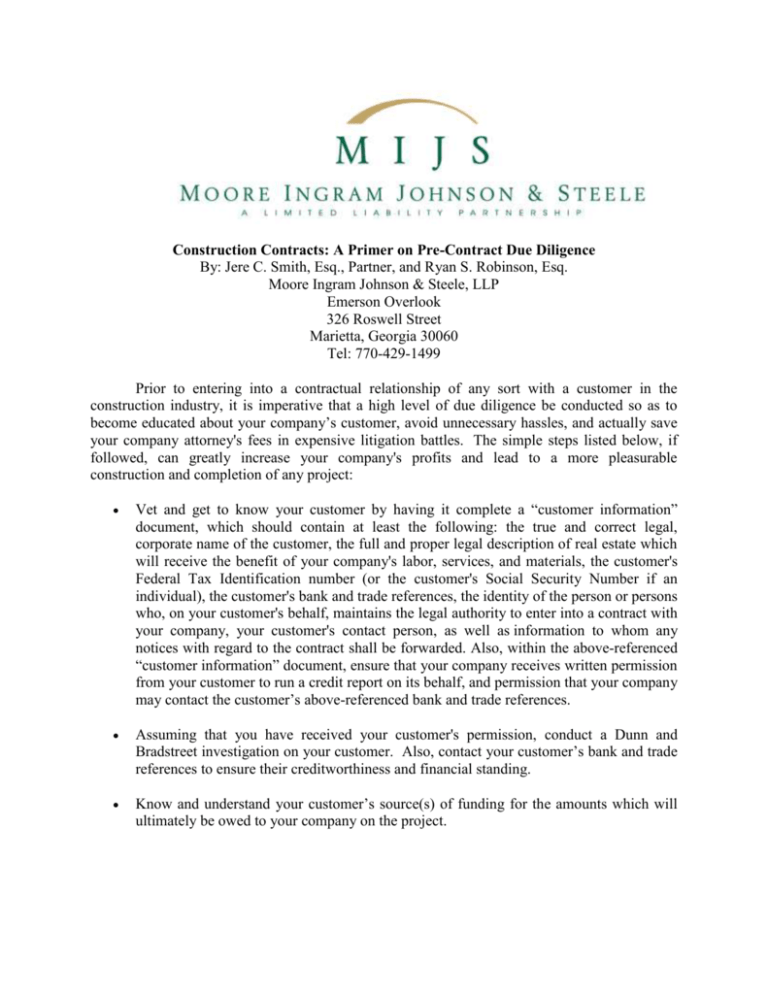 Construction Contracts: A Primer on Pre-Contract Due Diligence
By: Jere C. Smith, Esq., Partner, and Ryan S. Robinson, Esq.
Moore Ingram Johnson & Steele, LLP
Emerson Overlook
326 Roswell Street
Marietta, Georgia 30060
Tel: 770-429-1499
Prior to entering into a contractual relationship of any sort with a customer in the
construction industry, it is imperative that a high level of due diligence be conducted so as to
become educated about your company's customer, avoid unnecessary hassles, and actually save
your company attorney's fees in expensive litigation battles. The simple steps listed below, if
followed, can greatly increase your company's profits and lead to a more pleasurable
construction and completion of any project:

Vet and get to know your customer by having it complete a "customer information"
document, which should contain at least the following: the true and correct legal,
corporate name of the customer, the full and proper legal description of real estate which
will receive the benefit of your company's labor, services, and materials, the customer's
Federal Tax Identification number (or the customer's Social Security Number if an
individual), the customer's bank and trade references, the identity of the person or persons
who, on your customer's behalf, maintains the legal authority to enter into a contract with
your company, your customer's contact person, as well as information to whom any
notices with regard to the contract shall be forwarded. Also, within the above-referenced
"customer information" document, ensure that your company receives written permission
from your customer to run a credit report on its behalf, and permission that your company
may contact the customer's above-referenced bank and trade references.

Assuming that you have received your customer's permission, conduct a Dunn and
Bradstreet investigation on your customer. Also, contact your customer's bank and trade
references to ensure their creditworthiness and financial standing.

Know and understand your customer's source(s) of funding for the amounts which will
ultimately be owed to your company on the project.

Determine whether or not the project to which you will supply your labor, services, or
materials is a private or public (government owned) project. The identification of this
information is critical for materialmen's lien filing or payment bond claims in the event
your customer does not pay amounts owed to your company on the project.

Visit the project and investigate all conditions associated with your company's work to
be performed. Understand the project's site conditions. A good question to ask yourself is
"what's behind the walls?" By performing this task, your company is more likely to fully
understand its true scope of work on the project. Your company is also less likely to
underbid the project and more likely to maximize profits.

Fully familiarize yourself with the Owner's, Architect's and General Contractor's plans,
drawings, specifications and directives for the project.

Fully read and familiarize yourself with your customer's (most often the General
Contractor's) contract with the project Owner. Most often these days, your company's
contract with the General Contractor will incorporate the Owner/General Contract by
express reference. Not familiarizing yourself with this information will most probably
land your company into costly and time-consuming litigation.

Most contracts between General Contractors and Subcontractors contain what is called a
"pay when paid" provision. In other words, the General Contractor is contractually not
obligated to pay your company until such time as it receives its monies from the Owner.
Such provisions are enforced by Georgia law and can, if payment is not received by the
General Contractor from the Owner, have a significant negative impact on your company.

Research and investigate all local laws, building codes, and other ordinances of the
county or municipality within which the project is located, as well as the impact that
these laws may have upon the contract.

Adequately and properly estimate your company's time for completion. Do not
underestimate your company's completion date. Provide your company with adequate
leeway to complete the project and be very careful about substantial completion dates
which are at, or close to, the time that the owner needs to be "open for business".

For the reason that your company may be subject to a "pay when paid" provision within
the Owner/General Contractor's contract, as well as within the contract which your
company maintains with your customer (the General Contractor), consider utilizing these
same provisions within your company's sub-subcontracts and your vendor agreements.

Read and understand each and every provision of the General Conditions, Exhibits, and
Supplemental Conditions contained not only in your contract with the General Contractor
but also within the Owner/General Contractor contract as well. These documents ALL
form a part of the contract and can also lead to expensive litigation if not followed.

Familiarize yourself with the materialmen's lien and payment bond laws of the state
within which your company will conduct its business. No one specific state's laws are
similar. Materialmen's liens and payment bond claims provide the very best assurance
that you will be paid for the labor, services, and materials provided by your company to
the project.

With regard to materialmen's liens and payment bonds, fully familiarize yourself with
pre-lien notice requirements such as Notices of Commencements and Notices to
Contractor. If you do not, you will cause your company to forfeit substantial sums of
money owed on the project.

Whether the project is public or private, a payment bond may very well exist which can
greatly increase your company's chances of recovery for the amounts owed on the
project. Accordingly, identify whether any such payment bond exists prior to the
execution of the contract and obtain a copy of any such payment bond from the customer.

Prior to performing work in any foreign state (other than your own), spend the money on
a local attorney so that he or she may assist you in familiarizing yourself with the
"unique" laws of that state. For example, did you know that if an out-of-state "contractor"
(a term that is very broadly defined) fails to comply with the Georgia Non-Resident
Contractors Act (O.C.G.A. § 48-13-30 et seq., which requires, among other things,
licensure by the out of state contractor, procurement of a sales and use tax bond, and
payment of all sales and use taxes), not only may the contractor not file a lawsuit seeking
monies owed to it, the contractor may also be charged with a misdemeanor for failure to
comply with the Act?

Should your company find itself in a position that it must walk off the project or
terminate its relationship with its customer, make absolute certain that you fully
understand (and follow) the procedures for any such termination as contained within the
contract. For example, if termination under the contract calls for a ten (10) day notice to
the customer via regular and certified mail, do not forward the notice on day nine (9) via
regular mail.

Prepare to maintain a daily job diary. A job diary is essential to document and maintain
records of all communications on the project, weather days, delay causes, and other
relevant information. To the extent possible, once the performance of the contract has
begun, it is strongly recommended that you also photograph and videotape your
company's progress on the project as well.

Does your company maintain adequate insurance coverage, including both Worker's
Compensation and General Liability, for the project? Are your subcontractors (if any)
adequately insured on the project? Please note that a contractor, (who is subject to
Georgia's Workers' Compensation Laws) which subcontracts any part of its contract
work to a subcontractor, may be liable for coverage for the employees of the
subcontractor if the subcontractor has not obtained workers' compensation insurance
coverage. Be sure to fully understand your company's policies and limits, as well as any
additional insurance requirements pursuant to the terms of the contract, prior to entering
into the contract.
Please note that the foregoing steps are not exhaustive but instead are steps which, when
not taken, can lead to costly and protracted litigation. Therefore, in order to save your company
time, hassle, and money, be sure that you cross your "t's" and dot your "i's" when negotiating
your company's next construction contract. If you do, your project experience, as well as your
relationship with your customer, will be far better.