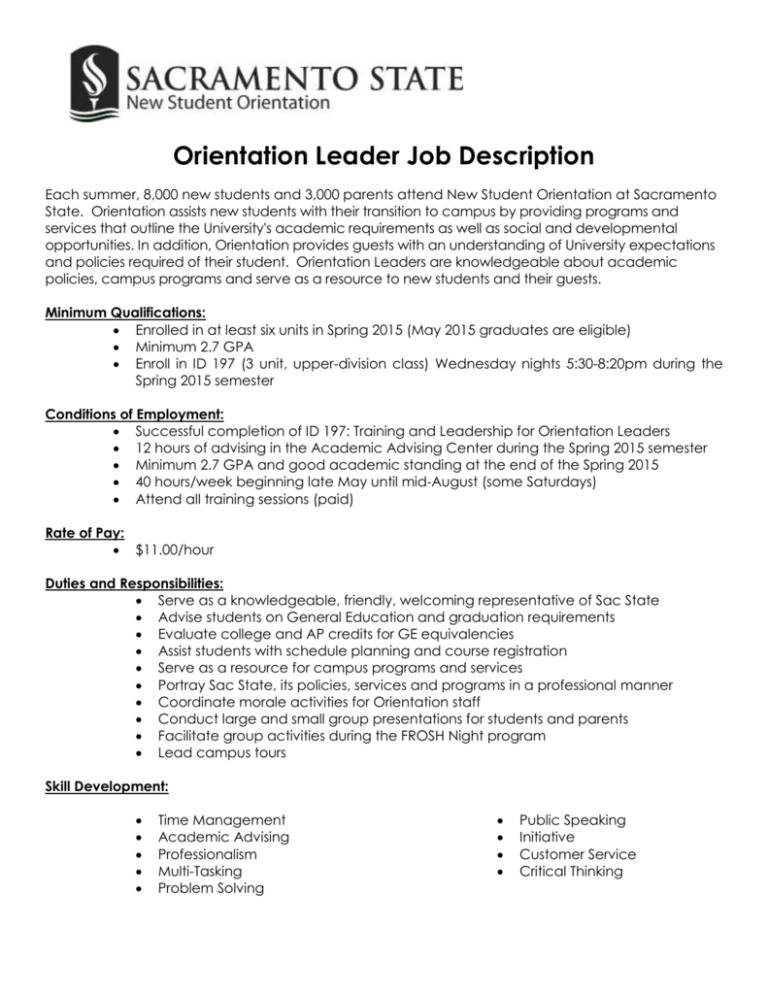 Orientation Leader Job Description
Each summer, 8,000 new students and 3,000 parents attend New Student Orientation at Sacramento
State. Orientation assists new students with their transition to campus by providing programs and
services that outline the University's academic requirements as well as social and developmental
opportunities. In addition, Orientation provides guests with an understanding of University expectations
and policies required of their student. Orientation Leaders are knowledgeable about academic
policies, campus programs and serve as a resource to new students and their guests.
Minimum Qualifications:
 Enrolled in at least six units in Spring 2015 (May 2015 graduates are eligible)
 Minimum 2.7 GPA
 Enroll in ID 197 (3 unit, upper-division class) Wednesday nights 5:30-8:20pm during the
Spring 2015 semester
Conditions of Employment:
 Successful completion of ID 197: Training and Leadership for Orientation Leaders
 12 hours of advising in the Academic Advising Center during the Spring 2015 semester
 Minimum 2.7 GPA and good academic standing at the end of the Spring 2015
 40 hours/week beginning late May until mid-August (some Saturdays)
 Attend all training sessions (paid)
Rate of Pay:
 $11.00/hour
Duties and Responsibilities:
 Serve as a knowledgeable, friendly, welcoming representative of Sac State
 Advise students on General Education and graduation requirements
 Evaluate college and AP credits for GE equivalencies
 Assist students with schedule planning and course registration
 Serve as a resource for campus programs and services
 Portray Sac State, its policies, services and programs in a professional manner
 Coordinate morale activities for Orientation staff
 Conduct large and small group presentations for students and parents
 Facilitate group activities during the FROSH Night program
 Lead campus tours
Skill Development:





Time Management
Academic Advising
Professionalism
Multi-Tasking
Problem Solving




Public Speaking
Initiative
Customer Service
Critical Thinking
Orientation Leader Application
Summer 2015
All applicant materials must be typed
Name
Student ID#
Phone
E-mail
Street Address
City, State, Zip Code
Answer below if you TRANSFERRED
to Sac State
When did you enroll at Sac State?
(ex. Fall 2014)
Answer below if you started Sac State as a
FRESHMAN
When did you enroll at Sac State?
(ex. Fall 2014)
List fluent languages other than English
List fluent languages other than English
Which schools did you attend?
What is your hometown?
Expected Graduation Date (ex. Fall 2015)
Expected Graduation Date (ex. Fall 2015)
What is your major?
What is your major?
GPA
GPA
Sac State GPA:
Sac State GPA:
(if this is your first semester at Sac State, write: NA)
(if this is your first semester at Sac State, write: NA)
Transfer GPA:
How did you hear about the position? Please specify: _____________________________________
__________________________________________________________________________________________
Please share your prior employment history with us. If you wish to attach a resume feel free to do so.
EMPLOYMENT HISTORY
Employer
Job Title
Dates of Employment
Duties
Employer
Job Title
Dates of Employment
Duties
EXTRACURRICULAR ACTIVITIES
Tell us about your involvement in any Sac State programs or activities as well as off-campus
involvement (Ex: sorority/fraternity, departmental club, little league coach, Girl Scout leader).
PERSONAL STATEMENT
Orientation Leaders are required to take initiative, think on their feet, work with others, and be a selfstarter. For your application, type and attach a personal statement (no longer than two pages) that
addresses the following questions:
1. What motivated you to apply for this position at this point in your Sac State career?
2. Tell us how your experiences (clubs, classes, work history, volunteer experiences,
athletics…etc.) have prepared you to be successful in this position.
3. Share one of the challenges you faced during your first month at Sac State. What did you
learn from this experience?
By signing this document I hereby certify that all information provided is accurate and complete to
the best of my knowledge.
______________________________
Applicant Signature
______________
Date
SUBMIT APPLICATION TO: NEW STUDENT ORIENTATION OFFICE, LASSEN HALL 1010
DUE: Friday, October 24, 2014 no later than 5pm. We will not accept application materials that are not
typed.