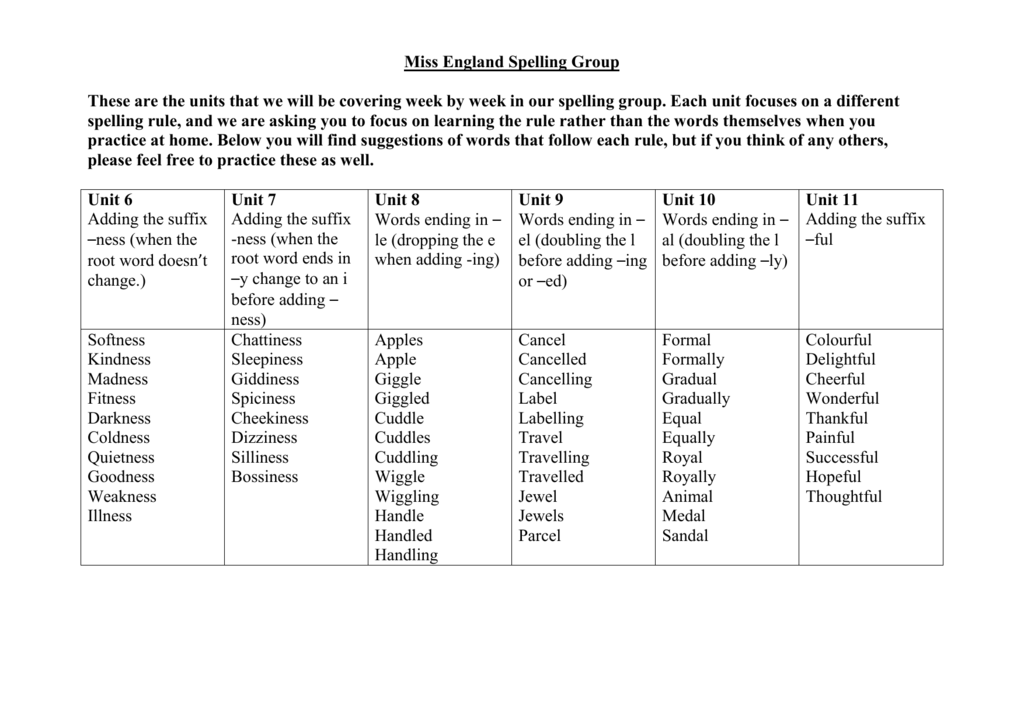 Miss England Spelling Group
These are the units that we will be covering week by week in our spelling group. Each unit focuses on a different
spelling rule, and we are asking you to focus on learning the rule rather than the words themselves when you
practice at home. Below you will find suggestions of words that follow each rule, but if you think of any others,
please feel free to practice these as well.
Unit 6
Adding the suffix
–ness (when the
root word doesn't
change.)
Softness
Kindness
Madness
Fitness
Darkness
Coldness
Quietness
Goodness
Weakness
Illness
Unit 7
Adding the suffix
-ness (when the
root word ends in
–y change to an i
before adding –
ness)
Chattiness
Sleepiness
Giddiness
Spiciness
Cheekiness
Dizziness
Silliness
Bossiness
Unit 8
Words ending in –
le (dropping the e
when adding -ing)
Unit 9
Words ending in –
el (doubling the l
before adding –ing
or –ed)
Unit 10
Words ending in –
al (doubling the l
before adding –ly)
Unit 11
Adding the suffix
–ful
Apples
Apple
Giggle
Giggled
Cuddle
Cuddles
Cuddling
Wiggle
Wiggling
Handle
Handled
Handling
Cancel
Cancelled
Cancelling
Label
Labelling
Travel
Travelling
Travelled
Jewel
Jewels
Parcel
Formal
Formally
Gradual
Gradually
Equal
Equally
Royal
Royally
Animal
Medal
Sandal
Colourful
Delightful
Cheerful
Wonderful
Thankful
Painful
Successful
Hopeful
Thoughtful
Unit 12
Adding the suffix –less
(when the root word doesn't
change).
Careless
Hopeless
Fearless
Toothless
Pointless
Restless
Homeless
Endless
Harmless
Unit 13
Adding the suffix –ment
(when the root word doesn't
change).
Movement
Attachment
Enjoyment
Amazement
Judgement
Punishment
Measurement
Treatment
Unit 14
Words ending in -tion
Unit 15
Adding the suffix –es
(swapping the y for and i).
Station
Nation
National
Emotional
Location
Potion
Caption
Section
Option
Babies
Fries
Carries
Bodies
Hobbies
Ladies
Spies
Flies
Tries
Families
We will have a short test on the previous week's rule and words at the start of the following unit. Any words that
children are finding tricky will be recorded in their log-book for children to keep
practicing.
We will also have a longer, more formal, assessment after every 4-5 units in order to
track the progress children are making.
Each week we will inform you via the newsletter on which unit your child needs to
practice that weekend.