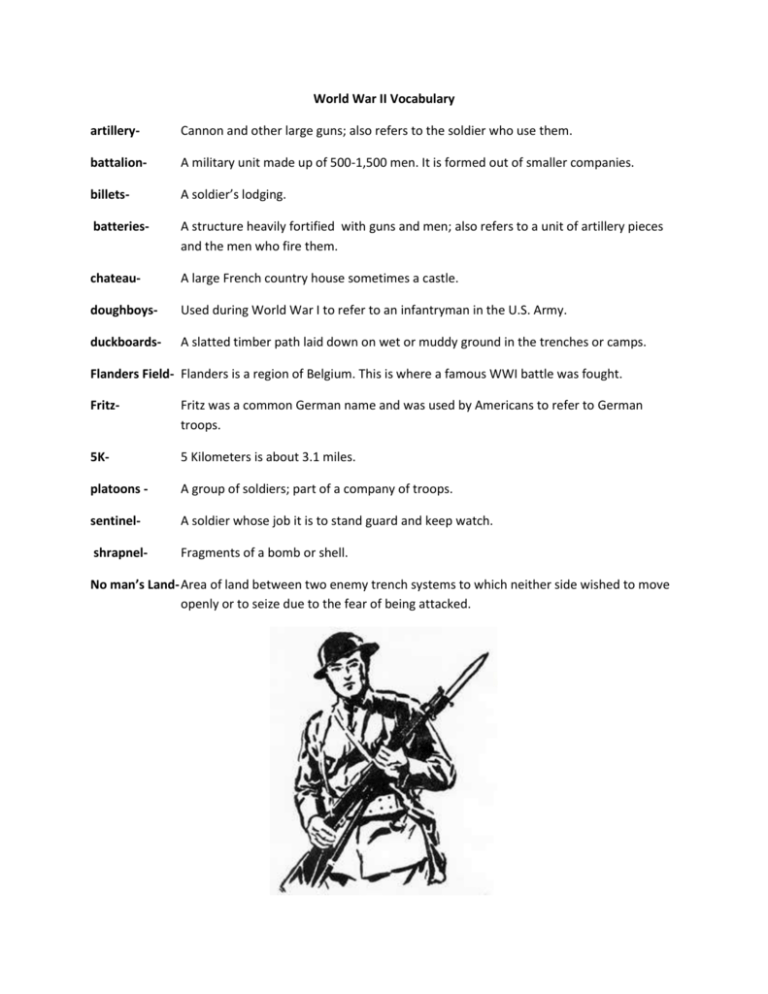 World War II Vocabulary
artillery-
Cannon and other large guns; also refers to the soldier who use them.
battalion-
A military unit made up of 500-1,500 men. It is formed out of smaller companies.
billets-
A soldier's lodging.
batteries-
A structure heavily fortified with guns and men; also refers to a unit of artillery pieces
and the men who fire them.
chateau-
A large French country house sometimes a castle.
doughboys-
Used during World War I to refer to an infantryman in the U.S. Army.
duckboards-
A slatted timber path laid down on wet or muddy ground in the trenches or camps.
Flanders Field- Flanders is a region of Belgium. This is where a famous WWI battle was fought.
Fritz-
Fritz was a common German name and was used by Americans to refer to German
troops.
5K-
5 Kilometers is about 3.1 miles.
platoons -
A group of soldiers; part of a company of troops.
sentinel-
A soldier whose job it is to stand guard and keep watch.
shrapnel-
Fragments of a bomb or shell.
No man's Land- Area of land between two enemy trench systems to which neither side wished to move
openly or to seize due to the fear of being attacked.