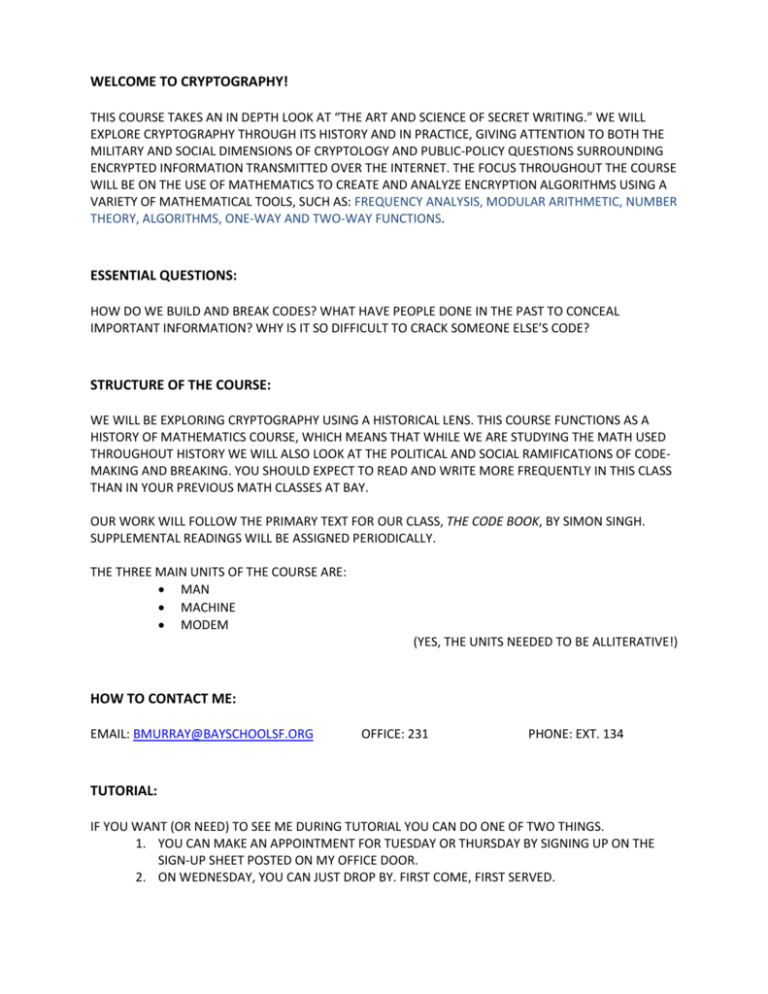 WELCOME TO CRYPTOGRAPHY!
THIS COURSE TAKES AN IN DEPTH LOOK AT "THE ART AND SCIENCE OF SECRET WRITING." WE WILL
EXPLORE CRYPTOGRAPHY THROUGH ITS HISTORY AND IN PRACTICE, GIVING ATTENTION TO BOTH THE
MILITARY AND SOCIAL DIMENSIONS OF CRYPTOLOGY AND PUBLIC-POLICY QUESTIONS SURROUNDING
ENCRYPTED INFORMATION TRANSMITTED OVER THE INTERNET. THE FOCUS THROUGHOUT THE COURSE
WILL BE ON THE USE OF MATHEMATICS TO CREATE AND ANALYZE ENCRYPTION ALGORITHMS USING A
VARIETY OF MATHEMATICAL TOOLS, SUCH AS: FREQUENCY ANALYSIS, MODULAR ARITHMETIC, NUMBER
THEORY, ALGORITHMS, ONE-WAY AND TWO-WAY FUNCTIONS.
ESSENTIAL QUESTIONS:
HOW DO WE BUILD AND BREAK CODES? WHAT HAVE PEOPLE DONE IN THE PAST TO CONCEAL
IMPORTANT INFORMATION? WHY IS IT SO DIFFICULT TO CRACK SOMEONE ELSE'S CODE?
STRUCTURE OF THE COURSE:
WE WILL BE EXPLORING CRYPTOGRAPHY USING A HISTORICAL LENS. THIS COURSE FUNCTIONS AS A
HISTORY OF MATHEMATICS COURSE, WHICH MEANS THAT WHILE WE ARE STUDYING THE MATH USED
THROUGHOUT HISTORY WE WILL ALSO LOOK AT THE POLITICAL AND SOCIAL RAMIFICATIONS OF CODEMAKING AND BREAKING. YOU SHOULD EXPECT TO READ AND WRITE MORE FREQUENTLY IN THIS CLASS
THAN IN YOUR PREVIOUS MATH CLASSES AT BAY.
OUR WORK WILL FOLLOW THE PRIMARY TEXT FOR OUR CLASS, THE CODE BOOK, BY SIMON SINGH.
SUPPLEMENTAL READINGS WILL BE ASSIGNED PERIODICALLY.
THE THREE MAIN UNITS OF THE COURSE ARE:
 MAN
 MACHINE
 MODEM
(YES, THE UNITS NEEDED TO BE ALLITERATIVE!)
HOW TO CONTACT ME:
EMAIL: BMURRAY@BAYSCHOOLSF.ORG
OFFICE: 231
PHONE: EXT. 134
TUTORIAL:
IF YOU WANT (OR NEED) TO SEE ME DURING TUTORIAL YOU CAN DO ONE OF TWO THINGS.
1. YOU CAN MAKE AN APPOINTMENT FOR TUESDAY OR THURSDAY BY SIGNING UP ON THE
SIGN-UP SHEET POSTED ON MY OFFICE DOOR.
2. ON WEDNESDAY, YOU CAN JUST DROP BY. FIRST COME, FIRST SERVED.