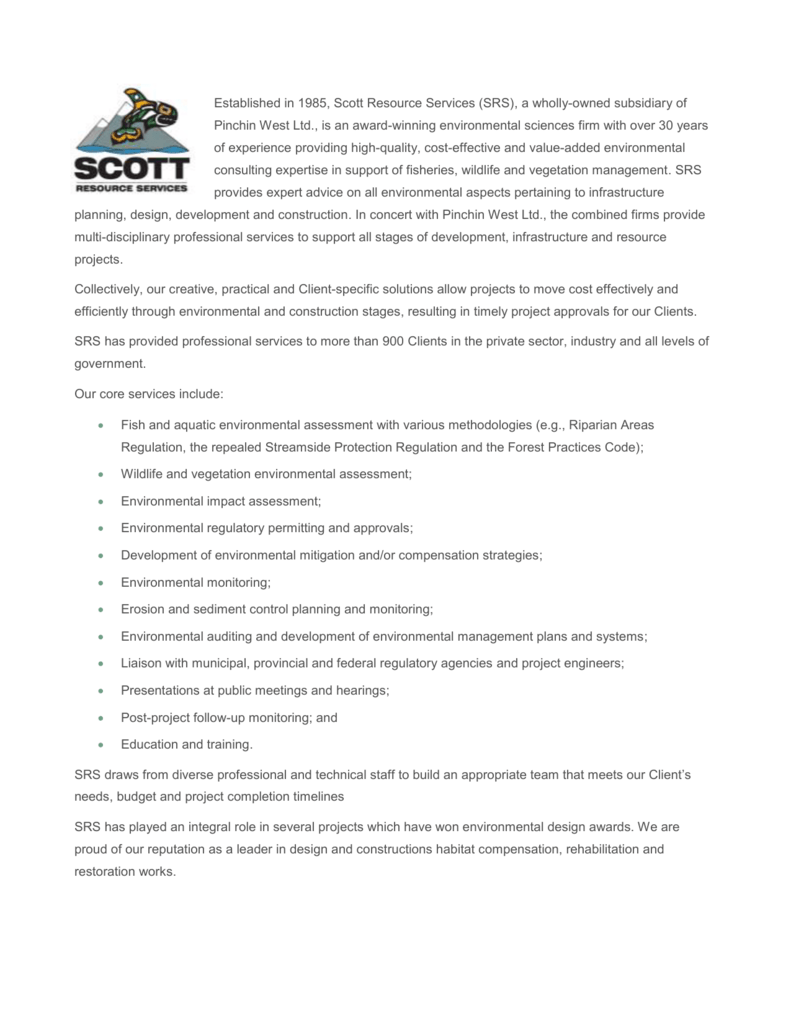 Established in 1985, Scott Resource Services (SRS), a wholly-owned subsidiary of
Pinchin West Ltd., is an award-winning environmental sciences firm with over 30 years
of experience providing high-quality, cost-effective and value-added environmental
consulting expertise in support of fisheries, wildlife and vegetation management. SRS
provides expert advice on all environmental aspects pertaining to infrastructure
planning, design, development and construction. In concert with Pinchin West Ltd., the combined firms provide
multi-disciplinary professional services to support all stages of development, infrastructure and resource
projects.
Collectively, our creative, practical and Client-specific solutions allow projects to move cost effectively and
efficiently through environmental and construction stages, resulting in timely project approvals for our Clients.
SRS has provided professional services to more than 900 Clients in the private sector, industry and all levels of
government.
Our core services include:

Fish and aquatic environmental assessment with various methodologies (e.g., Riparian Areas
Regulation, the repealed Streamside Protection Regulation and the Forest Practices Code);

Wildlife and vegetation environmental assessment;

Environmental impact assessment;

Environmental regulatory permitting and approvals;

Development of environmental mitigation and/or compensation strategies;

Environmental monitoring;

Erosion and sediment control planning and monitoring;

Environmental auditing and development of environmental management plans and systems;

Liaison with municipal, provincial and federal regulatory agencies and project engineers;

Presentations at public meetings and hearings;

Post-project follow-up monitoring; and

Education and training.
SRS draws from diverse professional and technical staff to build an appropriate team that meets our Client's
needs, budget and project completion timelines
SRS has played an integral role in several projects which have won environmental design awards. We are
proud of our reputation as a leader in design and constructions habitat compensation, rehabilitation and
restoration works.