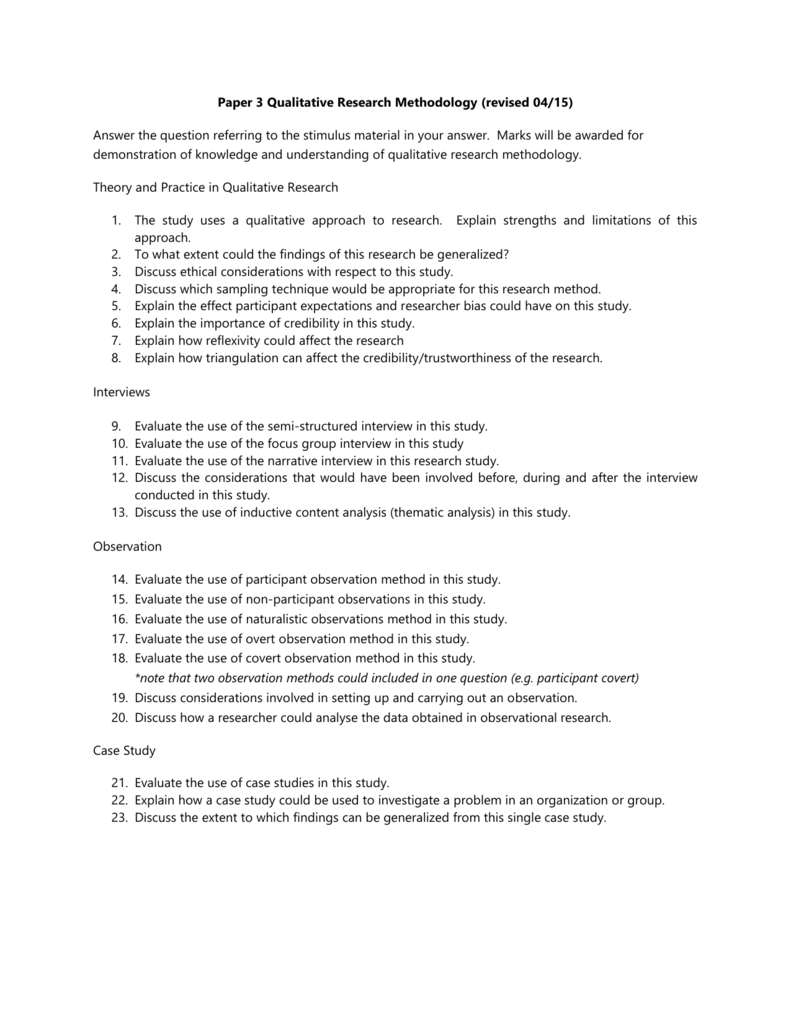 Paper 3 Qualitative Research Methodology (revised 04/15)
Answer the question referring to the stimulus material in your answer. Marks will be awarded for
demonstration of knowledge and understanding of qualitative research methodology.
Theory and Practice in Qualitative Research
1.
2.
3.
4.
5.
6.
7.
8.
The study uses a qualitative approach to research. Explain strengths and limitations of this
approach.
To what extent could the findings of this research be generalized?
Discuss ethical considerations with respect to this study.
Discuss which sampling technique would be appropriate for this research method.
Explain the effect participant expectations and researcher bias could have on this study.
Explain the importance of credibility in this study.
Explain how reflexivity could affect the research
Explain how triangulation can affect the credibility/trustworthiness of the research.
Interviews
9.
10.
11.
12.
Evaluate the use of the semi-structured interview in this study.
Evaluate the use of the focus group interview in this study
Evaluate the use of the narrative interview in this research study.
Discuss the considerations that would have been involved before, during and after the interview
conducted in this study.
13. Discuss the use of inductive content analysis (thematic analysis) in this study.
Observation
14. Evaluate the use of participant observation method in this study.
15. Evaluate the use of non-participant observations in this study.
16. Evaluate the use of naturalistic observations method in this study.
17. Evaluate the use of overt observation method in this study.
18. Evaluate the use of covert observation method in this study.
*note that two observation methods could included in one question (e.g. participant covert)
19. Discuss considerations involved in setting up and carrying out an observation.
20. Discuss how a researcher could analyse the data obtained in observational research.
Case Study
21. Evaluate the use of case studies in this study.
22. Explain how a case study could be used to investigate a problem in an organization or group.
23. Discuss the extent to which findings can be generalized from this single case study.