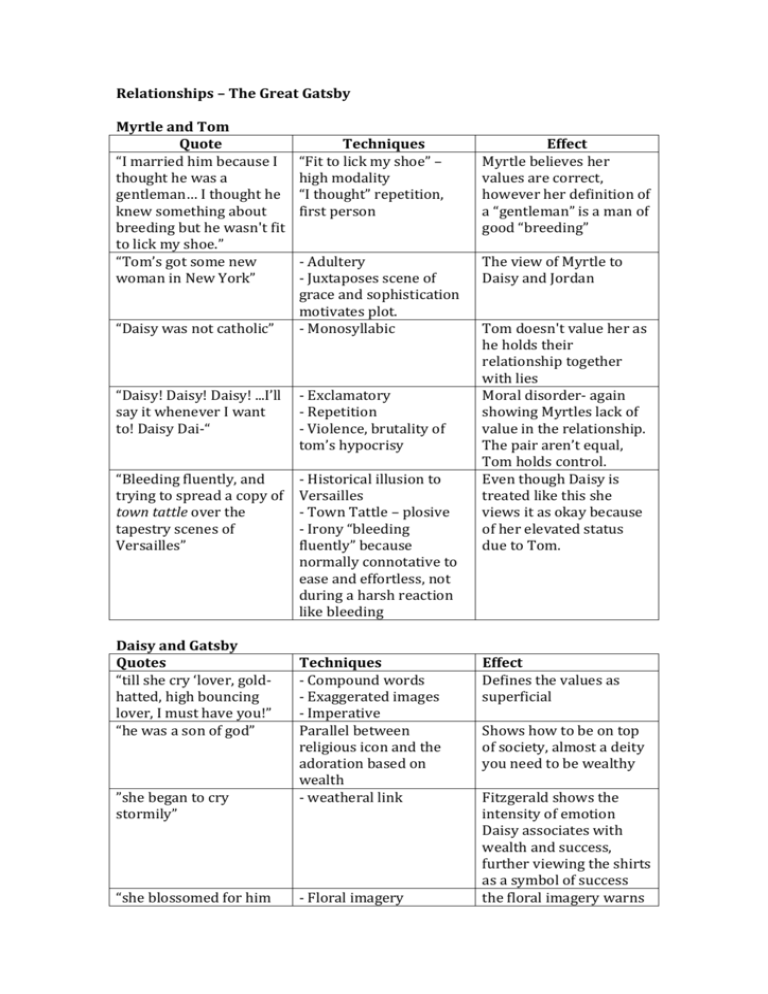 Relationships – The Great Gatsby
Myrtle and Tom
Quote
"I married him because I
thought he was a
gentleman… I thought he
knew something about
breeding but he wasn't fit
to lick my shoe."
"Tom's got some new
woman in New York"
"Daisy was not catholic"
Techniques
"Fit to lick my shoe" –
high modality
"I thought" repetition,
first person
Effect
Myrtle believes her
values are correct,
however her definition of
a "gentleman" is a man of
good "breeding"
- Adultery
- Juxtaposes scene of
grace and sophistication
motivates plot.
- Monosyllabic
The view of Myrtle to
Daisy and Jordan
"Daisy! Daisy! Daisy! ...I'll
say it whenever I want
to! Daisy Dai-"
- Exclamatory
- Repetition
- Violence, brutality of
tom's hypocrisy
"Bleeding fluently, and
trying to spread a copy of
town tattle over the
tapestry scenes of
Versailles"
- Historical illusion to
Versailles
- Town Tattle – plosive
- Irony "bleeding
fluently" because
normally connotative to
ease and effortless, not
during a harsh reaction
like bleeding
Daisy and Gatsby
Quotes
"till she cry 'lover, goldhatted, high bouncing
lover, I must have you!"
"he was a son of god"
"she began to cry
stormily"
"she blossomed for him
Techniques
- Compound words
- Exaggerated images
- Imperative
Parallel between
religious icon and the
adoration based on
wealth
- weatheral link
- Floral imagery
Tom doesn't value her as
he holds their
relationship together
with lies
Moral disorder- again
showing Myrtles lack of
value in the relationship.
The pair aren't equal,
Tom holds control.
Even though Daisy is
treated like this she
views it as okay because
of her elevated status
due to Tom.
Effect
Defines the values as
superficial
Shows how to be on top
of society, almost a deity
you need to be wealthy
Fitzgerald shows the
intensity of emotion
Daisy associates with
wealth and success,
further viewing the shirts
as a symbol of success
the floral imagery warns
like a flower and the
incarnation was
complete"
-
"Common swindler"
"Please Tom!"
NOT
FINISHED
EBB – PURE HONEST AND AUTHENTIC
GATSBY – THIS DSNT HAPPEN
of their love's temporal
nature as contrasted to a
flowers seasonal
changes.