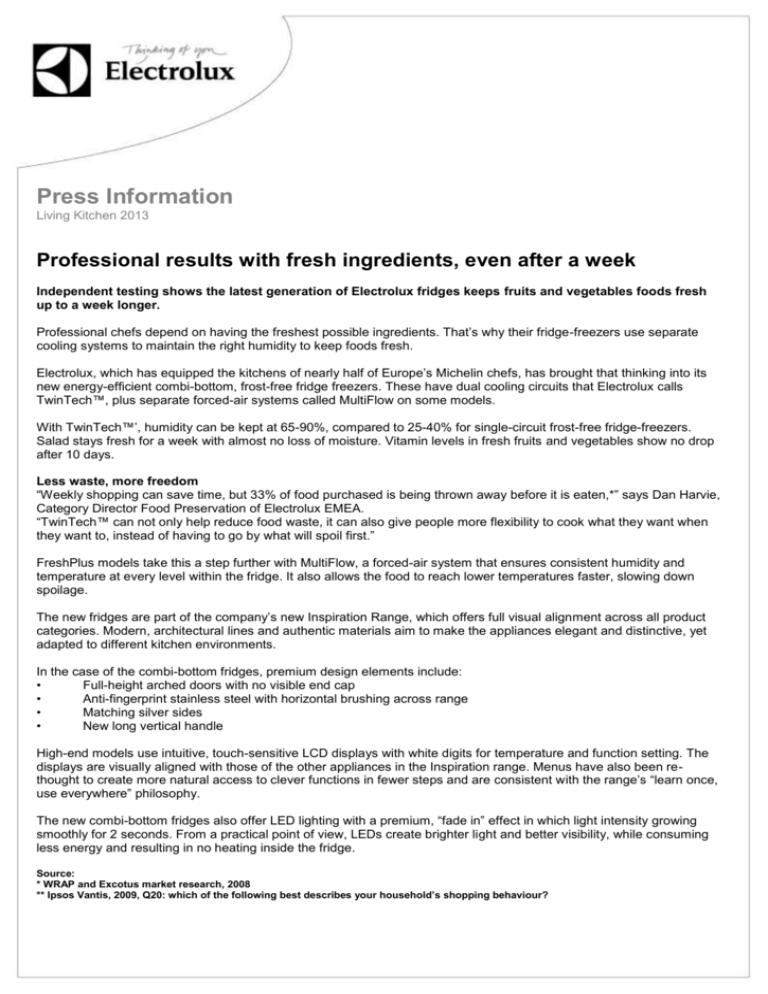 Press Information
Living Kitchen 2013
Professional results with fresh ingredients, even after a week
Independent testing shows the latest generation of Electrolux fridges keeps fruits and vegetables foods fresh
up to a week longer.
Professional chefs depend on having the freshest possible ingredients. That's why their fridge-freezers use separate
cooling systems to maintain the right humidity to keep foods fresh.
Electrolux, which has equipped the kitchens of nearly half of Europe's Michelin chefs, has brought that thinking into its
new energy-efficient combi-bottom, frost-free fridge freezers. These have dual cooling circuits that Electrolux calls
TwinTech™, plus separate forced-air systems called MultiFlow on some models.
With TwinTech™', humidity can be kept at 65-90%, compared to 25-40% for single-circuit frost-free fridge-freezers.
Salad stays fresh for a week with almost no loss of moisture. Vitamin levels in fresh fruits and vegetables show no drop
after 10 days.
Less waste, more freedom
"Weekly shopping can save time, but 33% of food purchased is being thrown away before it is eaten,*" says Dan Harvie,
Category Director Food Preservation of Electrolux EMEA.
"TwinTech™ can not only help reduce food waste, it can also give people more flexibility to cook what they want when
they want to, instead of having to go by what will spoil first."
FreshPlus models take this a step further with MultiFlow, a forced-air system that ensures consistent humidity and
temperature at every level within the fridge. It also allows the food to reach lower temperatures faster, slowing down
spoilage.
The new fridges are part of the company's new Inspiration Range, which offers full visual alignment across all product
categories. Modern, architectural lines and authentic materials aim to make the appliances elegant and distinctive, yet
adapted to different kitchen environments.
In the case of the combi-bottom fridges, premium design elements include:
•
Full-height arched doors with no visible end cap
•
Anti-fingerprint stainless steel with horizontal brushing across range
•
Matching silver sides
•
New long vertical handle
High-end models use intuitive, touch-sensitive LCD displays with white digits for temperature and function setting. The
displays are visually aligned with those of the other appliances in the Inspiration range. Menus have also been rethought to create more natural access to clever functions in fewer steps and are consistent with the range's "learn once,
use everywhere" philosophy.
The new combi-bottom fridges also offer LED lighting with a premium, "fade in" effect in which light intensity growing
smoothly for 2 seconds. From a practical point of view, LEDs create brighter light and better visibility, while consuming
less energy and resulting in no heating inside the fridge.
Source:
* WRAP and Excotus market research, 2008
** Ipsos Vantis, 2009, Q20: which of the following best describes your household's shopping behaviour?
Learn more
If you would like to know more about Electrolux, visit www.electrolux.com or call our press hotline at +46 8 738 60 00.
About the Electrolux Group: Electrolux is a global leader in household appliances and appliances for professional use, selling more than 40 million
products to customers in more than 150 markets every year. The company focuses on innovative solutions that are thoughtfully designed, based on
extensive consumer insight, to meet the real needs of consumers and professionals. Electrolux products include refrigerators, dishwashers, washing
machines, cookers, air-conditioners and small appliances such as vacuum cleaners sold under esteemed brands like Electrolux, AEG, Eureka and
Frigidaire. In 2011 Electrolux had sales of SEK 102 billion and 58,000 employees. For more information go to www.electrolux.com/press and
www.electrolux.com/news.