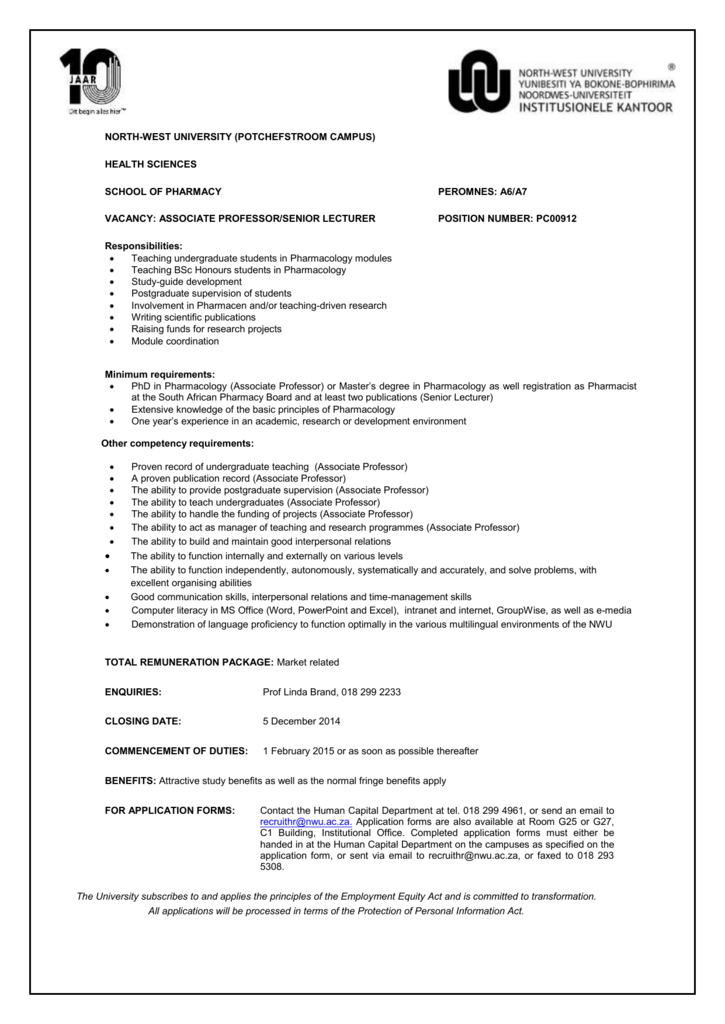 NORTH-WEST UNIVERSITY (POTCHEFSTROOM CAMPUS)
HEALTH SCIENCES
SCHOOL OF PHARMACY
PEROMNES: A6/A7
VACANCY: ASSOCIATE PROFESSOR/SENIOR LECTURER
POSITION NUMBER: PC00912
Responsibilities:

Teaching undergraduate students in Pharmacology modules

Teaching BSc Honours students in Pharmacology

Study-guide development

Postgraduate supervision of students

Involvement in Pharmacen and/or teaching-driven research

Writing scientific publications

Raising funds for research projects

Module coordination
Minimum requirements:

PhD in Pharmacology (Associate Professor) or Master's degree in Pharmacology as well registration as Pharmacist
at the South African Pharmacy Board and at least two publications (Senior Lecturer)

Extensive knowledge of the basic principles of Pharmacology

One year's experience in an academic, research or development environment
Other competency requirements:












Proven record of undergraduate teaching (Associate Professor)
A proven publication record (Associate Professor)
The ability to provide postgraduate supervision (Associate Professor)
The ability to teach undergraduates (Associate Professor)
The ability to handle the funding of projects (Associate Professor)
The ability to act as manager of teaching and research programmes (Associate Professor)
The ability to build and maintain good interpersonal relations
The ability to function internally and externally on various levels
The ability to function independently, autonomously, systematically and accurately, and solve problems, with
excellent organising abilities
Good communication skills, interpersonal relations and time-management skills
Computer literacy in MS Office (Word, PowerPoint and Excel), intranet and internet, GroupWise, as well as e-media
Demonstration of language proficiency to function optimally in the various multilingual environments of the NWU
TOTAL REMUNERATION PACKAGE: Market related
ENQUIRIES:
Prof Linda Brand, 018 299 2233
CLOSING DATE:
5 December 2014
COMMENCEMENT OF DUTIES:
1 February 2015 or as soon as possible thereafter
BENEFITS: Attractive study benefits as well as the normal fringe benefits apply
FOR APPLICATION FORMS:
Contact the Human Capital Department at tel. 018 299 4961, or send an email to
[email protected] Application forms are also available at Room G25 or G27,
C1 Building, Institutional Office. Completed application forms must either be
handed in at the Human Capital Department on the campuses as specified on the
application form, or sent via email to [email protected], or faxed to 018 293
5308.
The University subscribes to and applies the principles of the Employment Equity Act and is committed to transformation.
All applications will be processed in terms of the Protection of Personal Information Act.