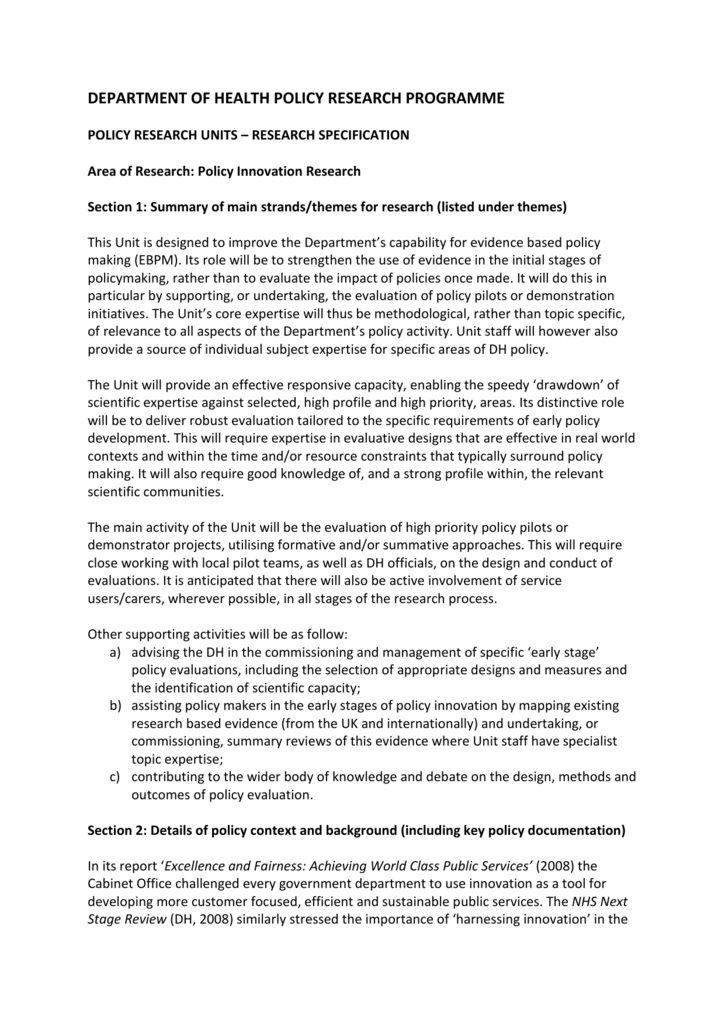 DEPARTMENT OF HEALTH POLICY RESEARCH PROGRAMME
POLICY RESEARCH UNITS – RESEARCH SPECIFICATION
Area of Research: Policy Innovation Research
Section 1: Summary of main strands/themes for research (listed under themes)
This Unit is designed to improve the Department's capability for evidence based policy
making (EBPM). Its role will be to strengthen the use of evidence in the initial stages of
policymaking, rather than to evaluate the impact of policies once made. It will do this in
particular by supporting, or undertaking, the evaluation of policy pilots or demonstration
initiatives. The Unit's core expertise will thus be methodological, rather than topic specific,
of relevance to all aspects of the Department's policy activity. Unit staff will however also
provide a source of individual subject expertise for specific areas of DH policy.
The Unit will provide an effective responsive capacity, enabling the speedy 'drawdown' of
scientific expertise against selected, high profile and high priority, areas. Its distinctive role
will be to deliver robust evaluation tailored to the specific requirements of early policy
development. This will require expertise in evaluative designs that are effective in real world
contexts and within the time and/or resource constraints that typically surround policy
making. It will also require good knowledge of, and a strong profile within, the relevant
scientific communities.
The main activity of the Unit will be the evaluation of high priority policy pilots or
demonstrator projects, utilising formative and/or summative approaches. This will require
close working with local pilot teams, as well as DH officials, on the design and conduct of
evaluations. It is anticipated that there will also be active involvement of service
users/carers, wherever possible, in all stages of the research process.
Other supporting activities will be as follow:
a) advising the DH in the commissioning and management of specific 'early stage'
policy evaluations, including the selection of appropriate designs and measures and
the identification of scientific capacity;
b) assisting policy makers in the early stages of policy innovation by mapping existing
research based evidence (from the UK and internationally) and undertaking, or
commissioning, summary reviews of this evidence where Unit staff have specialist
topic expertise;
c) contributing to the wider body of knowledge and debate on the design, methods and
outcomes of policy evaluation.
Section 2: Details of policy context and background (including key policy documentation)
In its report 'Excellence and Fairness: Achieving World Class Public Services' (2008) the
Cabinet Office challenged every government department to use innovation as a tool for
developing more customer focused, efficient and sustainable public services. The NHS Next
Stage Review (DH, 2008) similarly stressed the importance of 'harnessing innovation' in the
NHS context but argued that this would need a change of organisational culture.
Strengthening the ability to evaluate the impact of innovation, it noted, will be central to
such a cultural shift: To encourage this change in culture, there needs to be better
demonstration of the benefits of innovation' (NSR Interim Report, 2007:40).
The link between innovation and evidence based policy making (EBPM) has been an
enduring theme of government documents. The 1999 White Paper 'Modernising
Government' stressed the need to: '… improve our use of evidence and research so that we
understand better the problems we are trying to address. We must make more use of pilot
schemes to encourage innovations and test whether they work (Cabinet Office.1999:17). The
importance of this link between evaluation and innovation has been reiterated in successive
publications, from Better Policy Making (Cabinet Office, 2001) through Investing in
Innovation (Cabinet Office, 2002) to the more recent Working Paper on Civil Service Reform
(Cabinet Office, 2009).
Section 3: Justification for research topics: for example, why research is needed; how it is
expected to influence policy making
The proposed new Unit is designed to support the DH in strengthening the evidence based
nature of its work. It will promote a more proactive use of scientific evidence to ensure the
new policies have evaluation of their effectiveness built into them from the start and that
evidence scanning and review are an integral part of the policy development process. In
doing so it will help the Department to respond to the challenges set out in Excellence and
Fairness (Cabinet Office, 2008) for achieving world class public services.
Section 4: Other related research activity of which the Unit will need to be aware
A cross government initiative to develop EBPM and embed more systematically in
government policymaking is being led by the Department for Innovation, Universities and
Skills (www.DIUS.gov.uk).The Government Social Research Unit has a longstanding concern
to strengthen the methods of policy evaluation and analysis, reflected in the 'Magenta Book
(2003,updated in 2007) (www.gsr.gov.uk/professional_guidance/magenta_book/). The work
of the Unit should attempt to build on, and contribute to, both these areas of government
professional activity. Links with the Whitehall 'Innovation Hub', set up at the Sunningdale
Institute in 2008 to disseminate good practice in public service innovation, could also be
useful.
The Economic and Social Research Council (ESRC) has highlighted the importance of
developing expertise in evaluative methodologies and it will be useful for the Unit to
establish links with its National Centre for Research Methods (NCRM), based at
Southampton University. The Unit will also need to take cognisance of the activities of other
academic research centres working in the area of policy evaluation.
Internally, the new Unit will need to collaborate actively with the proposed new PRP Unit on
'Quality and Outcomes in Personcentred Care', in the development of personcentred
outcome measures, and with the work of the new PRP economics units, Economics of health
and social care systems on the assessment of usercentred costs and benefits.
Section 5: Other issues relevant to this programme of research (for example, timing and
timeliness)
The role of the Unit to provide a fast track evaluation capacity will have implications for its
effective management. Unit staff will need to work closely with DH officials to identify and
prioritise the scope and balance of its work programme. A mechanism will be established to
embed the work of the Unit effectively within the 'strategic hub' of the Department.
The generic nature of its expertise means the Unit will not always be a source of specific
topic expertise. Its staff will have their own individual areas of expertise but, if the resource
is to be effectively crosscutting, the Unit will also need to develop the capacity to draw in
expertise from a wider range of specialist areas, where necessary.
Applicants should therefore put forward practicable proposals for ways of linking the work
of the Unit effectively with relevant sources of scientific expertise.