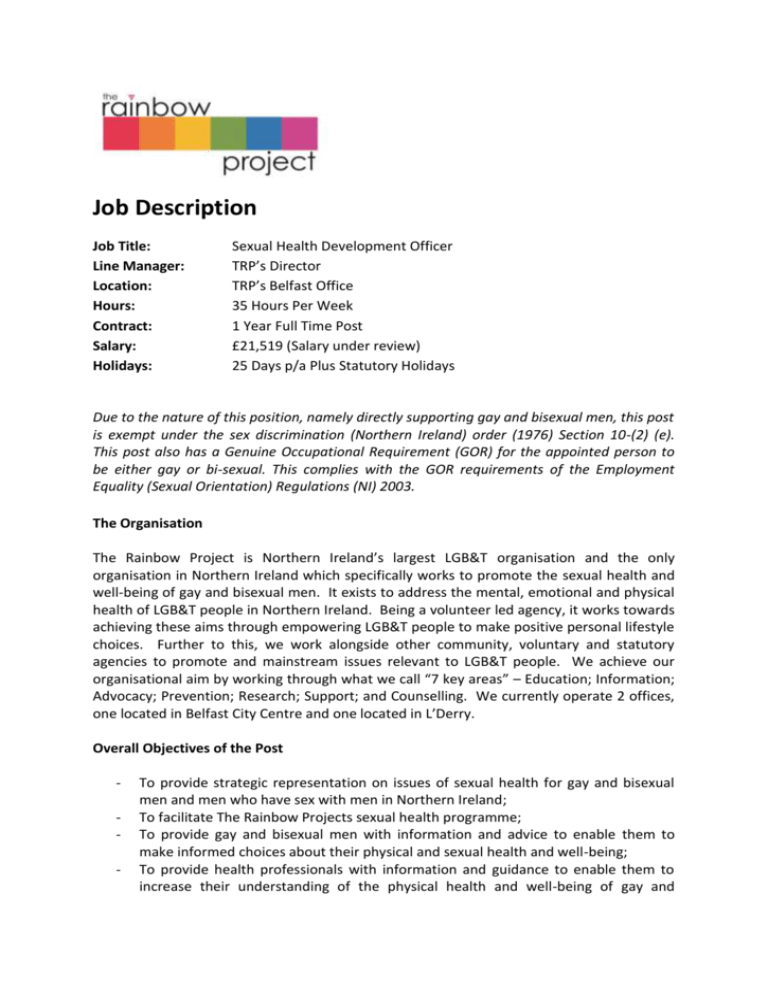 Job Description
Job Title:
Line Manager:
Location:
Hours:
Contract:
Salary:
Holidays:
Sexual Health Development Officer
TRP's Director
TRP's Belfast Office
35 Hours Per Week
1 Year Full Time Post
£21,519 (Salary under review)
25 Days p/a Plus Statutory Holidays
Due to the nature of this position, namely directly supporting gay and bisexual men, this post
is exempt under the sex discrimination (Northern Ireland) order (1976) Section 10-(2) (e).
This post also has a Genuine Occupational Requirement (GOR) for the appointed person to
be either gay or bi-sexual. This complies with the GOR requirements of the Employment
Equality (Sexual Orientation) Regulations (NI) 2003.
The Organisation
The Rainbow Project is Northern Ireland's largest LGB&T organisation and the only
organisation in Northern Ireland which specifically works to promote the sexual health and
well-being of gay and bisexual men. It exists to address the mental, emotional and physical
health of LGB&T people in Northern Ireland. Being a volunteer led agency, it works towards
achieving these aims through empowering LGB&T people to make positive personal lifestyle
choices. Further to this, we work alongside other community, voluntary and statutory
agencies to promote and mainstream issues relevant to LGB&T people. We achieve our
organisational aim by working through what we call "7 key areas" – Education; Information;
Advocacy; Prevention; Research; Support; and Counselling. We currently operate 2 offices,
one located in Belfast City Centre and one located in L'Derry.
Overall Objectives of the Post
-
To provide strategic representation on issues of sexual health for gay and bisexual
men and men who have sex with men in Northern Ireland;
To facilitate The Rainbow Projects sexual health programme;
To provide gay and bisexual men with information and advice to enable them to
make informed choices about their physical and sexual health and well-being;
To provide health professionals with information and guidance to enable them to
increase their understanding of the physical health and well-being of gay and
-
bisexual men and obstacles they might experience when accessing mainstream
health service provision;
To work alongside programme team colleagues to ensure that collective objectives
are met.
Key Responsibilities
The Physical and Sexual Health Development Officer will:
-
-
Provide representation on sexual health working groups across Northern Ireland;
Maintain relationships with organisations working in the field of sexual health;
Co-ordinate The Rainbow Project's sexual health programme including distribution
of safer sex materials, online net-reach advice service, regular sexual health
promotion campaigns, rapid HIV and Syphilis testing and outreach GUM clinics in
partnership with GUM clinics;
To work with, support and facilitate The Rainbow Project's Volunteer Co-ordinators
and volunteers in the delivery of the sexual health programme;
Carry out any other reasonable duties as required by The Rainbow Project.
Personal Criteria
-
Be a confident out gay or bisexual man with knowledge and/or experience of the
commercial and non-commercial gay scene;
Have an appropriate understanding of the sexual health needs of gay and bisexual
men and men who have sex with men;
Have a commitment to working with and for gay and bisexual men, and the ability to
engage constructively with people across the age range;
Have an appropriate understanding of the diversity of gay and bisexual men;
Have the ability to respond and adapt to the constant changing needs of a volunteerled organisation;
Have an outgoing and approachable personality;
Be willing to work flexible hours including evenings and weekends when necessary.
Essential Qualifications & Experience
-
Five GCSEs at grade C or above to include English;
One year full-time experience as a paid member of staff in a health promotion role
three years similar experience as a volunteer;
Excellent oral and written communication skills including computer competence with
proven inter-personal and communication skills (written and verbal);
Ability to work flexible hours when required;
Be clear about and able to work within professional and personal boundaries;
The ability to work independently and co-operatively as part of a multi-disciplinary
team;
Have the ability and experience to relate appropriately to volunteers, co-workers
and other professionals both formally and informally;
Have an understanding of the need for and importance of confidentiality;
-
Have experience in organising your own workload and the ability to be "selfsupporting" in administrative functions;
Essential Competencies
-
Good written and verbal communication skills
Good interpersonal skills
Commitment to equality and social inclusion
Commitment to confidentiality and impartiality within advocacy work
Desirable Experience and Competencies
-
Understanding of issues affecting members of the LGB&T community including but
not limited to homophobia, transphobia and heterosexism
Experience of working in the LGBT Sector as a volunteer or paid member of staff
Experience of working in the area of sexual health
Experience/ knowledge of key issues for young gay and bisexual men;
An understanding of, if not experience in, provision of experiential training;
An understanding of, if not experience in, project planning and management,
specifically within health promotion;
Knowledge of training and development resources and services appropriate to the
perceived needs of gay/bisexual men;
Experience of having provided an advocacy role to disempowered individuals;
Experience of liaising with statutory, voluntary and community organisations.
General
The Rainbow Project requires all posts within the organisation to carry a degree of flexibility in their
execution of duties in order to assist the development of the organisation. All responsibilities
associated with contracted personnel will be carried out in line with the aims and objectives of the
organisation and policies set out by the Board of Directors. The above job description should not be
viewed as an exhaustive list as other tasks may need to be undertaken as directed by the Line
manager.
Employees will be expected to be flexible in their approach to working hours, as evening and
weekend work will be necessary. The organisation operates a Time-Off In-Lieu (TOIL) policy to cover
time worked outside normal operating hours.
This post is funded for an initial period of 1 year. Continuation of the post will be subject to the
securing of future funding.