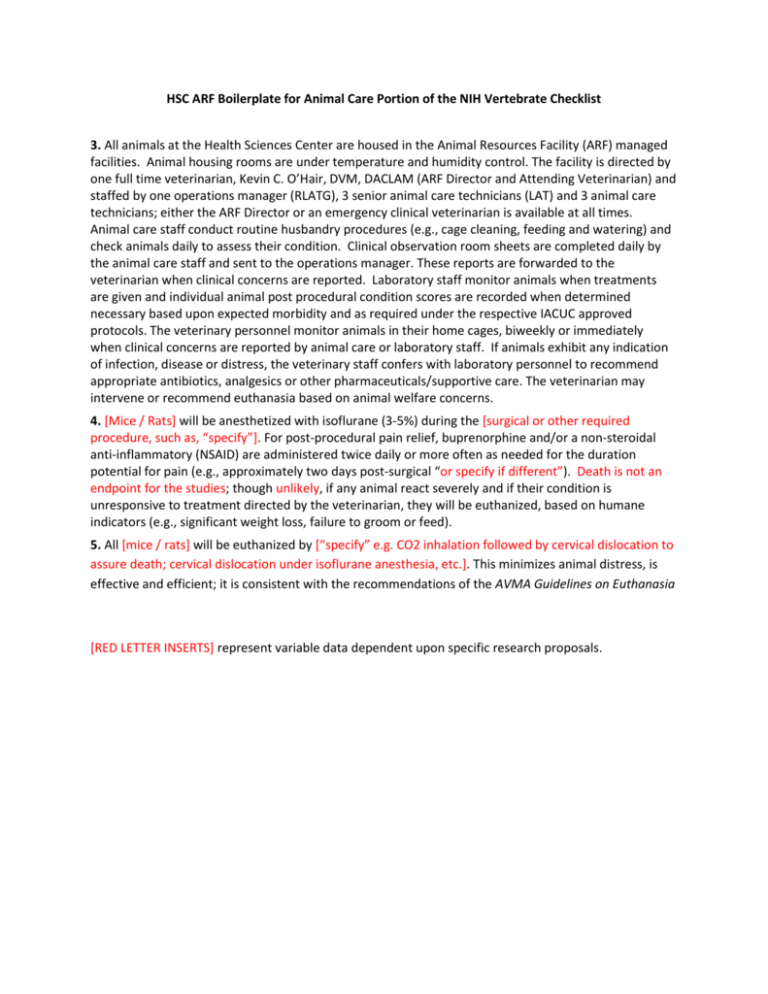 HSC ARF Boilerplate for Animal Care Portion of the NIH Vertebrate Checklist
3. All animals at the Health Sciences Center are housed in the Animal Resources Facility (ARF) managed
facilities. Animal housing rooms are under temperature and humidity control. The facility is directed by
one full time veterinarian, Kevin C. O'Hair, DVM, DACLAM (ARF Director and Attending Veterinarian) and
staffed by one operations manager (RLATG), 3 senior animal care technicians (LAT) and 3 animal care
technicians; either the ARF Director or an emergency clinical veterinarian is available at all times.
Animal care staff conduct routine husbandry procedures (e.g., cage cleaning, feeding and watering) and
check animals daily to assess their condition. Clinical observation room sheets are completed daily by
the animal care staff and sent to the operations manager. These reports are forwarded to the
veterinarian when clinical concerns are reported. Laboratory staff monitor animals when treatments
are given and individual animal post procedural condition scores are recorded when determined
necessary based upon expected morbidity and as required under the respective IACUC approved
protocols. The veterinary personnel monitor animals in their home cages, biweekly or immediately
when clinical concerns are reported by animal care or laboratory staff. If animals exhibit any indication
of infection, disease or distress, the veterinary staff confers with laboratory personnel to recommend
appropriate antibiotics, analgesics or other pharmaceuticals/supportive care. The veterinarian may
intervene or recommend euthanasia based on animal welfare concerns.
4. [Mice / Rats] will be anesthetized with isoflurane (3-5%) during the [surgical or other required
procedure, such as, "specify"]. For post-procedural pain relief, buprenorphine and/or a non-steroidal
anti-inflammatory (NSAID) are administered twice daily or more often as needed for the duration
potential for pain (e.g., approximately two days post-surgical "or specify if different"). Death is not an
endpoint for the studies; though unlikely, if any animal react severely and if their condition is
unresponsive to treatment directed by the veterinarian, they will be euthanized, based on humane
indicators (e.g., significant weight loss, failure to groom or feed).
5. All [mice / rats] will be euthanized by ["specify" e.g. CO2 inhalation followed by cervical dislocation to
assure death; cervical dislocation under isoflurane anesthesia, etc.]. This minimizes animal distress, is
effective and efficient; it is consistent with the recommendations of the AVMA Guidelines on Euthanasia
[RED LETTER INSERTS] represent variable data dependent upon specific research proposals.