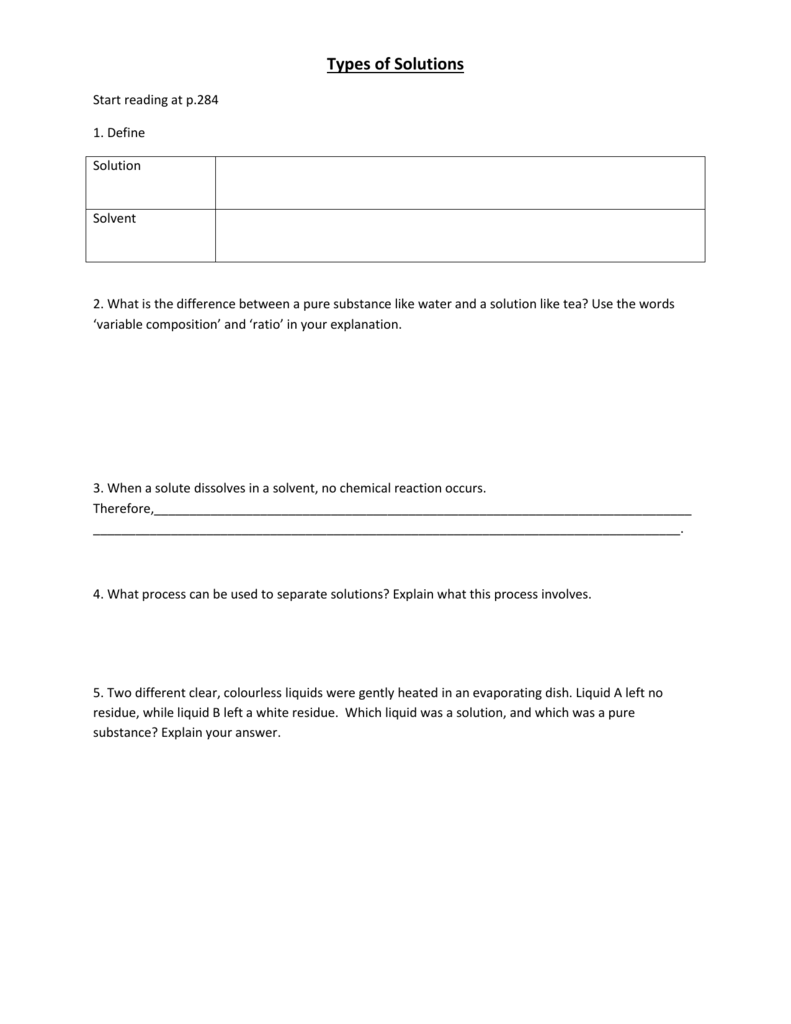 Types of Solutions
Start reading at p.284
1. Define
Solution
Solvent
2. What is the difference between a pure substance like water and a solution like tea? Use the words
'variable composition' and 'ratio' in your explanation.
3. When a solute dissolves in a solvent, no chemical reaction occurs.
Therefore,____________________________________________________________________________
___________________________________________________________________________________.
4. What process can be used to separate solutions? Explain what this process involves.
5. Two different clear, colourless liquids were gently heated in an evaporating dish. Liquid A left no
residue, while liquid B left a white residue. Which liquid was a solution, and which was a pure
substance? Explain your answer.
6. A solution can be a gas, a liquid or a solid. Complete the table.
Table 8.1: Types of Solutions
Solute
gas
gas
gas
liquid
liquid
liquid
solid
solid
solid
Solvent
Examples
7. Define and give an example of the following.
Term
Aqueous
solution
Miscible
Immiscible
Alloy
Solubility
Saturated
solution
Unsaturated
solution
Definition
Example
Term
Definition
Example
Soluble
Sparingly
Soluble
Insoluble
8. Potassium bromate is sometimes added to bread dough to make it easier to work with. Suppose that
you are given an aqueous solution of potassium bromate. How can you determine if the solution is
saturated or unsaturated?
9. Describe a lava lamp using the terms miscible and immiscible.
10. Complete the Tables based on the experiment in the Thought Lab on p.288.
Table 1: Thought Lab
Solute
Iodine
Chemical Formula
Cobalt(II)chloride
Solvent
Polar/Non-polar
Ionic/Covalent bonds
Covalent
Non Polar
Ionic
Polar/Non-polar
Water
Solutes that Dissolved
in this Solvent
Cobalt(II)chloride
Kerosene oil
Iodine
Non-polar
Polar
a) According to the experiment, what type of solutes will dissolve in polar solvents like water?
b) What type of solutes dissolve in non-polar solvents like kerosene oil?
b) Sugar is a polar molecule. Will it dissolve in water or kerosene oil?
c) Propane is a non-polar molecule. Will it dissolve in water or kerosene oil?
Thinking Questions
1Food colouring is often added to foods such as candies, ice-cream and icing. Are food colouring dyes
more likely to be polar or non-polar molecules? Explain your answer.
2. p.289#11 You are given 3 liquids. One is a pure substance and the second is a solution of 2 miscible
liquids. The third is a solution composed of a solid solute dissolved in a liquid solvent. Describe the
procedure you would follow to distinguish between the three solutions.
3. p.289#12 The oil tanker Exxon Valdez struck a reef in Alaska. The accident released 40 000 000L of
crude oil. The oil eventually covered 26 000 km2 of water.
a) Explain why very little of the spilt oil dissolved in water.
b) The density of crude oil varies. Assuming a value of 0.86 g/mL, estimate the average thickness of the
oil slick that resulted from the disaster.