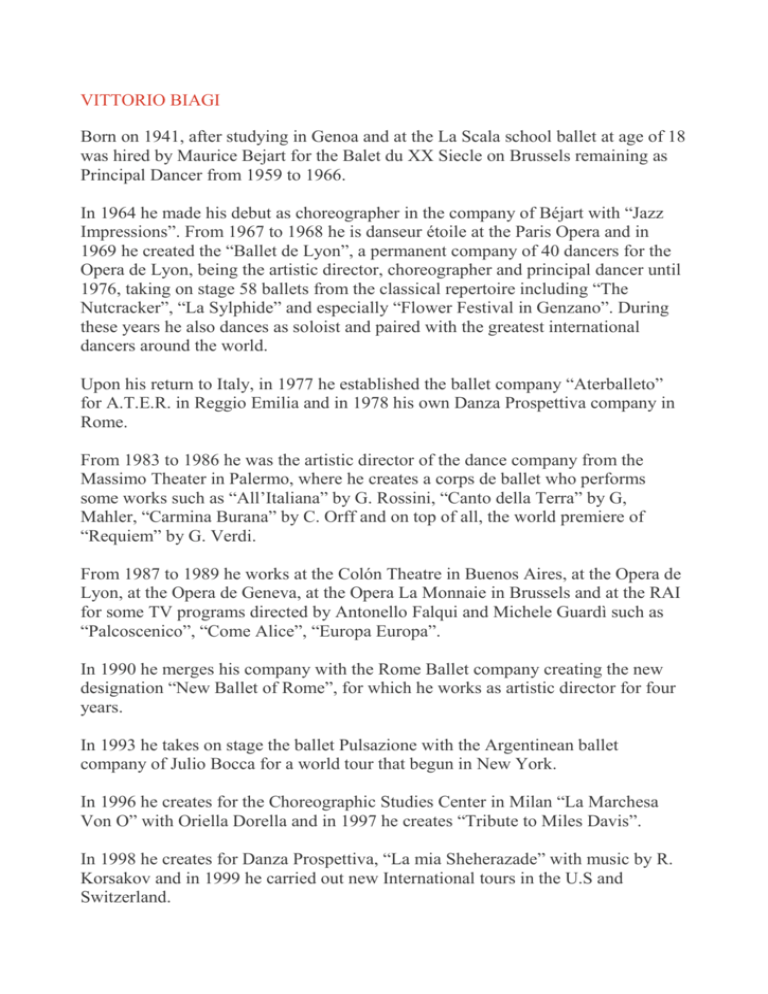 VITTORIO BIAGI
Born on 1941, after studying in Genoa and at the La Scala school ballet at age of 18
was hired by Maurice Bejart for the Balet du XX Siecle on Brussels remaining as
Principal Dancer from 1959 to 1966.
In 1964 he made his debut as choreographer in the company of Béjart with "Jazz
Impressions". From 1967 to 1968 he is danseur étoile at the Paris Opera and in
1969 he created the "Ballet de Lyon", a permanent company of 40 dancers for the
Opera de Lyon, being the artistic director, choreographer and principal dancer until
1976, taking on stage 58 ballets from the classical repertoire including "The
Nutcracker", "La Sylphide" and especially "Flower Festival in Genzano". During
these years he also dances as soloist and paired with the greatest international
dancers around the world.
Upon his return to Italy, in 1977 he established the ballet company "Aterballeto"
for A.T.E.R. in Reggio Emilia and in 1978 his own Danza Prospettiva company in
Rome.
From 1983 to 1986 he was the artistic director of the dance company from the
Massimo Theater in Palermo, where he creates a corps de ballet who performs
some works such as "All'Italiana" by G. Rossini, "Canto della Terra" by G,
Mahler, "Carmina Burana" by C. Orff and on top of all, the world premiere of
"Requiem" by G. Verdi.
From 1987 to 1989 he works at the Colón Theatre in Buenos Aires, at the Opera de
Lyon, at the Opera de Geneva, at the Opera La Monnaie in Brussels and at the RAI
for some TV programs directed by Antonello Falqui and Michele Guardì such as
"Palcoscenico", "Come Alice", "Europa Europa".
In 1990 he merges his company with the Rome Ballet company creating the new
designation "New Ballet of Rome", for which he works as artistic director for four
years.
In 1993 he takes on stage the ballet Pulsazione with the Argentinean ballet
company of Julio Bocca for a world tour that begun in New York.
In 1996 he creates for the Choreographic Studies Center in Milan "La Marchesa
Von O" with Oriella Dorella and in 1997 he creates "Tribute to Miles Davis".
In 1998 he creates for Danza Prospettiva, "La mia Sheherazade" with music by R.
Korsakov and in 1999 he carried out new International tours in the U.S and
Switzerland.
In 2000, the new millennium is opened with the Jubilee Year to which Biagi
dedicates "Resurrection" from Mozart's Requiem and between 2001 and 2003,
with Danza Prospettiva brings on tour the new creations "Savor Mediterraneo",
"Verdi in libertà" and "Eurotango" in Italy, France and Germany. In 2004 he
creates "Circle 11", a ballet with music from the world and in 2005 he creates
"Danzando una Vita" to celebrate the 40 years of choreography ballet show
dedicated to his choreographer and dancer career: a journey in the international
dance through the most famous songs of his repertoire.
In 2006 he creates "Don Giovanni" for the Mozart year and in 2007 created
"Mujeres Picasso, la donna, la danza": a creation fully dedicated to the female
world. Also in 2007 creates a DVD "Pulsazioni" directed by C. Cicconetti with the
contribution of IMAIE and the participation of the percussionist G. Imparato who
joins Vittorio Biagi in the percussions.
M°. Biagi is regularly invited to represent the Italian dance at the Jazz World
Congress in Chicago.