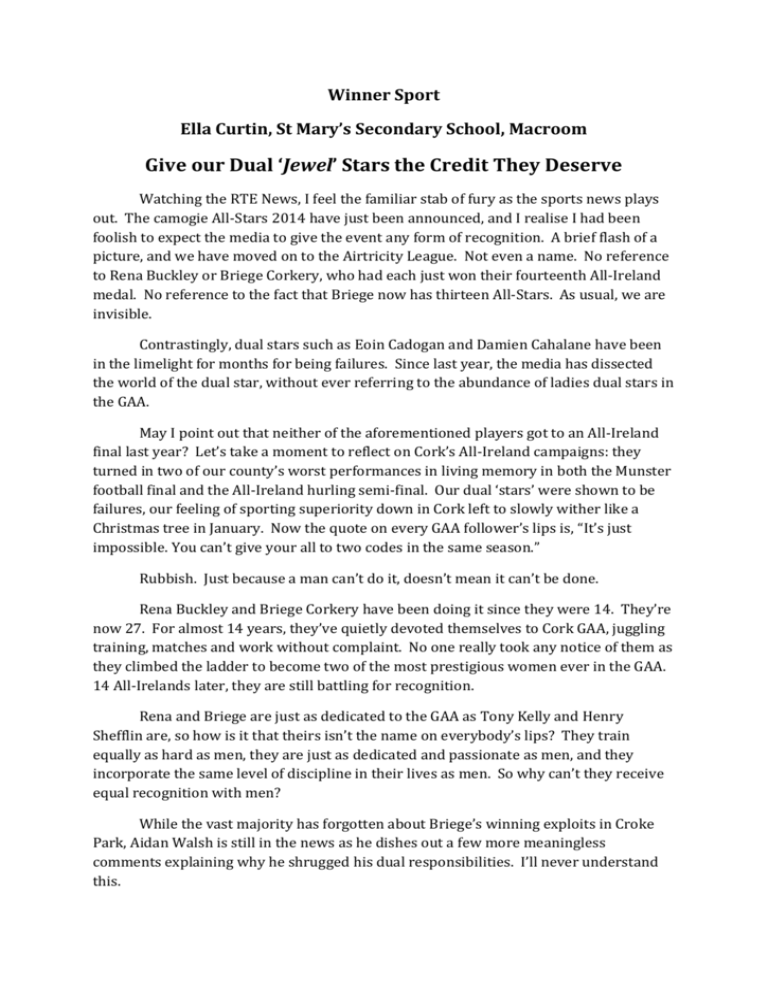 Winner Sport
Ella Curtin, St Mary's Secondary School, Macroom
Give our Dual 'Jewel' Stars the Credit They Deserve
Watching the RTE News, I feel the familiar stab of fury as the sports news plays
out. The camogie All-Stars 2014 have just been announced, and I realise I had been
foolish to expect the media to give the event any form of recognition. A brief flash of a
picture, and we have moved on to the Airtricity League. Not even a name. No reference
to Rena Buckley or Briege Corkery, who had each just won their fourteenth All-Ireland
medal. No reference to the fact that Briege now has thirteen All-Stars. As usual, we are
invisible.
Contrastingly, dual stars such as Eoin Cadogan and Damien Cahalane have been
in the limelight for months for being failures. Since last year, the media has dissected
the world of the dual star, without ever referring to the abundance of ladies dual stars in
the GAA.
May I point out that neither of the aforementioned players got to an All-Ireland
final last year? Let's take a moment to reflect on Cork's All-Ireland campaigns: they
turned in two of our county's worst performances in living memory in both the Munster
football final and the All-Ireland hurling semi-final. Our dual 'stars' were shown to be
failures, our feeling of sporting superiority down in Cork left to slowly wither like a
Christmas tree in January. Now the quote on every GAA follower's lips is, "It's just
impossible. You can't give your all to two codes in the same season."
Rubbish. Just because a man can't do it, doesn't mean it can't be done.
Rena Buckley and Briege Corkery have been doing it since they were 14. They're
now 27. For almost 14 years, they've quietly devoted themselves to Cork GAA, juggling
training, matches and work without complaint. No one really took any notice of them as
they climbed the ladder to become two of the most prestigious women ever in the GAA.
14 All-Irelands later, they are still battling for recognition.
Rena and Briege are just as dedicated to the GAA as Tony Kelly and Henry
Shefflin are, so how is it that theirs isn't the name on everybody's lips? They train
equally as hard as men, they are just as dedicated and passionate as men, and they
incorporate the same level of discipline in their lives as men. So why can't they receive
equal recognition with men?
While the vast majority has forgotten about Briege's winning exploits in Croke
Park, Aidan Walsh is still in the news as he dishes out a few more meaningless
comments explaining why he shrugged his dual responsibilities. I'll never understand
this.
I'm not blaming the players themselves, I'm blaming the media. Ten minutes at
the end of the Sunday Game is not adequate coverage of an All-Ireland camogie semifinal. The back page of the newspaper has never been, and will never be, enough.
Women's sport is doomed if we must rely on this pitiful broadcast. Credit where it's
due, TG4 has done wonders for ladies football and has really brought it forward to a
national stage by broadcasting and supporting our games. But this is not enough.
Juliet Murphy hit the nail on the head when she said, in an interview with the
Irish Examiner, "Women need to support women." Change will only come about when
women attend camogie and ladies football matches, bringing their daughters with them.
Only then will things improve.
The Irish government is all about reform. From water charges to a new-look
education system, Ireland's image is constantly changing. I am challenging the
government to take a look at the one-sided sporting sector in Ireland, and do something
about it. How about making PE an exam subject? Encourage sporting participation in
girls to ensure there will be more Katie Taylors and Gráinne Murphys down the line.
There is no incentive for girls to play sport when they receive little or no
encouragement, and don't have anyone to aspire to. Promoting our sports heroines is
the first step towards making this dream a reality. It's time we gave Rena and Briege
the credit they deserve.
An old Irish proverb says "Mol an óige agus tiocfaidh sí;" "Praise the youth and
they will flourish." This is the only way we can boost women's sport and put it on the
same level as men's. Train and support our underage players, no matter whether
they're the next Cora Staunton or number 30 on the team. Give credit to those who
excel, and always promote women's sport equally. This is the epitome of what the GAA
is all about.
I'm sure Maurice Davin and Michael Cusack will look down on us, on a sweltering
Championship Sunday a year or two from now, and smile with pride at what we have
achieved.
Judges' Citation
The debate about equality is everywhere in Irish life right now as the countdown continues
to the referendum on same sex marriages which has featured in more than one entry this
year.
Sport is no different and our winner, a Cork woman with strong feelings on the subject,
tackles the issue of equality for Irish sports women in the Irish media.
Tackling the subject from a Cork GAA perspective, she asks why so little is made of the fact
that dual stars Rena Buckley and Briege Corkery have 14 All-Ireland medals each, why the
lack of fuss over Briege's 13 All-Stars.
As usual, she says, 'we are invisible'. When the Cork hurlers and footballers failed to leave
any real imprint on their All-Irelands last season, the message regarding male dual players
was clear – it's just impossible to excel at both.
Our winner isn't having that and remarks 'Just because a man can't do it, doesn't mean it
can't be done'. She advises the government to introduce PE as a leaving cert subject and
urges young girls to start the GAA's sporting revolution now, promising that in years to
come Maurice Davin and Michael Cusack will look down on them and smile with pride at
their achievements.