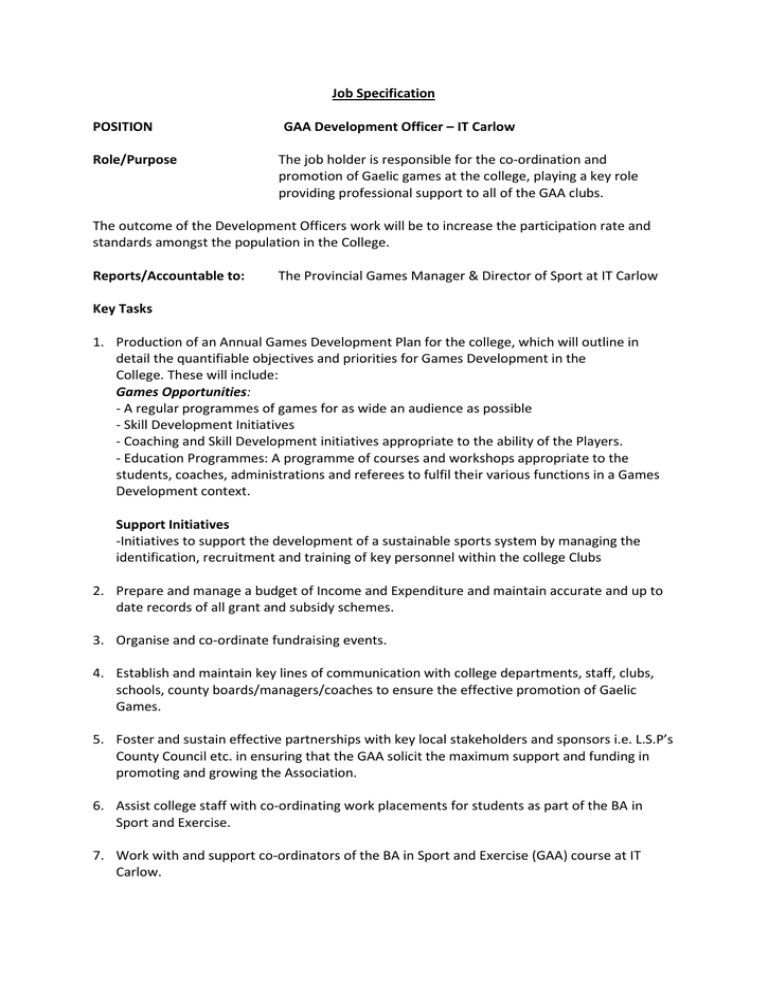 Job Specification
POSITION
Role/Purpose
GAA Development Officer – IT Carlow
The job holder is responsible for the co-ordination and
promotion of Gaelic games at the college, playing a key role
providing professional support to all of the GAA clubs.
The outcome of the Development Officers work will be to increase the participation rate and
standards amongst the population in the College.
Reports/Accountable to:
The Provincial Games Manager & Director of Sport at IT Carlow
Key Tasks
1. Production of an Annual Games Development Plan for the college, which will outline in
detail the quantifiable objectives and priorities for Games Development in the
College. These will include:
Games Opportunities:
- A regular programmes of games for as wide an audience as possible
- Skill Development Initiatives
- Coaching and Skill Development initiatives appropriate to the ability of the Players.
- Education Programmes: A programme of courses and workshops appropriate to the
students, coaches, administrations and referees to fulfil their various functions in a Games
Development context.
Support Initiatives
-Initiatives to support the development of a sustainable sports system by managing the
identification, recruitment and training of key personnel within the college Clubs
2. Prepare and manage a budget of Income and Expenditure and maintain accurate and up to
date records of all grant and subsidy schemes.
3. Organise and co-ordinate fundraising events.
4. Establish and maintain key lines of communication with college departments, staff, clubs,
schools, county boards/managers/coaches to ensure the effective promotion of Gaelic
Games.
5. Foster and sustain effective partnerships with key local stakeholders and sponsors i.e. L.S.P's
County Council etc. in ensuring that the GAA solicit the maximum support and funding in
promoting and growing the Association.
6. Assist college staff with co-ordinating work placements for students as part of the BA in
Sport and Exercise.
7. Work with and support co-ordinators of the BA in Sport and Exercise (GAA) course at IT
Carlow.
8. Organise and manage specific events.
9. Liaise with National and Provincial Games Personnel and attend meetings and personnel
training as required to support the development of the function and the role.
10. Complete any other duties as may reasonably be assigned by the Provincial Games Manager
or Provincial committee e.g. teachers, in service courses, Residential Development Camps
etc
11. Comply with M.I.S. and G.A.A Policy T.M.S. Systems.
Skills








Exceptional interpersonal skills, with the ability to build good relationships with college
departments, staff, students, players, coaches, etc.
Good event management, organisational and planning skills.
Ability to plan and manage budgets and funding and to implement controls.
Excellent administrative and IT Skills
Excellent communication/presentation skills (verbal and written)
Ability to effectively manage multiple projects and meet deadlines with a hands-on
approach to getting things done.
Ability to develop and promote a positive image of IT Carlow GAA teams.
Flexibility, with a willingness to work unsocial hours.
Knowledge





At least 3 years' experience of working in the GAA or similar sporting organization
(Voluntary or Professional Capacity)
Graduate of BA in Sport and Exercise (GAA)
Knowledge and appreciation of training and development methodologies for all GAA
sports and fitness.
GAA knowledge - knowledge of rules, regulations, policies and the different GAA bodies.
Good understanding of Third Level structures
Other specific requirements
 Own car with a full clean driving license
 Ability to work and attend evening and weekend meeting/activities in addition to normal
day to day activities.