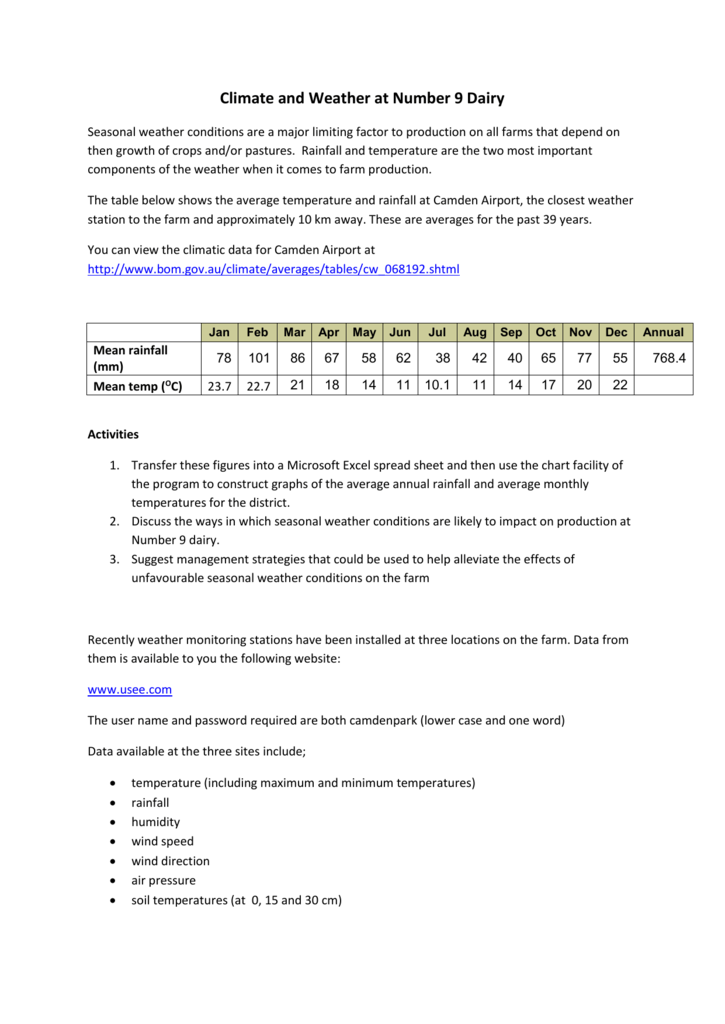 Climate and Weather at Number 9 Dairy
Seasonal weather conditions are a major limiting factor to production on all farms that depend on
then growth of crops and/or pastures. Rainfall and temperature are the two most important
components of the weather when it comes to farm production.
The table below shows the average temperature and rainfall at Camden Airport, the closest weather
station to the farm and approximately 10 km away. These are averages for the past 39 years.
You can view the climatic data for Camden Airport at
http://www.bom.gov.au/climate/averages/tables/cw_068192.shtml
Mean rainfall
(mm)
Mean temp (OC)
Jan
Feb
Mar
Apr
May
Jun
78
101
86
67
58
62
23.7
22.7
21
18
14
Jul
Aug
Sep
Oct
Nov
Dec
Annual
38
42
40
65
77
55
768.4
11 10.1
11
14
17
20
22
Activities
1. Transfer these figures into a Microsoft Excel spread sheet and then use the chart facility of
the program to construct graphs of the average annual rainfall and average monthly
temperatures for the district.
2. Discuss the ways in which seasonal weather conditions are likely to impact on production at
Number 9 dairy.
3. Suggest management strategies that could be used to help alleviate the effects of
unfavourable seasonal weather conditions on the farm
Recently weather monitoring stations have been installed at three locations on the farm. Data from
them is available to you the following website:
www.usee.com
The user name and password required are both camdenpark (lower case and one word)
Data available at the three sites include;







temperature (including maximum and minimum temperatures)
rainfall
humidity
wind speed
wind direction
air pressure
soil temperatures (at 0, 15 and 30 cm)
These parameters can be viewed over various lengths of time.