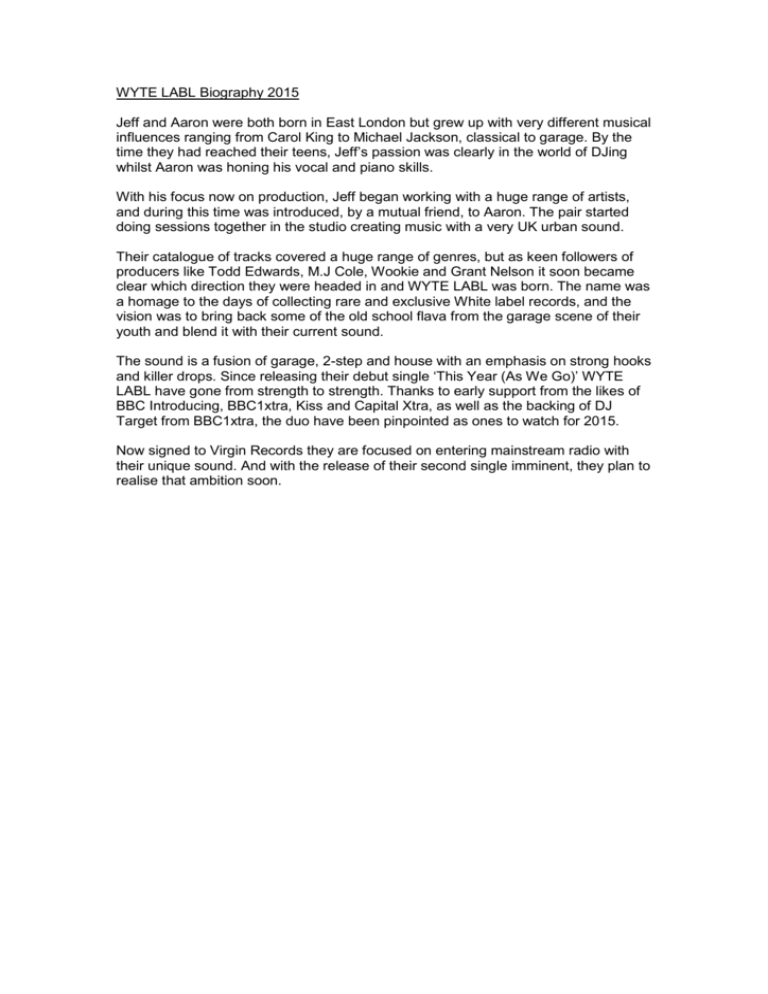 WYTE LABL Biography 2015
Jeff and Aaron were both born in East London but grew up with very different musical
influences ranging from Carol King to Michael Jackson, classical to garage. By the
time they had reached their teens, Jeff's passion was clearly in the world of DJing
whilst Aaron was honing his vocal and piano skills.
With his focus now on production, Jeff began working with a huge range of artists,
and during this time was introduced, by a mutual friend, to Aaron. The pair started
doing sessions together in the studio creating music with a very UK urban sound.
Their catalogue of tracks covered a huge range of genres, but as keen followers of
producers like Todd Edwards, M.J Cole, Wookie and Grant Nelson it soon became
clear which direction they were headed in and WYTE LABL was born. The name was
a homage to the days of collecting rare and exclusive White label records, and the
vision was to bring back some of the old school flava from the garage scene of their
youth and blend it with their current sound.
The sound is a fusion of garage, 2-step and house with an emphasis on strong hooks
and killer drops. Since releasing their debut single 'This Year (As We Go)' WYTE
LABL have gone from strength to strength. Thanks to early support from the likes of
BBC Introducing, BBC1xtra, Kiss and Capital Xtra, as well as the backing of DJ
Target from BBC1xtra, the duo have been pinpointed as ones to watch for 2015.
Now signed to Virgin Records they are focused on entering mainstream radio with
their unique sound. And with the release of their second single imminent, they plan to
realise that ambition soon.