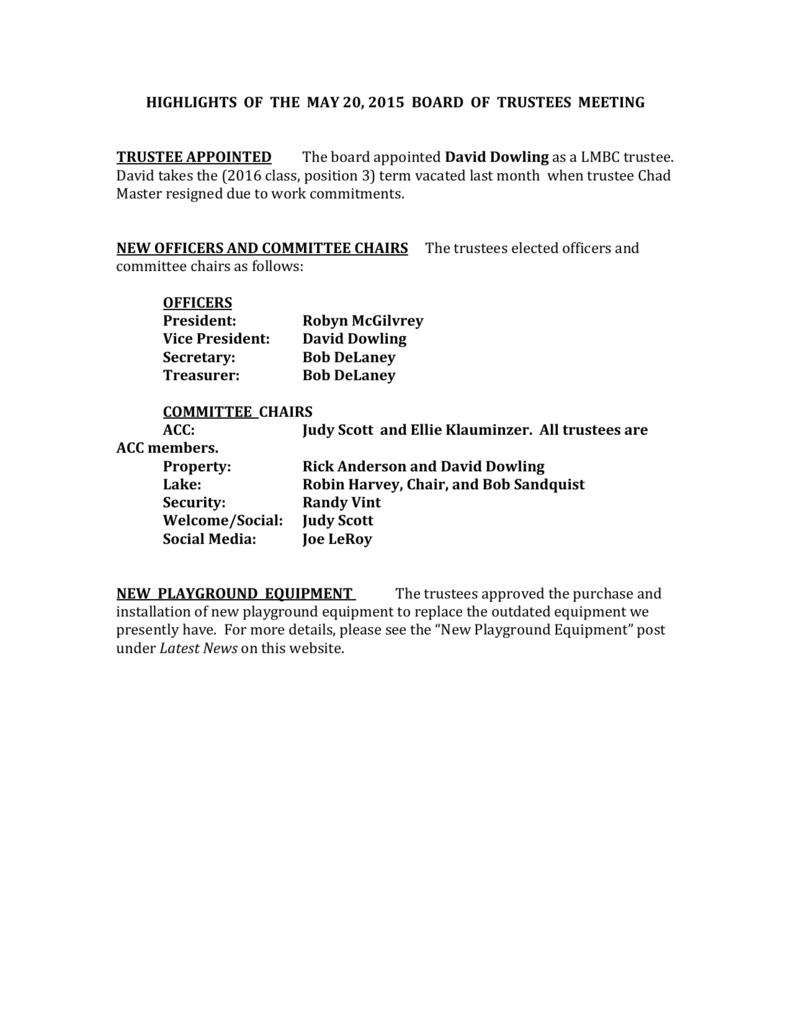 HIGHLIGHTS OF THE MAY 20, 2015 BOARD OF TRUSTEES MEETING
TRUSTEE APPOINTED
The board appointed David Dowling as a LMBC trustee.
David takes the (2016 class, position 3) term vacated last month when trustee Chad
Master resigned due to work commitments.
NEW OFFICERS AND COMMITTEE CHAIRS
committee chairs as follows:
OFFICERS
President:
Vice President:
Secretary:
Treasurer:
The trustees elected officers and
Robyn McGilvrey
David Dowling
Bob DeLaney
Bob DeLaney
COMMITTEE CHAIRS
ACC:
Judy Scott and Ellie Klauminzer. All trustees are
ACC members.
Property:
Rick Anderson and David Dowling
Lake:
Robin Harvey, Chair, and Bob Sandquist
Security:
Randy Vint
Welcome/Social: Judy Scott
Social Media:
Joe LeRoy
NEW PLAYGROUND EQUIPMENT
The trustees approved the purchase and
installation of new playground equipment to replace the outdated equipment we
presently have. For more details, please see the "New Playground Equipment" post
under Latest News on this website.