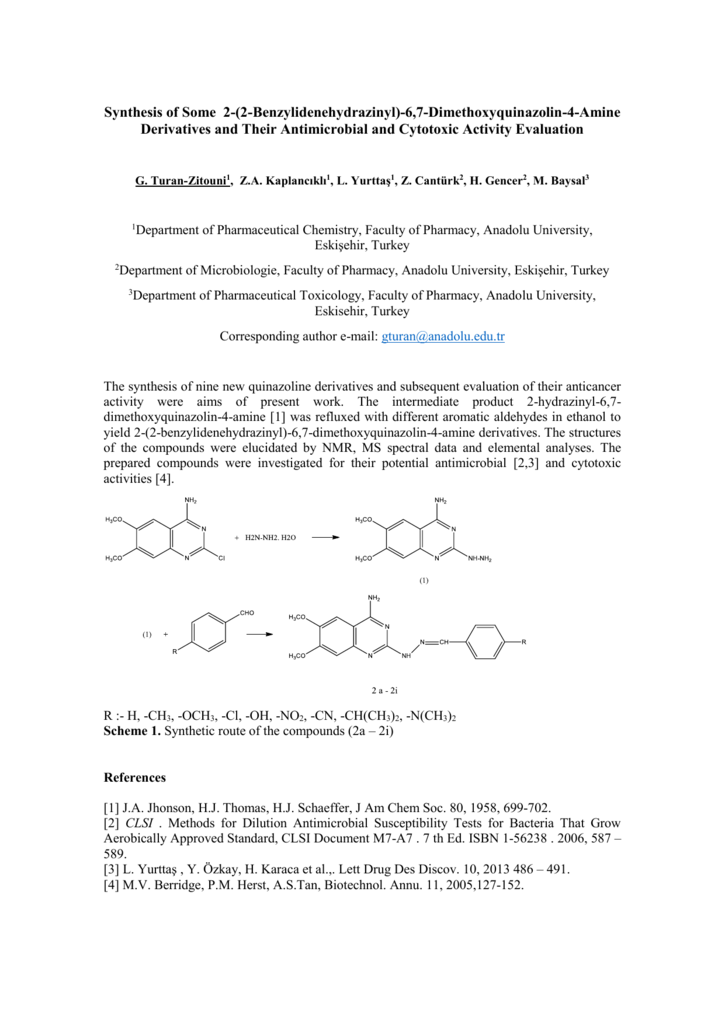 Synthesis of Some 2-(2-Benzylidenehydrazinyl)-6,7-Dimethoxyquinazolin-4-Amine
Derivatives and Their Antimicrobial and Cytotoxic Activity Evaluation
G. Turan-Zitouni1, Z.A. Kaplancıklı1, L. Yurttaş1, Z. Cantürk2, H. Gencer2, M. Baysal3
1
Department of Pharmaceutical Chemistry, Faculty of Pharmacy, Anadolu University,
Eskişehir, Turkey
Department of Microbiologie, Faculty of Pharmacy, Anadolu University, Eskişehir, Turkey
2
3
Department of Pharmaceutical Toxicology, Faculty of Pharmacy, Anadolu University,
Eskisehir, Turkey
Corresponding author e-mail: [email protected]
The synthesis of nine new quinazoline derivatives and subsequent evaluation of their anticancer
activity were aims of present work. The intermediate product 2-hydrazinyl-6,7dimethoxyquinazolin-4-amine [1] was refluxed with different aromatic aldehydes in ethanol to
yield 2-(2-benzylidenehydrazinyl)-6,7-dimethoxyquinazolin-4-amine derivatives. The structures
of the compounds were elucidated by NMR, MS spectral data and elemental analyses. The
prepared compounds were investigated for their potential antimicrobial [2,3] and cytotoxic
activities [4].
R :- H, -CH3, -OCH3, -Cl, -OH, -NO2, -CN, -CH(CH3)2, -N(CH3)2
Scheme 1. Synthetic route of the compounds (2a – 2i)
References
[1] J.A. Jhonson, H.J. Thomas, H.J. Schaeffer, J Am Chem Soc. 80, 1958, 699-702.
[2] CLSI . Methods for Dilution Antimicrobial Susceptibility Tests for Bacteria That Grow
Aerobically Approved Standard, CLSI Document M7-A7 . 7 th Ed. ISBN 1-56238 . 2006, 587 –
589.
[3] L. Yurttaş , Y. Özkay, H. Karaca et al.,. Lett Drug Des Discov. 10, 2013 486 – 491.
[4] M.V. Berridge, P.M. Herst, A.S.Tan, Biotechnol. Annu. 11, 2005,127-152.