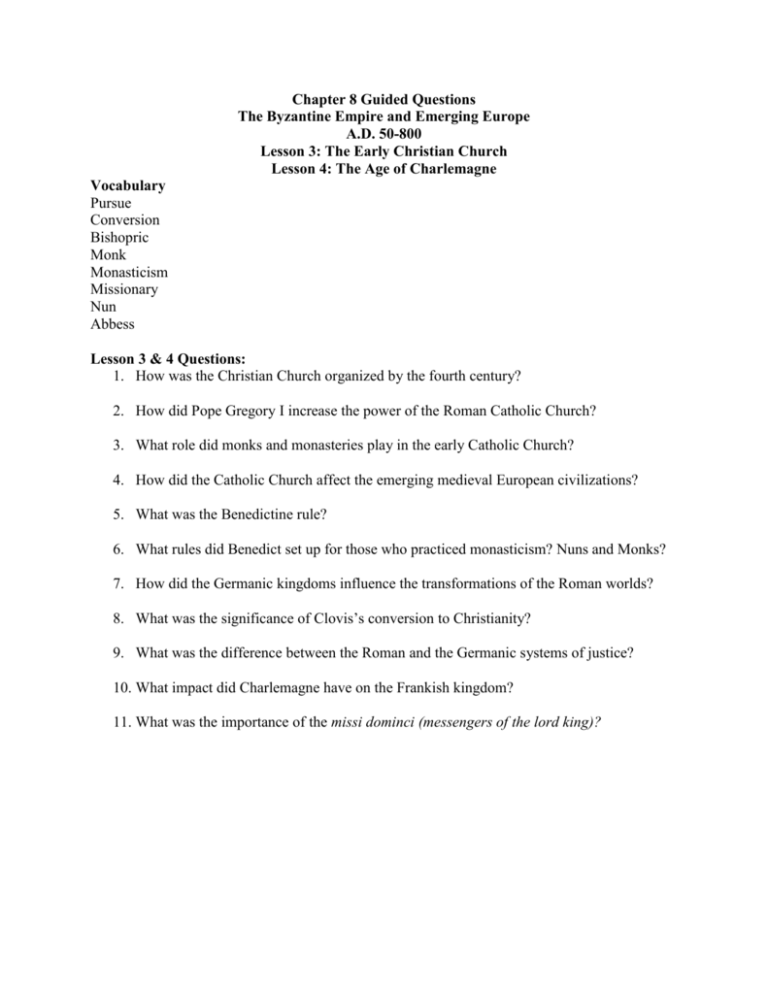 Chapter 8 Guided Questions
The Byzantine Empire and Emerging Europe
A.D. 50-800
Lesson 3: The Early Christian Church
Lesson 4: The Age of Charlemagne
Vocabulary
Pursue
Conversion
Bishopric
Monk
Monasticism
Missionary
Nun
Abbess
Lesson 3 & 4 Questions:
1. How was the Christian Church organized by the fourth century?
2. How did Pope Gregory I increase the power of the Roman Catholic Church?
3. What role did monks and monasteries play in the early Catholic Church?
4. How did the Catholic Church affect the emerging medieval European civilizations?
5. What was the Benedictine rule?
6. What rules did Benedict set up for those who practiced monasticism? Nuns and Monks?
7. How did the Germanic kingdoms influence the transformations of the Roman worlds?
8. What was the significance of Clovis's conversion to Christianity?
9. What was the difference between the Roman and the Germanic systems of justice?
10. What impact did Charlemagne have on the Frankish kingdom?
11. What was the importance of the missi dominci (messengers of the lord king)?