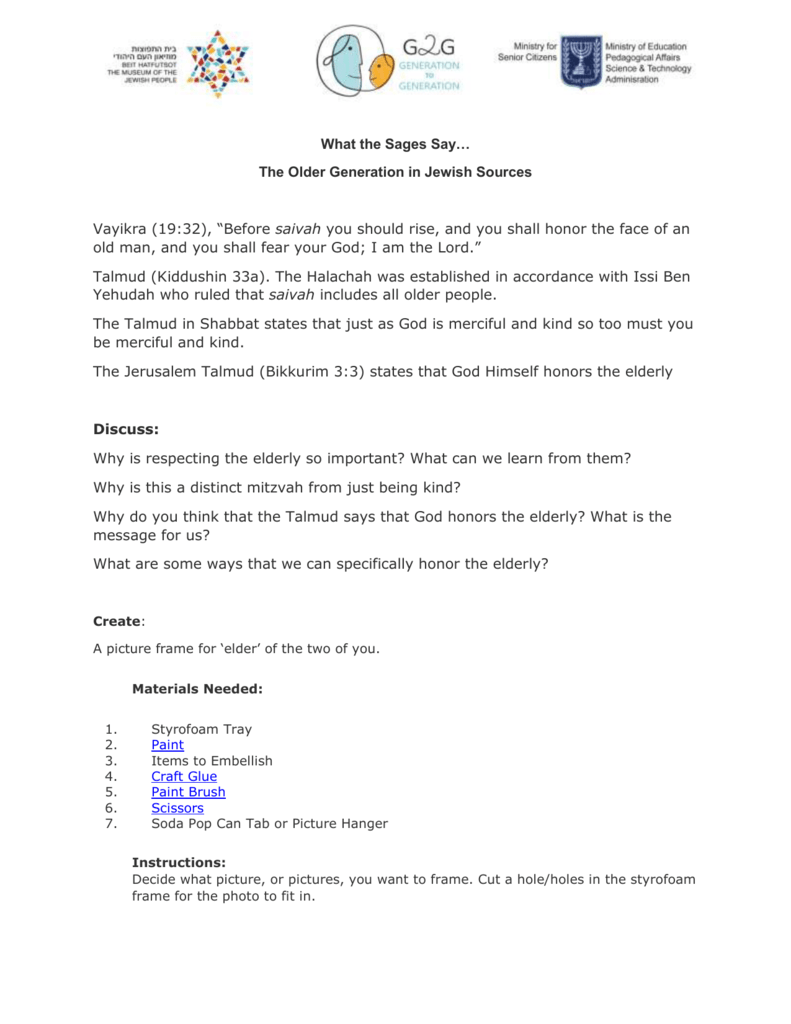 What the Sages Say…
The Older Generation in Jewish Sources
Vayikra (19:32), "Before saivah you should rise, and you shall honor the face of an
old man, and you shall fear your God; I am the Lord."
Talmud (Kiddushin 33a). The Halachah was established in accordance with Issi Ben
Yehudah who ruled that saivah includes all older people.
The Talmud in Shabbat states that just as God is merciful and kind so too must you
be merciful and kind.
The Jerusalem Talmud (Bikkurim 3:3) states that God Himself honors the elderly
Discuss:
Why is respecting the elderly so important? What can we learn from them?
Why is this a distinct mitzvah from just being kind?
Why do you think that the Talmud says that God honors the elderly? What is the
message for us?
What are some ways that we can specifically honor the elderly?
Create:
A picture frame for 'elder' of the two of you.
Materials Needed:
1.
2.
3.
4.
5.
6.
7.
Styrofoam Tray
Paint
Items to Embellish
Craft Glue
Paint Brush
Scissors
Soda Pop Can Tab or Picture Hanger
Instructions:
Decide what picture, or pictures, you want to frame. Cut a hole/holes in the styrofoam
frame for the photo to fit in.
Paint the styrofoam tray. Once the paint is dry, decorate it with miscellaneous craft
supplies like stickers, buttons, or ribbon.
Glue the photos into the opening/openings and glue a soda pop tab or picture hanger
onto the styrofoam.
Create:
A sign to remember to stand up!
Print or write out this verse:
Tips:
Model this middah (character trait) for your children: stand up when an elderly person walks
into the room, give up your seat, or hold the door open for them.
Reward your children for holding the door for others, saying please and thank you, and any
other act of respect or kindness they show towards others.