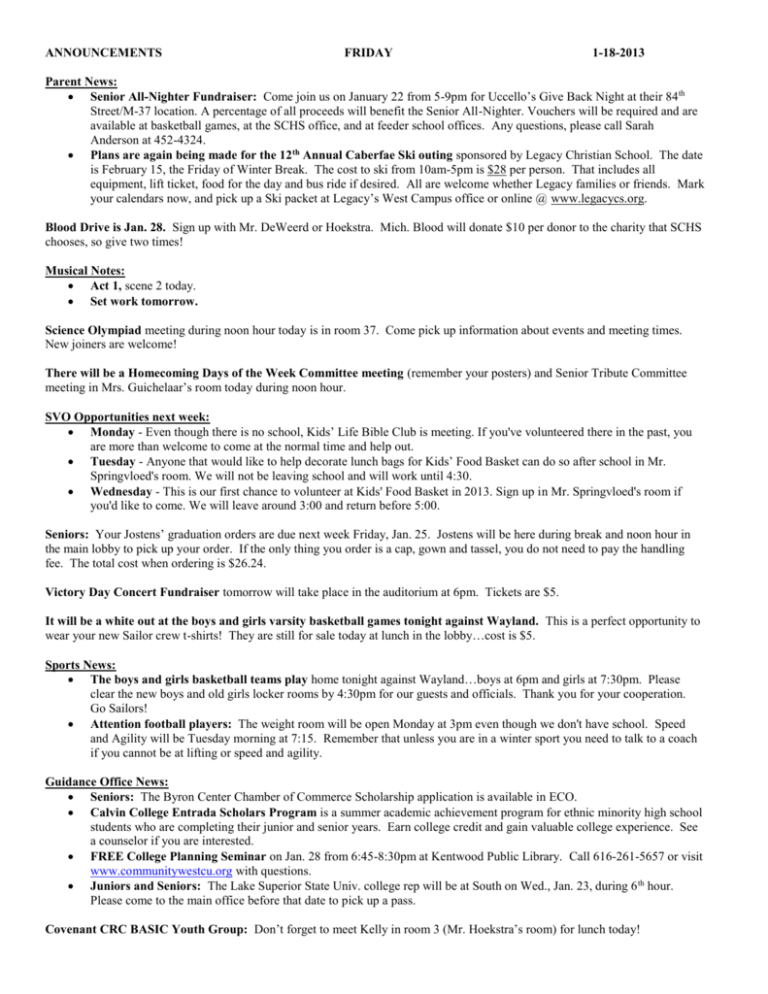 ANNOUNCEMENTS
FRIDAY
1-18-2013
Parent News:
 Senior All-Nighter Fundraiser: Come join us on January 22 from 5-9pm for Uccello's Give Back Night at their 84 th
Street/M-37 location. A percentage of all proceeds will benefit the Senior All-Nighter. Vouchers will be required and are
available at basketball games, at the SCHS office, and at feeder school offices. Any questions, please call Sarah
Anderson at 452-4324.
 Plans are again being made for the 12th Annual Caberfae Ski outing sponsored by Legacy Christian School. The date
is February 15, the Friday of Winter Break. The cost to ski from 10am-5pm is $28 per person. That includes all
equipment, lift ticket, food for the day and bus ride if desired. All are welcome whether Legacy families or friends. Mark
your calendars now, and pick up a Ski packet at Legacy's West Campus office or online @ www.legacycs.org.
Blood Drive is Jan. 28. Sign up with Mr. DeWeerd or Hoekstra. Mich. Blood will donate $10 per donor to the charity that SCHS
chooses, so give two times!
Musical Notes:
 Act 1, scene 2 today.
 Set work tomorrow.
Science Olympiad meeting during noon hour today is in room 37. Come pick up information about events and meeting times.
New joiners are welcome!
There will be a Homecoming Days of the Week Committee meeting (remember your posters) and Senior Tribute Committee
meeting in Mrs. Guichelaar's room today during noon hour.
SVO Opportunities next week:
 Monday - Even though there is no school, Kids' Life Bible Club is meeting. If you've volunteered there in the past, you
are more than welcome to come at the normal time and help out.
 Tuesday - Anyone that would like to help decorate lunch bags for Kids' Food Basket can do so after school in Mr.
Springvloed's room. We will not be leaving school and will work until 4:30.
 Wednesday - This is our first chance to volunteer at Kids' Food Basket in 2013. Sign up in Mr. Springvloed's room if
you'd like to come. We will leave around 3:00 and return before 5:00.
Seniors: Your Jostens' graduation orders are due next week Friday, Jan. 25. Jostens will be here during break and noon hour in
the main lobby to pick up your order. If the only thing you order is a cap, gown and tassel, you do not need to pay the handling
fee. The total cost when ordering is $26.24.
Victory Day Concert Fundraiser tomorrow will take place in the auditorium at 6pm. Tickets are $5.
It will be a white out at the boys and girls varsity basketball games tonight against Wayland. This is a perfect opportunity to
wear your new Sailor crew t-shirts! They are still for sale today at lunch in the lobby…cost is $5.
Sports News:
 The boys and girls basketball teams play home tonight against Wayland…boys at 6pm and girls at 7:30pm. Please
clear the new boys and old girls locker rooms by 4:30pm for our guests and officials. Thank you for your cooperation.
Go Sailors!
 Attention football players: The weight room will be open Monday at 3pm even though we don't have school. Speed
and Agility will be Tuesday morning at 7:15. Remember that unless you are in a winter sport you need to talk to a coach
if you cannot be at lifting or speed and agility.
Guidance Office News:
 Seniors: The Byron Center Chamber of Commerce Scholarship application is available in ECO.
 Calvin College Entrada Scholars Program is a summer academic achievement program for ethnic minority high school
students who are completing their junior and senior years. Earn college credit and gain valuable college experience. See
a counselor if you are interested.
 FREE College Planning Seminar on Jan. 28 from 6:45-8:30pm at Kentwood Public Library. Call 616-261-5657 or visit
www.communitywestcu.org with questions.
 Juniors and Seniors: The Lake Superior State Univ. college rep will be at South on Wed., Jan. 23, during 6 th hour.
Please come to the main office before that date to pick up a pass.
Covenant CRC BASIC Youth Group: Don't forget to meet Kelly in room 3 (Mr. Hoekstra's room) for lunch today!