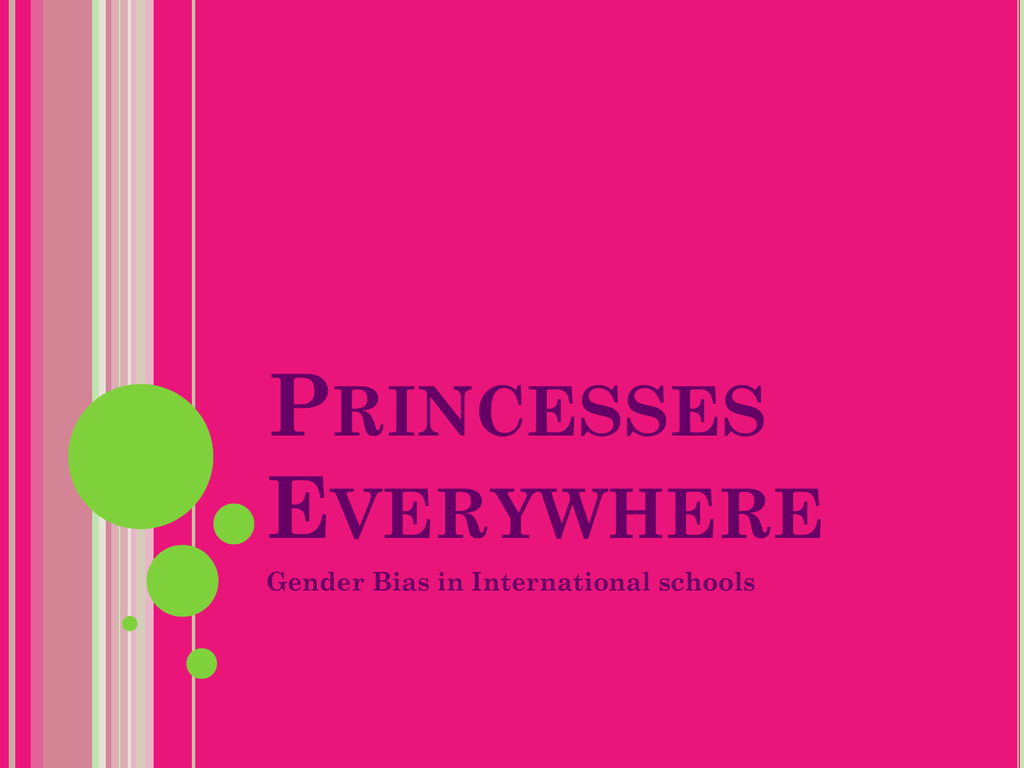 PRINCESSES
EVERYWHERE
Gender Bias in International schools
WHEN I'VE DONE THIS BEFORE…
WHERE I COME FROM….
TESTS
From: Beyond Dolls and Guns: 101
Ways to Help Children Avoid Gender
Bias
By Susan Hoy Crawford
RACISM TEST

Substitute characters or terms that apply to
different racial groups
Girls
Boys
Jews
Christians
WORKPLACE TEST

Would it be legal in the workplace?

Phone lists separated by gender
ROLE REVERSAL TEST
Does the meaning change if the gender role is
reversed?
 Does reversing the characters make it seem odd
or ridiculous?

QUANTITY TEST

Girls are often omitted in
Books
 TV shows
 Movies

Winnie the Pooh Characters
Pooh bear
Tigger
Christopher Robin
Rabbit
Eeyore
Piglet
Owl
Roo
Kanga
Gender
Male
Male
Male
Male
Male
Male
Male
Male
Female
ISOLATION TEST

Are genders separated for reasons other than
toileting privacy or discussing reproduction
Boys line/ girls line
 Girls – birds; Boys - squirrels

SEXUAL STEREOTYPE TEST

Are certain stereotypes perceived as better?
Boys are stronger
 Girls are quieter


Positive ones can hamper growth of individuals
MISOGYNY TEST (HATRED OF WOMEN)

Are men or boys the norm?
"Throws like a girl"
 "Sissy"
 "Drives like a woman"
 Kill the girl


Almost no words for a girl to equate her with a
boy
APPLICATIONS
OF GENDER BIAS
LANGUAGE

Try using words inclusive of all humans






Mankind
Man-made
Manpower
Manhole
Man the phones
Man-sized
Humanity
Synthetic, manufactured, artificial
work force, staffing
utility hole
Staff the phones
big, large
LANGUAGE

Children understand male-gender language to
mean male
Cave men
 Cave people

GENDER DOMINATION
Can be visually observed
 Prerogatives one gender takes over another

Football field
 Computer
 House area/blocks

WORD ORDER
"Boys and girls"
 "Mr. and Mrs."
 "he/she"
 "Ladies and Gentlemen"


Non parallel terms


Chivalrous/chaste
Unequal parallel terms
Bachelor/spinster
 Housekeeper/butler

TEACHERS CAN

Teach respect
TEACHERS CAN

Let boys cry
TEACHERS CAN

Encourage manual dexterity
TEACHERS CAN
Avoid comments about clothes in greetings
 Fashion


Pink/blue
TEACHERS CAN

Toys
TEACHERS CAN

Work to change school policy
TEACHERS CAN

"It for animals"
WE ALL WANT THE SAME THING….

For children to be..