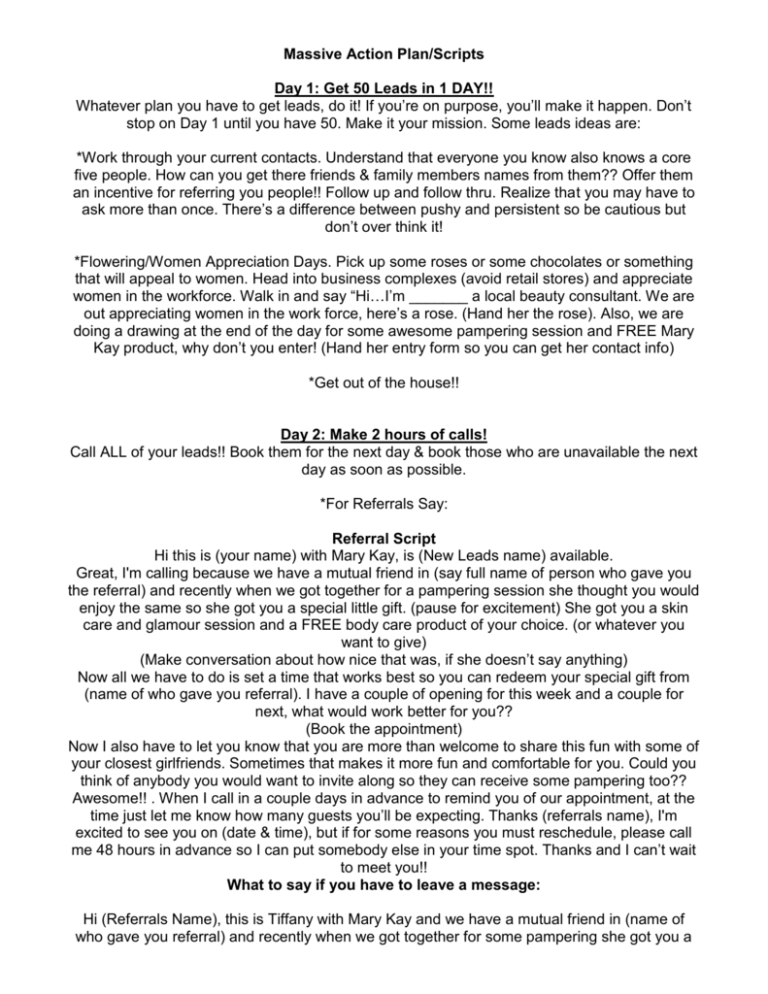 Massive Action Plan/Scripts
Day 1: Get 50 Leads in 1 DAY!!
Whatever plan you have to get leads, do it! If you're on purpose, you'll make it happen. Don't
stop on Day 1 until you have 50. Make it your mission. Some leads ideas are:
*Work through your current contacts. Understand that everyone you know also knows a core
five people. How can you get there friends & family members names from them?? Offer them
an incentive for referring you people!! Follow up and follow thru. Realize that you may have to
ask more than once. There's a difference between pushy and persistent so be cautious but
don't over think it!
*Flowering/Women Appreciation Days. Pick up some roses or some chocolates or something
that will appeal to women. Head into business complexes (avoid retail stores) and appreciate
women in the workforce. Walk in and say "Hi…I'm _______ a local beauty consultant. We are
out appreciating women in the work force, here's a rose. (Hand her the rose). Also, we are
doing a drawing at the end of the day for some awesome pampering session and FREE Mary
Kay product, why don't you enter! (Hand her entry form so you can get her contact info)
*Get out of the house!!
Day 2: Make 2 hours of calls!
Call ALL of your leads!! Book them for the next day & book those who are unavailable the next
day as soon as possible.
*For Referrals Say:
Referral Script
Hi this is (your name) with Mary Kay, is (New Leads name) available.
Great, I'm calling because we have a mutual friend in (say full name of person who gave you
the referral) and recently when we got together for a pampering session she thought you would
enjoy the same so she got you a special little gift. (pause for excitement) She got you a skin
care and glamour session and a FREE body care product of your choice. (or whatever you
want to give)
(Make conversation about how nice that was, if she doesn't say anything)
Now all we have to do is set a time that works best so you can redeem your special gift from
(name of who gave you referral). I have a couple of opening for this week and a couple for
next, what would work better for you??
(Book the appointment)
Now I also have to let you know that you are more than welcome to share this fun with some of
your closest girlfriends. Sometimes that makes it more fun and comfortable for you. Could you
think of anybody you would want to invite along so they can receive some pampering too??
Awesome!! . When I call in a couple days in advance to remind you of our appointment, at the
time just let me know how many guests you'll be expecting. Thanks (referrals name), I'm
excited to see you on (date & time), but if for some reasons you must reschedule, please call
me 48 hours in advance so I can put somebody else in your time spot. Thanks and I can't wait
to meet you!!
What to say if you have to leave a message:
Hi (Referrals Name), this is Tiffany with Mary Kay and we have a mutual friend in (name of
who gave you referral) and recently when we got together for some pampering she got you a
special gift. I can't wait to tell you all about it so please give me a call back as soon as you get
this. My number is (your phone number) and this is Tiffany w/ Mary Kay. Again, that # is (your
number). Thanks and I can't wait to tell you all about your special gift. Have a great day!!
*For Flowerings Say:
Flowering Script: Winner Phone Script
Hi ___________!
This is __________ with Mary Kay and I met you the other day when I was out for employee
appreciation day!!
AND I'm really excited to tell you that are one of my lucky winners from the drawing!
You won a skin care and glamour session AND your choice of a FREE body care gift! (pause
for excitement) All we need to do is find a day that works best for the both of us so we can get
together for you to redeem your gift.
Do you prefer weekdays or weekends?
Ok, Great! I have ________ available this week and __________ available next week.
Let me go ahead and get all your contact information and address so I can send you a
reminder postcard.
Plus, because you were one of my lucky winners you have the opportunity to share this
pampering session with 5 of your closest friends and it's completely free!!!. (pause for
excitement) Could you think of some family or friends you'd love to share this great time with?
(Either way, don't sound disappointed if they don't have friends. – try suggesting family
members, neighbors, coworkers)
Great! Ok, I have you down for _______ @ ______ and I'll call you to remind you a few days
before.
And, __________, Can I ask you just one favor?
If for any reason you have to reschedule, I just ask that you give me 48-hours notice so that I
have enough time to fill your time slot with someone else. Thank you so much!
Great!
Well congratulations again! Have a great day/night!
Flowering Script: Leaving a Message
Hi, This message is for ______________.
This is __________with Mary Kay and I'm really excited to tell you that you were one of the
lucky winners from the employee appreciation drawing you recently entered!
Give me a call back so that I can tell you all about your fabulous prize!!
My number is _______, again, that's _______ and this is ___________ with Mary Kay!
Congratulations _____________ and I'll talk to you soon!
Day 3: Hold Shows
Plan a power day of shows and hold 3 shows in one day. For example, book in the same
location like your house, studio, back room of a restaurant, etc… When calling all your leads
book them for either 11am, 2pm or 5pm (or whatever times you choose). You can book 2-6
people plus their friends for the same time slot. Worst case scenario…..most of them hold and
you have a larger party with around 8-10 women there.
Make sure you use the 8 point close on EVERY guest that attends.
Results:
50 NEW Leads
Around $1000 in sales
6 potential team members (minimum of 2 from each show)
6 future beauty shows/follow-ups (minimum of 2 from each show)
MORE Referrals from your guests!
AND LOTS OF FUN!!!!