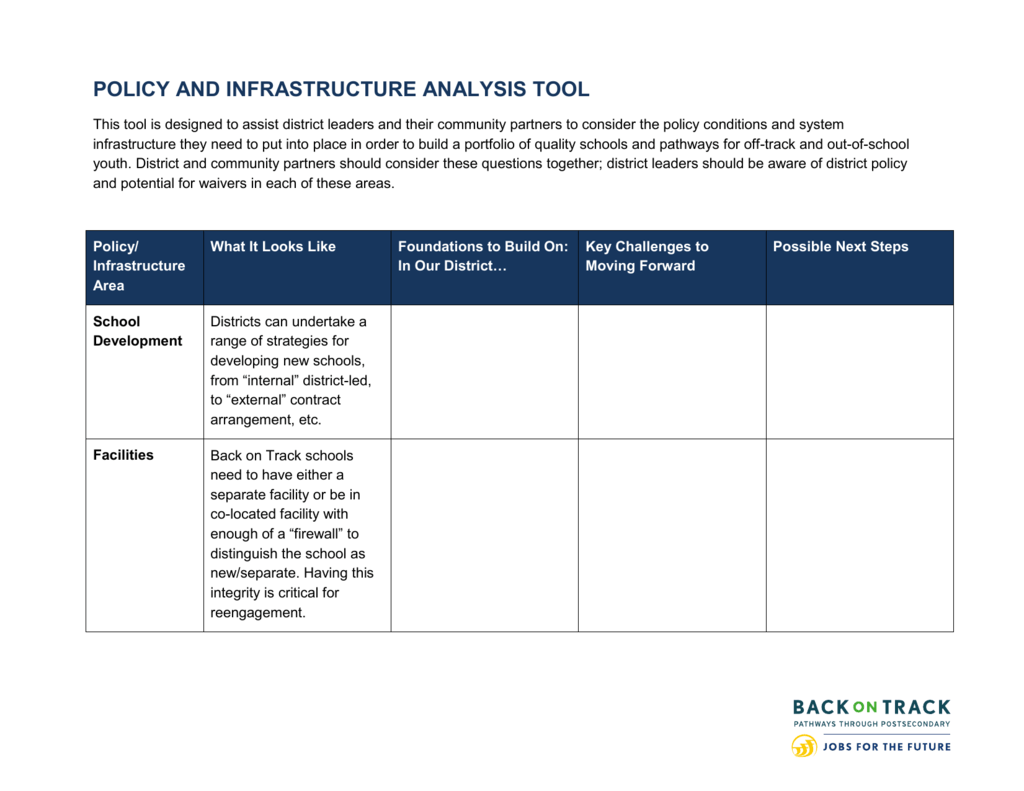 POLICY AND INFRASTRUCTURE ANALYSIS TOOL
This tool is designed to assist district leaders and their community partners to consider the policy conditions and system
infrastructure they need to put into place in order to build a portfolio of quality schools and pathways for off-track and out-of-school
youth. District and community partners should consider these questions together; district leaders should be aware of district policy
and potential for waivers in each of these areas.
Policy/
Infrastructure
Area
What It Looks Like
School
Development
Districts can undertake a
range of strategies for
developing new schools,
from "internal" district-led,
to "external" contract
arrangement, etc.
Facilities
Back on Track schools
need to have either a
separate facility or be in
co-located facility with
enough of a "firewall" to
distinguish the school as
new/separate. Having this
integrity is critical for
reengagement.
Foundations to Build On:
In Our District…
Key Challenges to
Moving Forward
Possible Next Steps
Staffing
Historically, principals have
not had hiring autonomy
and teachers have often
been placed in these
schools; Effective schools
should be able to hire/fire
their own staff.
Budget
Effective schools have, at a
minimum, equity in funding
and, at best, have enriched
funding through a range of
sources: weights, and
braided funding from other
funding streams. Also, it is
ideal to have funding for a
school development period
prior to the opening of the
school.
Curriculum,
scheduling,
calendar
Effective Back On Track
schools are standardsbased but have flexibility to
accelerate (i.e. via
competency-based
curriculum or project-based
learning). They also have
flexibility over
scheduling/calendar.
PD/CapacityBuilding
A clear strategy to build
capacity that is designed
specifically for Back On
Track schools is essential
for developing effective
schools.
Accountability
Districts in the forefront of
this work have adapted
their school accountability
system for this population
(e.g., New York City and
Philadelphia). Such
systems have extended
graduation rates (6-years)
and include credit for key
benchmarks that students
meet along the way to a
standards-based diploma.
System-wide
Reengagement
A number of cities have
developed a communitywide strategy for
reengaging youth who are
either significantly off-track
and in school or have
dropped out. For example,
Philadelphia's
Reengagement Center,
which has become a
national model, is co-
staffed by the district, the
city and the Philadelphia
Youth Network and
includes intake process
that requires a review of all
transcripts and options for
credit-recovery on site
while waiting for
placement.
Turn-around
Schools
Increasingly, cities are
looking at data on lowperforming high schools
and recognizing that offtrack students are overrepresented in these
schools and that the
schools cannot turn around
without addressing this
population of young
people.