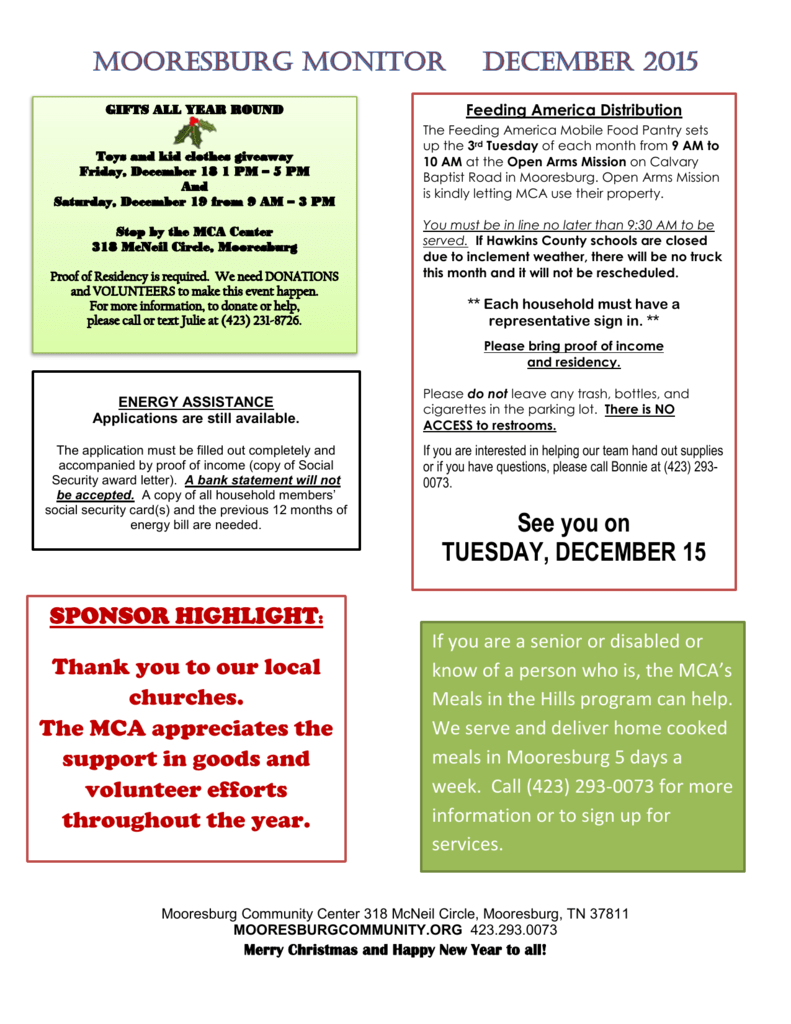 Feeding America Distribution
The Feeding America Mobile Food Pantry sets
up the 3rd Tuesday of each month from 9 AM to
10 AM at the Open Arms Mission on Calvary
Baptist Road in Mooresburg. Open Arms Mission
is kindly letting MCA use their property.
You must be in line no later than 9:30 AM to be
served. If Hawkins County schools are closed
due to inclement weather, there will be no truck
this month and it will not be rescheduled.
** Each household must have a
representative sign in. **
Please bring proof of income
and residency.
ENERGY ASSISTANCE
Applications are still available.
The application must be filled out completely and
accompanied by proof of income (copy of Social
Security award letter). A bank statement will not
be accepted. A copy of all household members'
social security card(s) and the previous 12 months of
energy bill are needed.
Please do not leave any trash, bottles, and
cigarettes in the parking lot. There is NO
ACCESS to restrooms.
If you are interested in helping our team hand out supplies
or if you have questions, please call Bonnie at (423) 2930073.
See you on
TUESDAY, DECEMBER 15
SPONSOR HIGHLIGHT:
Thank you to our local
churches.
The MCA appreciates the
support in goods and
volunteer efforts
throughout the year.
If you are a senior or disabled or
know of a person who is, the MCA's
Meals in the Hills program can help.
We serve and deliver home cooked
meals in Mooresburg 5 days a
week. Call (423) 293-0073 for more
information or to sign up for
services.
Mooresburg Community Center 318 McNeil Circle, Mooresburg, TN 37811
MOORESBURGCOMMUNITY.ORG 423.293.0073
Merry Christmas and Happy New Year to all!
~ December 2015 ~
SUN
MON
TUE
1
YoYo Snowmen
on t-shirts
AA mtg 7 PM
6
7
Painting Glass:
Santa's Reindeer
8
BIRTHDAY
LUNCH @
GOLDEN
CORRAL
14
15
AA mtg 7 PM
9
SAT
5
10
11
12
17
18
19
MCA EVENT
16
Making Grapevine
Snowman Wreaths
9 AM – 11 AM
Feed America
AA mtg 7 PM
21
22
Christmas lunch
at MCA (Secret
Santa)
AA mtg 7 PM
27
AA mtg 7 PM
FRI
4
AA mtg 7 PM
Cookies in a Jar/
Chex Mix
20
THU
3
Painting Nativity
Ornaments
AA mtg 7 PM
13
WED
2
10:30 AM Bingo
28
Driftwood with
Redbirds
Notes:
KIDS GIFTS
AND
CLOTHING
GIVEAWAY
9 am - 3 pm
AA mtg 7 PM
23
24
Caramel Daze &
Candy Making
29
KIDS GIFTS
AND CLOTHING
GIVEAWAY
1 – 5 pm
25
CLOSED FOR
HOLIDAY at
noon
26
CLOSED FOR
HOLIDAY
AA mtg 7 PM
30
Appetizer and
Remembering
the Year Gone
By
Happy
Birthday to
Bud &
Austin
YOU WILL NEED:
December 14: 2 quart jars and ingredients for mixes
December 16: 2 grapevine wreaths – one smaller than the other
December 21: A dish to share and 2 Secret Santa gifts
December 23: Ingredients for candy making and caramel
December 28: A redbird for your driftwood
December 30: Yummy appetizer for sharing
Beautiful handmade cedar logging truck
30 ½ inches x 9 inches
Look for detailed flyer and pictures at stores and
restaurants around Mooresburg.
Drawing will be held the first week of December
Call bonnie for more information 423.293.0073.
Mooresburg Community Center 318 McNeil Circle, Mooresburg, TN 37811
MOORESBURGCOMMUNITY.ORG 423.293.0073
Merry Christmas and Happy New Year to all!