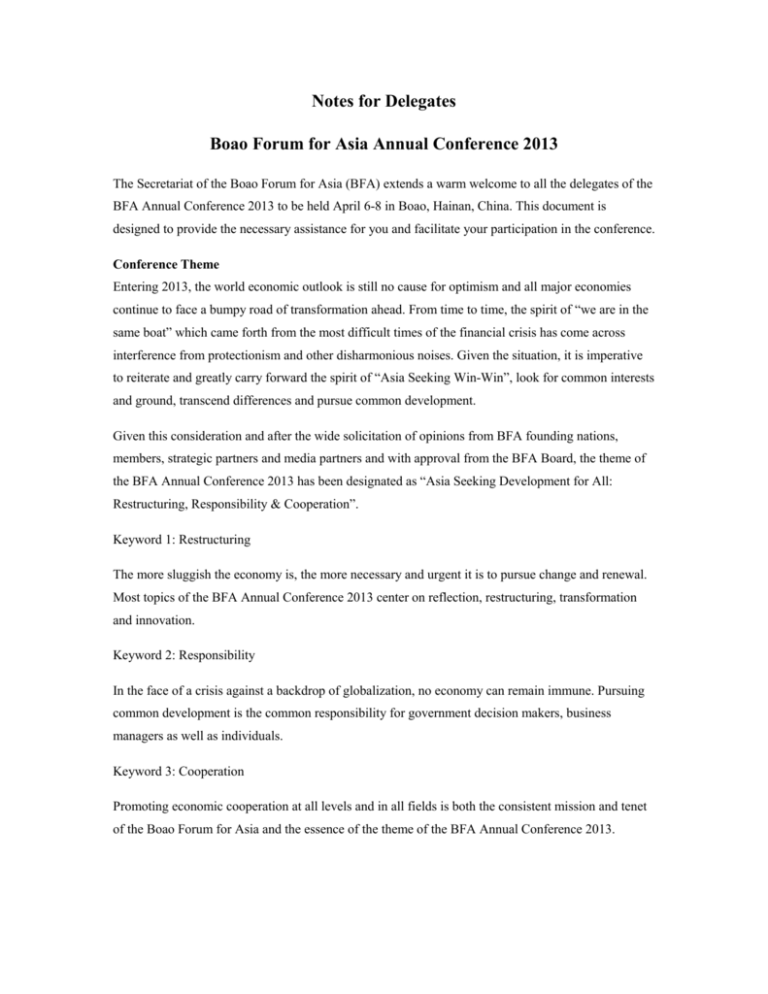 Notes for Delegates
Boao Forum for Asia Annual Conference 2013
The Secretariat of the Boao Forum for Asia (BFA) extends a warm welcome to all the delegates of the
BFA Annual Conference 2013 to be held April 6-8 in Boao, Hainan, China. This document is
designed to provide the necessary assistance for you and facilitate your participation in the conference.
Conference Theme
Entering 2013, the world economic outlook is still no cause for optimism and all major economies
continue to face a bumpy road of transformation ahead. From time to time, the spirit of "we are in the
same boat" which came forth from the most difficult times of the financial crisis has come across
interference from protectionism and other disharmonious noises. Given the situation, it is imperative
to reiterate and greatly carry forward the spirit of "Asia Seeking Win-Win", look for common interests
and ground, transcend differences and pursue common development.
Given this consideration and after the wide solicitation of opinions from BFA founding nations,
members, strategic partners and media partners and with approval from the BFA Board, the theme of
the BFA Annual Conference 2013 has been designated as "Asia Seeking Development for All:
Restructuring, Responsibility & Cooperation".
Keyword 1: Restructuring
The more sluggish the economy is, the more necessary and urgent it is to pursue change and renewal.
Most topics of the BFA Annual Conference 2013 center on reflection, restructuring, transformation
and innovation.
Keyword 2: Responsibility
In the face of a crisis against a backdrop of globalization, no economy can remain immune. Pursuing
common development is the common responsibility for government decision makers, business
managers as well as individuals.
Keyword 3: Cooperation
Promoting economic cooperation at all levels and in all fields is both the consistent mission and tenet
of the Boao Forum for Asia and the essence of the theme of the BFA Annual Conference 2013.
Conference Format
There will be some significant adjustment to the meeting formats of the BFA Annual Conference 2013
to favor smaller, more interactive and more diversified sessions. The 51 scheduled events include 18
sub-forums, 15 roundtable meetings, 6 closed-door discussions, 5 celebrity dialogues, 1 Boao Night, 4
lunch discussions, and 3 dinners. In addition, there is an opening ceremony and a closing banquet.
These meeting formats have the following features:
1. Sub-forums: Featuring 5-6 guests on the platform and 150 listeners in the audience and moderated
by a host, these forums will adopt a Q&A format to encourage interaction between the guests, and
between the guests and the audience. Each forum will last 75 minutes.
2. Roundtable meetings: 10-15 guest discussants will sit at the center of the meeting venue,
surrounded by 120 guests. Led by the host, Q&A will be held to foster interaction between the guests,
and between guests and the audience. Each meeting will last 120 minutes.
3. Closed-door discussions: 30-40 guests with similar interests from the same industry or group will
be invited to attend. The format will be group discussion first and collective debate later. Each
discussion will last 90 or 120 minutes.
4. Celebrity dialogues: Cultural and social celebrities, renowned economists and scientists will be
invited to discuss new thoughts and new trends in the social, economic, cultural and technological
fields, introduce these new thoughts and trends to the audience in an easy-to-understand way while
interacting with delegates. Each dialogue will last 45 minutes.
5. Boao Night: In a relaxed and pleasant atmosphere, the Boao Night will discuss social, livelihood,
technological and academic topics. The format will be flexible and may feature a cocktail party and
salon. The Boao Night will last 75 minutes.
6. Luncheon/dinner: A combination of sub-forum and breakfast/lunch.
In addition, there will also be a large number of small-scale discussions which are not shown on the
agenda. These include small-scale breakfast meetings between government ministers and leading
entrepreneurs, discussions and cocktail parties organized by guests and conference delegates, and so
on.
About Boao
Located on the east coast of Qionghai City, Hainan Province, Boao is centered at a latitude of 19.3o
north and a longitude of 110.5o east. Facing the South China Sea to the east, Boao lies 17km to the
east of Qionghai City's Jiaji Town, 105km to the south of the provincial capital, Haikou City, and
200km to the north of the famous resort Sanya City.
Renowned for its beautiful scenery, Boao is situated on the estuary of the famous Wanquan River.
Here the Wanquan, Jiuqu and Longgun rivers converge into the South China Sea and are met by three
islands: Dongyu, Shapo and Yuanyang. The harmonious synthesis of the sea with the city's rivers,
lakes, mountains, islands, coconut forests, fields, sandy beaches and hot water springs provides us
with a wondrous landscape of miraculous proportions.
At the inauguration of the Boao Forum for Asia in February 2001, this spectacular land was chosen as
the permanent headquarters of the famous international organization the Boao Forum for Asia. The
annual conference of BFA is a platform for international and Asian political leaders, businessmen and
academic scholars, to communicate and seek cooperation for the common good and development of
Asian countries.
Currency
The local currency is the Chinese Renminbi ( RMB or ¥). The Chinese RMB is pegged to the US
dollar at a rate about US$1=RMB 6.3. The exchange rates are decided depending on the exchange rate
of that day issued by the People's Bank of China. Currency and travelers' checks can be converted
into RMB in the hotels. Credit cards such as Visa, MasterCard and American Express are accepted by
all hotels and most stores.
Telephone
The country code of China is 86, while the area code of Boao is 0898. Domestic and international long
distance services are available in all hotel rooms. However, international long-distance services are
charged at different rates for different countries. Please make enquiries with the hotel reception desk
and settle your bill before check-out.
Prepaid SIM cards for mobile phones (GSM and CDMA) are sold at the business center of each hotel
(only cash in Chinese currency (RMB) is accepted).
Weather
Boao has a tropical marine climate, which features ample sunshine, high temperature, abundant rain
and distinctive dry and rainy seasons. The temperature during the time of the Conference is within the
comfortable range between 23 Celsius and 30 Celsius, with a mean air temperature at 27 Celsius in
April.
Voltage
The voltage in China is 220v. Sockets in the hotel rooms are of 2-phase and 3-phase (MY-2204) types.
Time Zone
The time in Boao is 8 hours ahead of Greenwich Mean Time or Coordinated Universal Time.
Visa
If you need a visa to enter the People's Republic of China, we can provide formal invitation letter to
facilitate the application. With the invitation letter and other necessary documents as requested by the
local Chinese embassy or consulate, you will be able to apply the visa for entering China.
Inviting organization in China: The Boao Forum for Asia
Contact person: Mr. Zhou Chen
TEL: +86-10-65057377
FAX: +86-10-65051833
E-mail: leon@boaoforum.org
Address: Room 2210, China World Tower, No. 1 Jianguomenwai Avenue, Chaoyang District, Beijing,
China
Postal code: 100025
Hotel Accommodation
The designated hotels for delegates include: Ramada Hotel and Suites Boao, Boao Asia Bay Club
Hotel, Boao Jinjiang Spa Hotel, Boao Qianzhou Bay Resort and Boao Qianzhou Bay Xinyin Hotel.
The booking of rooms at the BFA Hotel, Boao Golden Coast Hot Spring Hotel and Boao State Guest
House is arranged by the BFA Secretariat for speakers, sponsors and some BFA members. The
booking for other hotels should be made by registered delegates themselves. Delegates shall clear all
expenses incurred at the hotels when checking out.
Delegates may make hotel bookings with the Letter of Conformation of Participation and Hotel
Booking Form issued by the Secretaries. Because only a limited of guestrooms is available during the
annual conference, each registered participant (one confirmation number) can only book one room.
The minimum stay for the hotels above is two nights.
Officially designated hotels for delegates:
Ramada Hotel and Suites Boao(★★★★☆) :
Address: No. 9 Longbow Avenue, Boao Town, Qionghai City, Hainan, 571434, CHINA
Tel: +86-898-6277 0000
Fax: +86-898-62777988
Website: http://www.ramadahotels.com.cn/hotel_42206012.html
Boao Asia Bay Club Hotel
Address: Boao, Hainan, QIONGHAI, CHINA
Tel: +86-898-62708688,
Fax: +86-898-62708618
Travel Arrangements
Participants should make their own travel arrangements. Haikou Meilan International Airport and
Sanya Phoenix International Airport are both reachable from all major airports within the country and
in Asia including Beijing, Shanghai, Hong Kong SAR, Guangzhou, Taipei, Singapore, Hanoi, etc.
Haikou Meilan International Airport
Haikou Meilan International Airport is located in the southeast of Haikou, Hainan Province. It is
15Km as the crow flies from downtown Haikou. The Airport is 1.5 hours away by car and 35 minutes
by the eastern coastal express train.
Sanya Phoenix International Airport
Sanya Phoenix International Airport is located in the northwest of Sanyan, Hainan and approximately
14Km from the center of Sanya. The Airport is 2 hours away from Boao by car and 40 minutes by the
eastern coastal express train.
Private Jet
Those participants who plan to travel to Hainan by private jet should apply to the Civil Aviation
Administration of China for approval as early as possible and contact staff at the BFA Secretariat to
get a letter of proof.
Contact person: Ms YUAN Yuan
Tel: 86- 15901269629
Mail: grace.yuan@alliance.com.cn
Ground Transportation
Shuttle services shall be provided to all delegates from Haikou Meilan International Airport to Peilan
Bridge Registration Center and from there to the designated conference hotels at Boao. The pickup
point at Haikou Airport is the Airport Reception Center for the BFA Annual Conference located in
the arrivals hall. Our staff will assist you to take bus to the registration center and various hotels.
Working hours at the airport reception center: April 4-7, 2013 08:00-22:00
Contact person during non-working hours: Song Xiuqiu, 13810643958
We will arrange for a seeing-off vehicle 3.5 hours ahead of the flight take-off time which you have
provided us. Please confirm your departure time with the BFA Annual Conference Service Center at
the hotel reception desk one day in advance.
To help us to pick you up and see you off, please inform us of your flight information as soon as you
have finalized your flight.
Guests who go to Boao via Sanya should arrange their own transport to Boao.
Car Rental (driver & car pass provided)
If you need to rent a car during the conference, please contact Hainan Blue Sea Self-Driving Car Co.,
Ltd. for reservation and price enquiries. 24h car booking phone number: 0898-66287008/9. For
reservations, please contact the service provider directly. The BFA Secretariat is not responsible for
booking, altering or cancelling the service.
Shuttle Bus
During the conference, shuttle services will also be provided to take delegates from designated hotels
to the conference venue and then back to the designated hotels. The shuttle bus routes and departure
schedule will be put up at the lobby entrance in various hotels. Please refer to them as required.
If delegates wish to arrange their own ground transport (with their own car) and need to apply for a
vehicle pass, please make sure to submit your application to the Secretariat before March 1, provide
your car plate number and obtain a driver pass for your hired driver. After the specified date, we will
not be able to assistance in this regard.
Registration:
The conference registration desk will be set up at the Peilan Bridge Registration Center. When
participants arrive at the registration center, they will need to bring their valid personal ID document
(ID card for domestic participants and passport for overseas participants) or the Letter of Confirmation
2D code issued by the Secretariat to make on-site registration and collect their conference pass and
conference pack.
Conference Pass
Due to the security requirements, please wear your conference pass throughout the BFA Annual
Conference and use it to access various conference and event venues, have meals at the designated
restaurants and take shuttle buses. Should your conference pass be lost or damaged, please handle for
a new pass at the Peilan Bridge Registration Center in accordance with the relevant procedures and
security provisions.
Peilan Bridge Registration Center (where conference pass and pack can be collected and lost pass
can be reapplied)
Working hours: 08:00-22:00, April 4-7
Contact person during non-working hours: Zhou Chen, 15010319909
Peilan Bridge is the only passage connecting Dong Yu Island, where the BFA conference venue is
located. The location of the Peilan Bridge Registration & Accreditation Center is shown in the
following map:
On-Site Information
Conference Venue
The BFA Annual Conference 2013 will be held at the BFA International Convention Center (ICC) in
Boao, Qionghai, Hainan. Delegates may log into
http://english.boaoforum.org/2013nhencv/5712.jhtml to get a conference venue map.
Conference Program
Please visithttp://www.boaoforum.org/, the office website of the Boao Forum for Asia, for the updated
program of the conference.
Catering
Throughout the conference, BFA will arrange for self-service lunches and dinners at the Asian
Restaurant and Yijing Western Restaurant of the BFA Hotel. Invitation will be required for speciallyarranged breakfasts, luncheons and dinners. Delegates who have special catering needs should inform
the Secretariat by e-mail. The Hotel may not meet all special catering needs.
Dress Code
Business attire is required for all meetings and banquets. BFA T-Shirts (received at Peilan Bridge
Registration center) or other casual attire is suggested for outdoor activities.
Working Languages of the Conference
Simultaneous interpretation will be available in English (channel 1) and Chinese (channel 2) during all
sessions. Japanese (channel 3) , Spanish (channel 4), Cambodian (channel 5), French (channel 6) and
Russian (channel 7)will be available at the Opening Ceremony as well.
Internet Access Areas
Wireless access is available at the BFA International Convention Centre and the public area in its
vicinities. Participants may directly purchase wireless Internet cards at the Business Center of the BFA
Hotel.
Business Center
The Business Center provides E-mail receiving/sending, fax receiving/sending, photocopying and
ticket services to delegates at their own cost.
BFA Hotel Business Center
Opening hours: 08:30-23:30
Tel: (86-898) 6296 6888 EXTENSION 7218
Fax: (86-898) 6296 6999
Session Summaries
During the conference, BFA's professional writing team will write summaries on most sessions. These
contents will be released on the BFA website (www.boaoforum.org), at the conference information
desk at the northern entrance on the ground floor of the International Convention Centre and on the
electronic screen at the conference venue.
Exclusive Rest Hall for Partners
This rest hall is exclusively used for partners to take a rest, engage in communication and meet people.
Venue: Galaxy Club, First Floor, BFA Hotel
Opening hours: 08:00-22:00, April 50-8
Exclusive Rest Hall for Members
This rest hall is exclusively used for members to take a rest, engage in communication and meet
people.
Venue: Bo Culture Center, First Floor, BFA Hotel
Opening hours: 08:30-22:00, April 50-8
Conference Service Center
The conference service center is located in the lobby of the BFA Hotel. It is responsible for providing
attending guests and reporters with program information, shuttle bus schedules, lost & found, ground
transport booking and other services.
Opening hours: 08:00-22:00, April 5-8
08:00-12:00, April 9
Contact person outside opening hours: Wu Ying, 13482468881
Press Center
Venue: Recreation Center, First Floor, BFA Hotel
Opening hours: 08:00-22:00, April 5-8
Chinese Weibo
You are welcome to follow BFA's Chinese Weibo at http://weibo.com/boaoforum. During the
conference, we will send out via Weibo important quotes from the opening speech. Weibo users can
get real-time information about the conference agenda and engage in discussions. Please add the
#Boao Forum for Asia 2013# tag to all Weibos relating to the Boao Forum for Asia Annual
Conference 2013.
Insurance
The registration does not include any form of insurance. It is strongly recommended that all delegates
should purchase overseas travel and medical insurance before attending the conference. The
provisions should cover loss of deposit or participation expenses resulting from cancellation of
participation or cancellation of conferences; as well as ticket losses, medical expenses and personal
property loss caused by any reason and extra expenses and repatriation expenses due to itinerary
changes.
Medical Service
When the conference is in session, a first-aid medical team will be provided at the BFA Hotel.
Sideline Cultural Events
Sideline cultural events have become an indispensable part of BFA's official program. The
information pack which you collect from the registration desk includes a Portable Conference
Handbook, which provides information on the relevant sideline events outside the official conference
program.