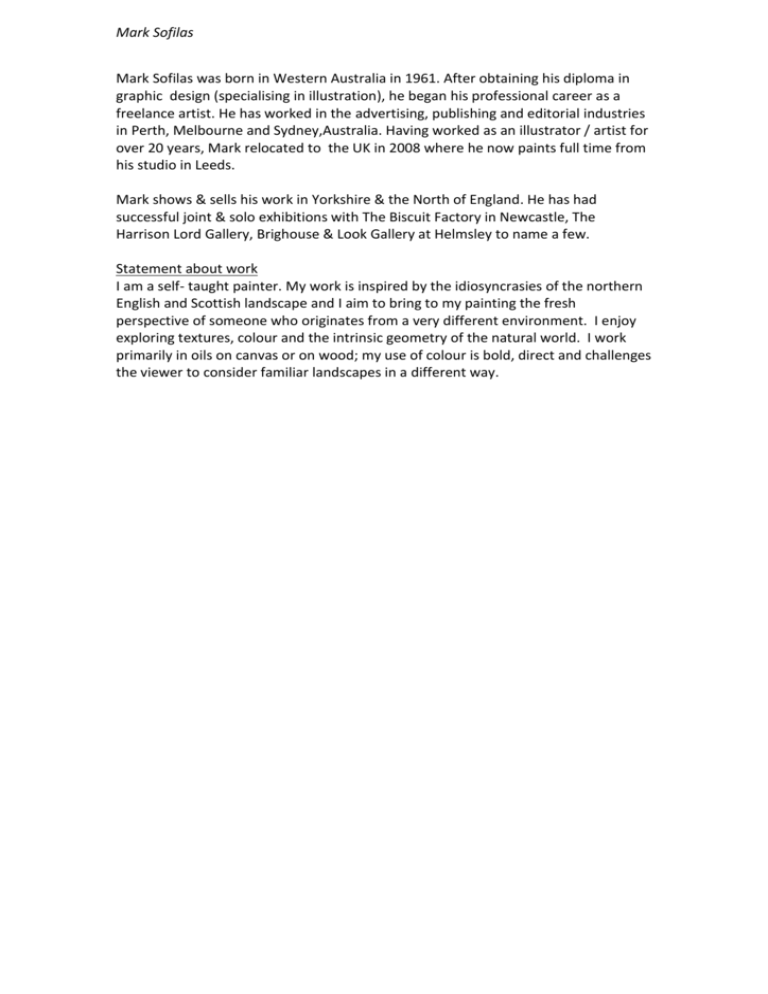 Mark Sofilas
Mark Sofilas was born in Western Australia in 1961. After obtaining his diploma in
graphic design (specialising in illustration), he began his professional career as a
freelance artist. He has worked in the advertising, publishing and editorial industries
in Perth, Melbourne and Sydney,Australia. Having worked as an illustrator / artist for
over 20 years, Mark relocated to the UK in 2008 where he now paints full time from
his studio in Leeds.
Mark shows & sells his work in Yorkshire & the North of England. He has had
successful joint & solo exhibitions with The Biscuit Factory in Newcastle, The
Harrison Lord Gallery, Brighouse & Look Gallery at Helmsley to name a few.
Statement about work
I am a self- taught painter. My work is inspired by the idiosyncrasies of the northern
English and Scottish landscape and I aim to bring to my painting the fresh
perspective of someone who originates from a very different environment. I enjoy
exploring textures, colour and the intrinsic geometry of the natural world. I work
primarily in oils on canvas or on wood; my use of colour is bold, direct and challenges
the viewer to consider familiar landscapes in a different way.