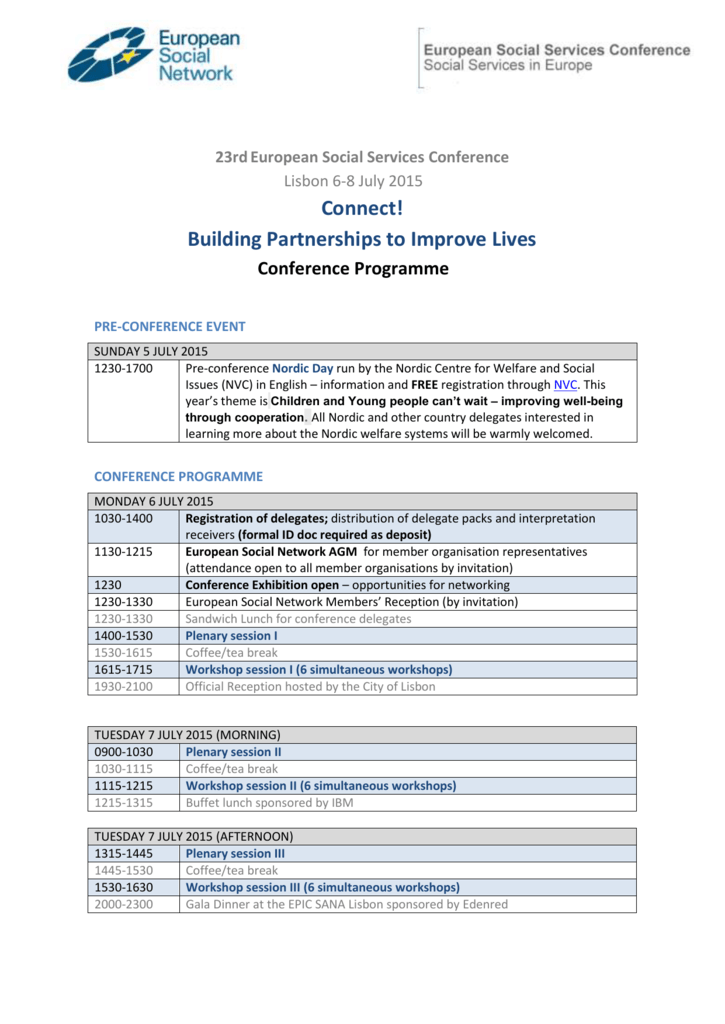 23rd European Social Services Conference
Lisbon 6-8 July 2015
Connect!
Building Partnerships to Improve Lives
Conference Programme
PRE-CONFERENCE EVENT
SUNDAY 5 JULY 2015
1230-1700
Pre-conference Nordic Day run by the Nordic Centre for Welfare and Social
Issues (NVC) in English – information and FREE registration through NVC. This
year's theme is Children and Young people can't wait – improving well-being
through cooperation. All Nordic and other country delegates interested in
learning more about the Nordic welfare systems will be warmly welcomed.
CONFERENCE PROGRAMME
MONDAY 6 JULY 2015
1030-1400
Registration of delegates; distribution of delegate packs and interpretation
receivers (formal ID doc required as deposit)
1130-1215
European Social Network AGM for member organisation representatives
(attendance open to all member organisations by invitation)
1230
Conference Exhibition open – opportunities for networking
1230-1330
European Social Network Members' Reception (by invitation)
1230-1330
Sandwich Lunch for conference delegates
1400-1530
Plenary session I
1530-1615
Coffee/tea break
1615-1715
Workshop session I (6 simultaneous workshops)
1930-2100
Official Reception hosted by the City of Lisbon
TUESDAY 7 JULY 2015 (MORNING)
0900-1030
Plenary session II
1030-1115
Coffee/tea break
1115-1215
Workshop session II (6 simultaneous workshops)
1215-1315
Buffet lunch sponsored by IBM
TUESDAY 7 JULY 2015 (AFTERNOON)
1315-1445
Plenary session III
1445-1530
Coffee/tea break
1530-1630
Workshop session III (6 simultaneous workshops)
2000-2300
Gala Dinner at the EPIC SANA Lisbon sponsored by Edenred
WEDNESDAY 8 JULY 2015
0930-1030
Workshop session IV (6 simultaneous workshops)
1030-1115
Coffee/tea break
1115-1245
Plenary session IV
European Round Table and Debate
1245-1300
Conclusion and invitation to European Social Services Conference 2016
1300
Close of conference
A daily video showing highlights from each day of the conference will be made available to ESN
members and newsletter subscribers.