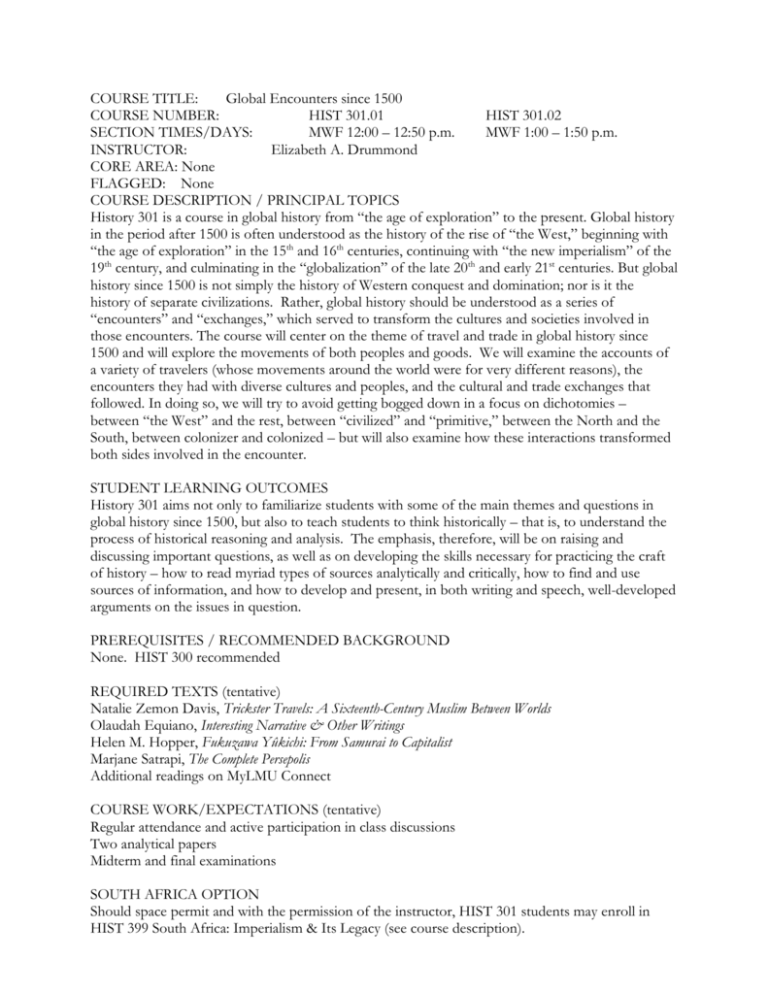 COURSE TITLE:
Global Encounters since 1500
COURSE NUMBER:
HIST 301.01
HIST 301.02
SECTION TIMES/DAYS:
MWF 12:00 – 12:50 p.m.
MWF 1:00 – 1:50 p.m.
INSTRUCTOR:
Elizabeth A. Drummond
CORE AREA: None
FLAGGED: None
COURSE DESCRIPTION / PRINCIPAL TOPICS
History 301 is a course in global history from "the age of exploration" to the present. Global history
in the period after 1500 is often understood as the history of the rise of "the West," beginning with
"the age of exploration" in the 15th and 16th centuries, continuing with "the new imperialism" of the
19th century, and culminating in the "globalization" of the late 20th and early 21st centuries. But global
history since 1500 is not simply the history of Western conquest and domination; nor is it the
history of separate civilizations. Rather, global history should be understood as a series of
"encounters" and "exchanges," which served to transform the cultures and societies involved in
those encounters. The course will center on the theme of travel and trade in global history since
1500 and will explore the movements of both peoples and goods. We will examine the accounts of
a variety of travelers (whose movements around the world were for very different reasons), the
encounters they had with diverse cultures and peoples, and the cultural and trade exchanges that
followed. In doing so, we will try to avoid getting bogged down in a focus on dichotomies –
between "the West" and the rest, between "civilized" and "primitive," between the North and the
South, between colonizer and colonized – but will also examine how these interactions transformed
both sides involved in the encounter.
STUDENT LEARNING OUTCOMES
History 301 aims not only to familiarize students with some of the main themes and questions in
global history since 1500, but also to teach students to think historically – that is, to understand the
process of historical reasoning and analysis. The emphasis, therefore, will be on raising and
discussing important questions, as well as on developing the skills necessary for practicing the craft
of history – how to read myriad types of sources analytically and critically, how to find and use
sources of information, and how to develop and present, in both writing and speech, well-developed
arguments on the issues in question.
PREREQUISITES / RECOMMENDED BACKGROUND
None. HIST 300 recommended
REQUIRED TEXTS (tentative)
Natalie Zemon Davis, Trickster Travels: A Sixteenth-Century Muslim Between Worlds
Olaudah Equiano, Interesting Narrative & Other Writings
Helen M. Hopper, Fukuzawa Yûkichi: From Samurai to Capitalist
Marjane Satrapi, The Complete Persepolis
Additional readings on MyLMU Connect
COURSE WORK/EXPECTATIONS (tentative)
Regular attendance and active participation in class discussions
Two analytical papers
Midterm and final examinations
SOUTH AFRICA OPTION
Should space permit and with the permission of the instructor, HIST 301 students may enroll in
HIST 399 South Africa: Imperialism & Its Legacy (see course description).