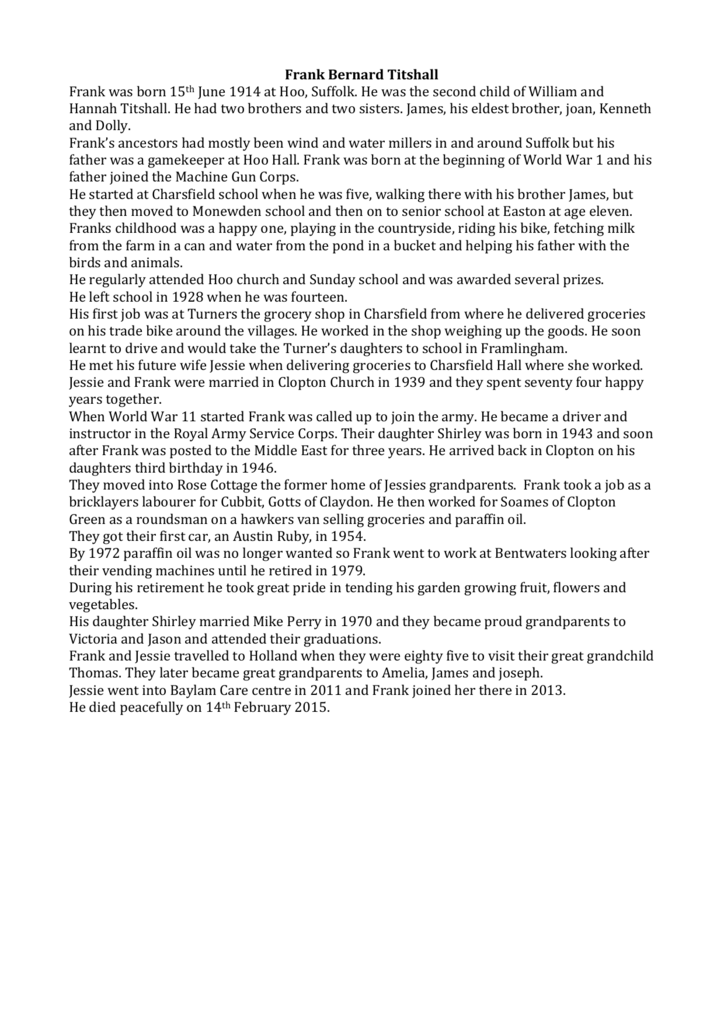 Frank Bernard Titshall
Frank was born 15th June 1914 at Hoo, Suffolk. He was the second child of William and
Hannah Titshall. He had two brothers and two sisters. James, his eldest brother, joan, Kenneth
and Dolly.
Frank's ancestors had mostly been wind and water millers in and around Suffolk but his
father was a gamekeeper at Hoo Hall. Frank was born at the beginning of World War 1 and his
father joined the Machine Gun Corps.
He started at Charsfield school when he was five, walking there with his brother James, but
they then moved to Monewden school and then on to senior school at Easton at age eleven.
Franks childhood was a happy one, playing in the countryside, riding his bike, fetching milk
from the farm in a can and water from the pond in a bucket and helping his father with the
birds and animals.
He regularly attended Hoo church and Sunday school and was awarded several prizes.
He left school in 1928 when he was fourteen.
His first job was at Turners the grocery shop in Charsfield from where he delivered groceries
on his trade bike around the villages. He worked in the shop weighing up the goods. He soon
learnt to drive and would take the Turner's daughters to school in Framlingham.
He met his future wife Jessie when delivering groceries to Charsfield Hall where she worked.
Jessie and Frank were married in Clopton Church in 1939 and they spent seventy four happy
years together.
When World War 11 started Frank was called up to join the army. He became a driver and
instructor in the Royal Army Service Corps. Their daughter Shirley was born in 1943 and soon
after Frank was posted to the Middle East for three years. He arrived back in Clopton on his
daughters third birthday in 1946.
They moved into Rose Cottage the former home of Jessies grandparents. Frank took a job as a
bricklayers labourer for Cubbit, Gotts of Claydon. He then worked for Soames of Clopton
Green as a roundsman on a hawkers van selling groceries and paraffin oil.
They got their first car, an Austin Ruby, in 1954.
By 1972 paraffin oil was no longer wanted so Frank went to work at Bentwaters looking after
their vending machines until he retired in 1979.
During his retirement he took great pride in tending his garden growing fruit, flowers and
vegetables.
His daughter Shirley married Mike Perry in 1970 and they became proud grandparents to
Victoria and Jason and attended their graduations.
Frank and Jessie travelled to Holland when they were eighty five to visit their great grandchild
Thomas. They later became great grandparents to Amelia, James and joseph.
Jessie went into Baylam Care centre in 2011 and Frank joined her there in 2013.
He died peacefully on 14th February 2015.