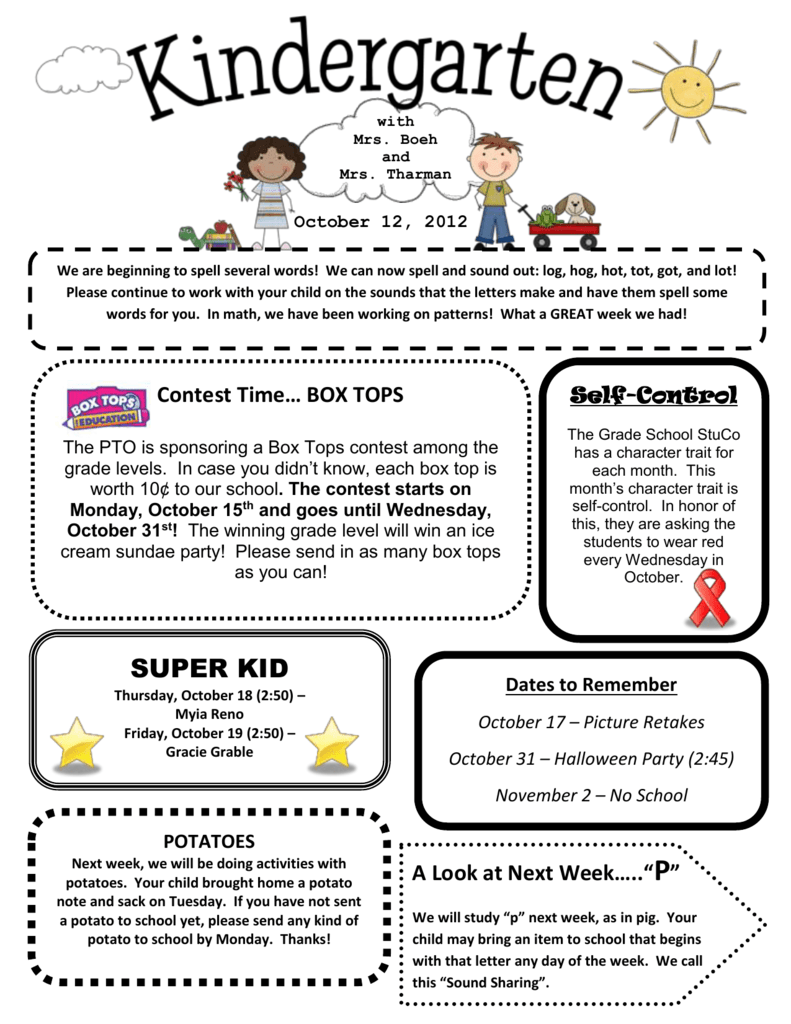 with
Mrs. Boeh
and
Mrs. Tharman
October 12, 2012
We are beginning to spell several words! We can now spell and sound out: log, hog, hot, tot, got, and lot!
Please continue to work with your child on the sounds that the letters make and have them spell some
words for you. In math, we have been working on patterns! What a GREAT week we had!
Contest Time… BOX TOPS
Self-Control
The PTO is sponsoring a Box Tops contest among the
grade levels. In case you didn't know, each box top is
worth 10¢ to our school. The contest starts on
Monday, October 15th and goes until Wednesday,
October 31st! The winning grade level will win an ice
cream sundae party! Please send in as many box tops
as you can!
The Grade School StuCo
has a character trait for
each month. This
month's character trait is
self-control. In honor of
this, they are asking the
students to wear red
every Wednesday in
October.
SUPER KID
Thursday, October 18 (2:50) –
Myia Reno
Friday, October 19 (2:50) –
Gracie Grable
Dates to Remember
October 17 – Picture Retakes
October 31 – Halloween Party (2:45)
November 2 – No School
POTATOES
Next week, we will be doing activities with
potatoes. Your child brought home a potato
note and sack on Tuesday. If you have not sent
a potato to school yet, please send any kind of
potato to school by Monday. Thanks!
31 - Halloween
A Look atOctober
Next Week….."
P"
We will study "p" next week, as in pig. Your
child may bring an item to school that begins
with that letter any day of the week. We call
this "Sound Sharing".